With its world-class university, array of cultural events and great-value property, this lively seaside resort has a lot going for it. Words: Lesley Gillilan. Illustration: Tom Jay
From the clifftop summit of Aberystwyth's Constitution Hill, you can look down on this pretty Welsh town and see the curve of tall Victorian terraces which line the seafront, the long crescents of dark sand, the Royal Pier, the castle ruins, the harbour and the slender war memorial – where a winged Victory embraces the views of Cardigan Bay. In the distance, the towering slope of Pen Dinas hill melts into a backdrop of mountains and green farmland.
With its quaint streets and quiet beaches it looks like a sleepy little place – the stuff of old-fashioned family holidays – but looks can be deceiving. Billed as a 'place of learning', it's home to a world-class university, with a hill-top campus almost the size of the town centre. A large population of young, international students brings culture, diversity, night-life and an urban vitality. According to the Rough Guide to Britain, this is 'the liveliest seaside resort in Wales'.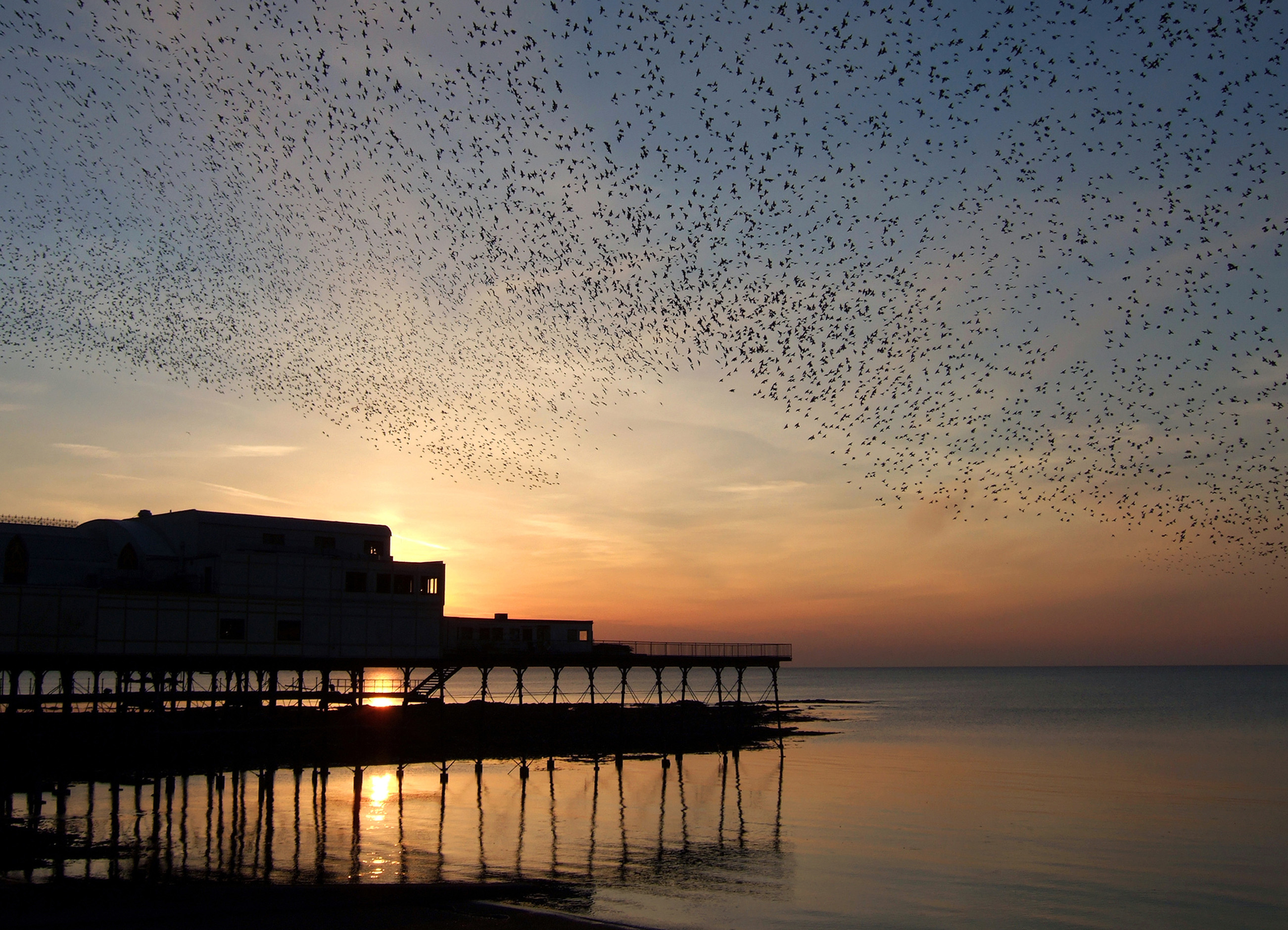 'For a small town, it punches above its weight,' says resident Jane Worrall. 'There is so much to do here, which is surprising for a place that seems so out of the way.' 'Aber', she explains, is at least two hours from any city. 'It's remote but not too remote. I rather like the sense that it's self-contained.'
Born in Cheshire and raised in Turkey, Jane fell in love with this corner of Wales while at school in nearby Dolgellau. She still spends half the year in southern Turkey (where she runs a yoga centre at Huzur Vadisi) but her home is in Aberystwyth. 'Once I'm back here, I don't want to go anywhere else,' she says.
She enjoys the town's busy calendar of arts events, its coastal scenery and its laid-back, holiday atmosphere. 'It's a very relaxed, secure place to live,' she says. 'And the countryside around here is beautiful, completely unspoilt and very easy to get to.'
The Cambrian Mountains, the Ystwyth valley and the beaches of Cardigan Bay are on the doorstep. Hike to the top of Constitution Hill (in the summer, a quirky, electric Cliff Railway, makes an easier route to the summit) and you can see as far as Snowdonia.
WHERE TO BUY
There are rows of colour-washed Victorian terraces around the seafront and the town centre, or to the south of the castle ruins – where close-knit streets tumble down to the harbour. There are fine Georgian townhouses on Darkgate Street or Laura Place and large Gothic houses and Edwardian villas within a stone's throw of the university (on Iorwerth Avenue, for example). Some of the town's finest houses (with the best views) are on Cliff Terrace, which slopes away from the promenade, circling Constitution Hill and nudging the golf course. Prices range from £150-£200,000 for three or four-bedroom terraced houses off the High Street up to £350-£475,000 for large period Victorians on the leafy edges of town or close to the university.
TIME OUT
Aberystwyth has two town beaches, North and South (the latter is popular with surfers), as well as nearby Tan-y-Bwlch or sandy Ynyslas. For hikers and mountain bikers, the 20-mile Ystwyth Trail, follows a disused railway line from Aber to the foot of the Cambrians; or explore Penglais Nature Park (for walks and fantastic views of the sea). There are two cinemas and an excellent theatre at Aberystwyth Arts Centre. And the town centre is a charming mix of old-fashioned shop fronts, foodie restaurants and friendly bars: try tapas at Ultracomida (ultracomida.co.uk), pizzas and pasta at seafront Baravin (baravin.co.uk), organic food at the Treehouse (treehousewales.co.uk) or cocktails at The Libertine.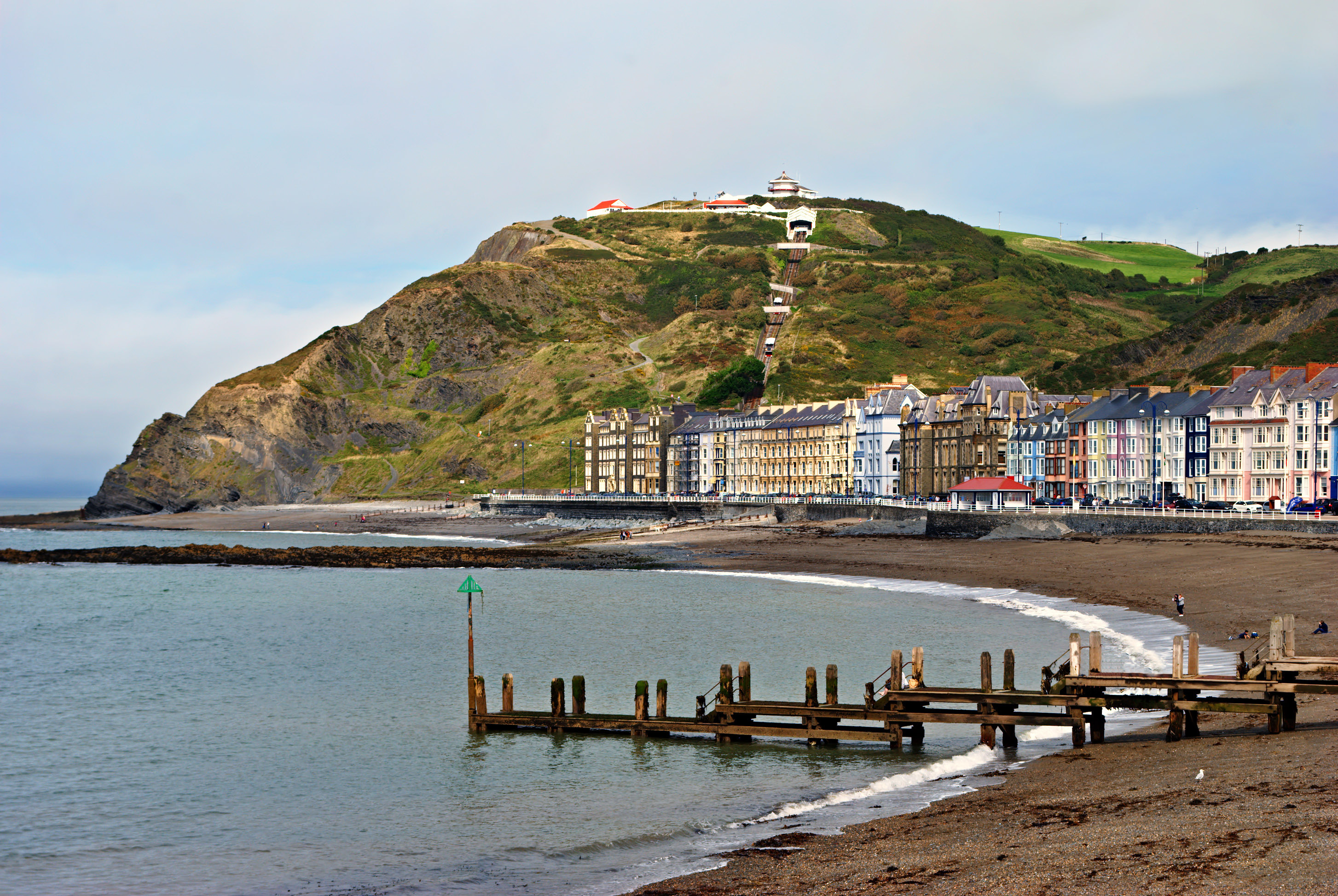 JOBS & COMMUTING
As well as the university, Aberystwyth is home to Wales' National Library, the administrative offices for Ceredigion County Council and the regional office of the Welsh Assembly – hence it's one of the few seaside towns that is not dependant on tourism (though jobs in education and government usually require a familiarity with the Welsh language). Aber is a bit far from anywhere for commuting, but it has good rail links via Shrewsbury or Birmingham on the Cambrian Line (London takes four to five hours). The nearest airport is Manchester (roughly three hours by car).
SCHOOLS
The town has two state secondaries: Penweddig (predominately Welsh-speaking is rated Good by Estyn, Wales' equivalent to Ofsted) and the 'English-medium', Penglais (rated as Adequate).
REALITY CHECK
Parking is a real headache in central Aberystwyth – particularly for those living close to the seafront or on the roads off the High Street or North Parade. The situation eases when Aber's 9000 students head home for the holidays, but there's further competition when visitor numbers increase in the summer.
COMING UP
Dominated by cheap hotels and student bedsits, the seafront is one of the town's most neglected areas, but things are looking up. The opening of Gwesty Cymru raised the bar on the hotel front; a new £1.2 million bandstand is being built on the prom; and there are plans to redevelop the Grade I-listed Old College into the hub of new cultural quarter by 2022.
PAY A VISIT
Gwesty Cymru (gwestycymru.com).
Overlooking the beach from a grandstand position on the seafront's Marine Terrace, this award-winning boutique hotel offers eight modern, colour-themed rooms all with custom-made oak furniture – three have super-king beds, two have baths with a sea view. The downstairs restaurant serves creative dishes prepared from fresh seafood and seasonal Welsh produce. B&B from £90 a night.
For more inspiration for moving to the coast, click here or pick up a copy of the magazine.
WHAT JANE LIKES ABOUT… ABERYSTWYTH
'A favourite walk is to climb Constitution Hill and continue north along the Ceredigion Coast Path towards the dunes of Borth and beautiful Ynyslas sands.'
Aberystwyth's Arts Centre is 'world class', and pulls in big names in theatre, cinema, music and comedy (aberystwythartscentre.co.uk).
Aber's roosting starlings. Throughout the winter, thousands of them 'whoosh' around the pier at dusk. This spectacle is best seen at sunset on a 'cold, crisp evening when the sea is like turquoise metal under an orange sky'.
WHO'S WHO?
For BBC Wales viewers, Aberystwyth is the familiar setting for popular detective drama series Hinterland (or Y Gwyll) starring Richard Harrington as DCI Tom Matthias and featuring dialogue in both English and Welsh.
CAN YOU AFFORD IT?
Aberystwyth: £192,713
Ceredegion: £187,514
Wales: £169,997
UK: £279,112
Average house prices: [November 2015]. Source: Zoopla (zoopla.co.uk).