The UK marina lifestyle offers a combination of boating, berthing, seaside homes and village communities with a Riviera ambience.
Words by Lesley Gillilan
For the keen sailor, there is perhaps no better place to live than on a marina. This is life on the ocean wave, or as near as you can get without setting out to sea – a boaty home with a home for your boat right on the doorstep. Think gleaming white yachts on glittering water, the tinkle of lanyards on a sea breeze, summer regattas and gin and tonics on the deck… it all sounds rather glamorous but the marina lifestyle is not out of reach, nor is it exclusive to boat-owners.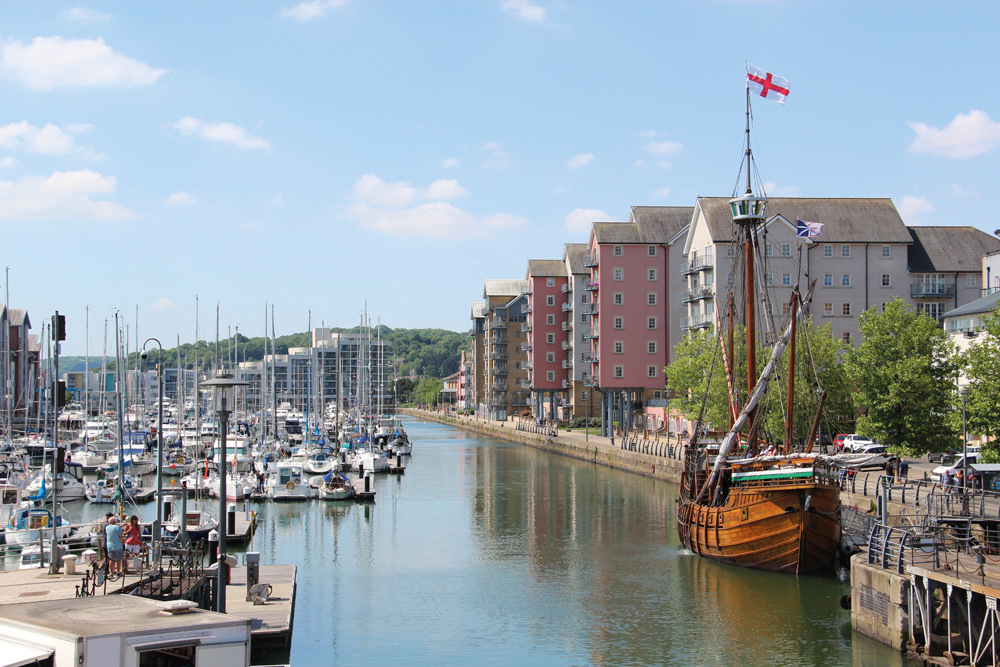 Di Herbert had moored her motorboat at Hampshire's Hythe Marina Village for 20 years before she finally took up residence herself. 'We used the boat as a sort of floating cottage,' she says. Eventually, she and her late husband bought a house on the marina, moving from their former home in landlocked Leicestershire to Hythe, which has 225 homes arranged around three locked basins close to the Port of Southampton. Like most of her neighbours, she has parking for her car on one side of the house and a berth for her boat on the other. 'My kitchen looks out over Southampton Water,' she says. When the mood takes her, Di can motor over to the Isle of Wight or cruise down to Plymouth easily. 'Not everyone here has a boat, but most residents buy into the boating life.' On the coast of Pembrokeshire in south-west Wales, Will Darwin has taken the boating life a step further. He lives on his yacht full time and is one of a community of 'liveaboards' whose boats have year-round berths at Milford Haven's port marina. Will is a born sailor (he confesses to being 'addicted to saltwater') but his decision to make his yacht his home also makes good financial sense. Although there are compromises on living space, the outlay and overheads are a fraction of the cost of buying a bricks-and-mortar marina home.
What's the story?
Inspired by Port Grimaud on the French Cote d'Azur, Hythe is the UK's oldest and arguably the finest purpose-built marina village (last year's 35th birthday celebrations were scuppered by the pandemic). But there are around 4,500 marinas dotted around the UK's coastlines. Many have been developed over the last 30 years; some having risen to the challenge of reinventing disused dockyards by exchanging industrial shipping for yachts, motorboats and other pleasure craft. Often, they are owned by specialist marine management companies. Premier Marinas, for example, operates nine coastal marinas, including some of the best known – such as Brighton, Port Solent near Portsmouth, Sovereign Harbour in Eastbourne and Swanwick on the River Hamble (where this year's British Motor Yacht Show is due to take place in May – fingers crossed).
MDL Marinas manages 18 sites around the country including Northney on Hayling Island, Southampton's shiny new Ocean Village, Torquay on Devon's famous Torbay coast, and Hythe where Di Herbert has her home by the sea.
Generally speaking, marinas are commercial businesses; not unlike caravan parks in principle, they earn their keep from berthing fees and the provision of boatyard services – not just for residents but for the numerous visiting vessels that sail in and out of their waters. Typical facilities range from boat hoists, fuel pontoons and storage to chandlery, hot showers and shopping. Some of the larger, urban marinas might also offer holiday apartments, yacht clubs, waterside restaurants and hotels. They are hot on security and big on high-quality service (the Yacht Harbour Association runs a Gold Anchor marina rating scheme – with five being the top of the scale). Hythe is among the few to feature integrated housing but there are numerous opportunities to buy into the marina life.
Where to buy
From Southampton Water to the Isle of Wight, the waters of the Solent encompass most of the UK's sailing hotspots, and it stands to reason that its harbours (Portsmouth, Cowes, Chichester) are a honey pot for marinas – over half of MDL's are in this area. The south coast in general is prime marina territory, but where there is sailing there is berthing: from Cornwall (think Port Pendennis in Falmouth) to the Clyde and from Northern Ireland to the Scottish islands, they are not hard to find. Broadly speaking, the most likely location is on the sheltered banks of a river estuary.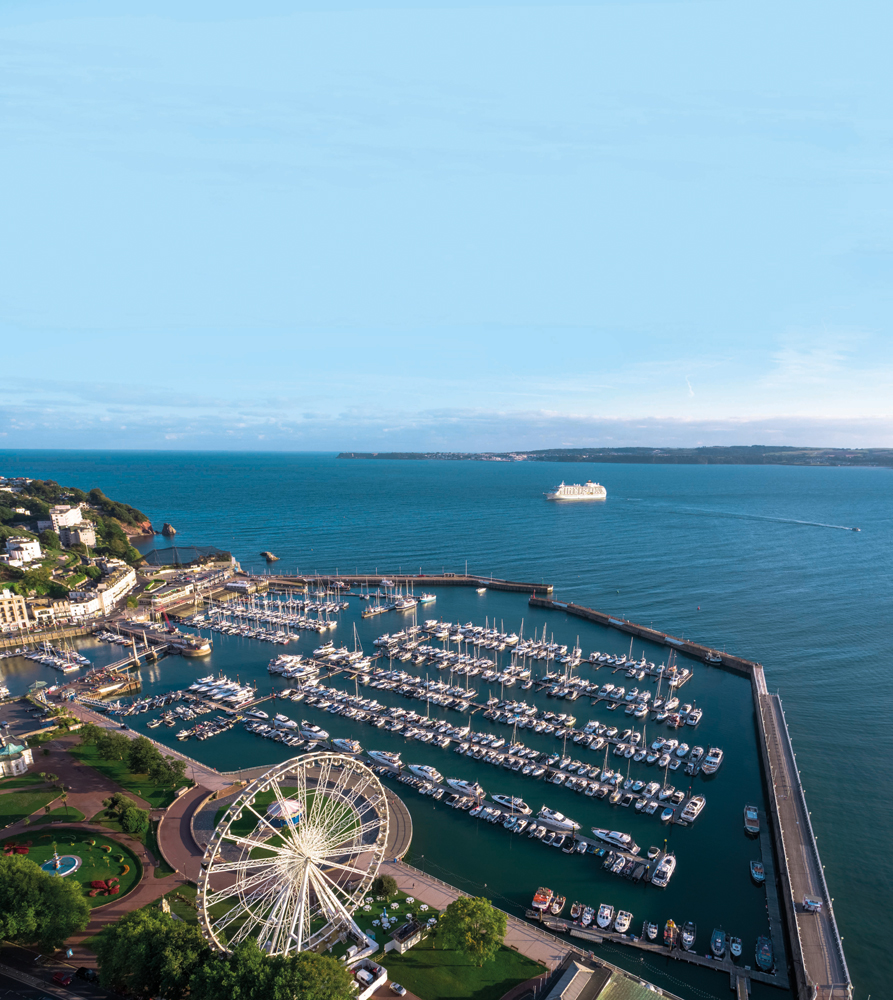 There are busy bustling marinas like Brighton's, built on a new-town scale, complete with high-street shopping, supermarkets and office space; Brighton is still developing with plans for more new housing and sailing berths). For the ultimate city marina, head for St Katharine Docks in the heart of London (all gin palaces and millionaire homes). One of the latest is Southampton's Ocean Village, a spacious mixed-use marina on the River Itchen Estuary. Here you'll find a combo of glassy, high-rise apartments, low-rise waterfront homes and a swanky new Harbour Hotel (a cocktail at the roof-top HarBar sets the tone).
For a smaller, more intimate experience look at Conwy in North Wales, where the 450-berth marina offers purpose-built housing inspired by Norwegian fishing villages and built on land used as a 'casting basin' while constructing the Conwy Tunnel.
Modern marina developments are not the only option; buyers can also look at older properties overlooking marinas at, say, Ramsgate (the UK's only Royal Harbour Marina), East Cowes on the Isle of Wight (regatta central) or pretty Tobermory on the Isle of Mull. A seafront home in Torquay, on Devon's 'English Riviera', combines views of the town's five Gold Anchor marina with beaches and all the trimmings of a traditional seaside resort.
Havens of regeneration
One of the best ways to reinvigorate redundant industrial docks is to switch to the leisure market, thereby attracting the high-spend yachting community, and giving a vibrant new maritime focus to an otherwise dead area. There are numerous examples where this has been hugely successful. Portishead, for example, was a dirty Bristol Channel port until its closure in the 1980s. A chemical works and two coal-burning power stations were demolished to make way for the new Port Marina, an ambitious £400m scheme which turned the North Somerset's derelict deep-water dock into a colourful waterside village that mixes modern apartment blocks with faux period houses (the latter based on fishermen's cottages in Polperro in Cornwall). On the strength of the burgeoning marina (some 7,000 homes
in all), Portishead soon became one of the fastest-growing towns in Britain.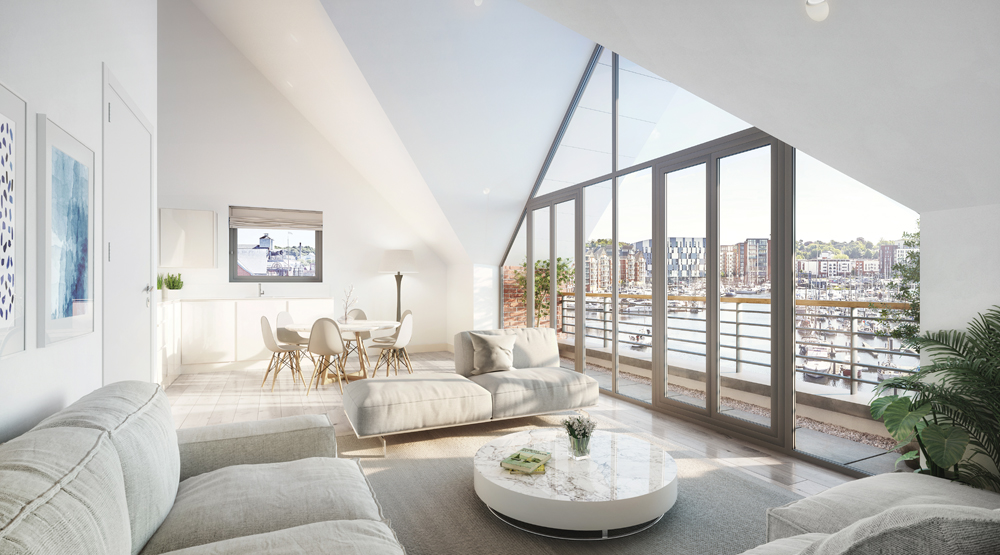 On the Tees Bay, on the north-east coast, redundant shipyards were the raw material for Hartlepool Marina, first launched in the 1990s, mixing homes, shopping and tourist attractions like the Historic Quay – a quaint reproduction of an 18th-century seaport.
In Plymouth, Devon's 'Ocean City', the redevelopment of Millbay Docks is one of the largest on-going, regeneration projects in the country, turning Brunel's historic commercial docks – once a notorious red-light district – into a 'coastal quarter' with around 400 new homes and a lively marina village.
The marina at Milford Haven in Pembrokeshire, which celebrates its 30th birthday this year, shows how this kind of multi-use harbour redevelopment can help drive tourism to a port town once best known for its gas works. Fishing and industry continue alongside tourism. A 100-bedroom hotel is currently under construction.
Living on board
Milford Haven is one of the only marinas to actively encourage liveaboards – and the revamped Welsh port boasts a community of around 30 residential sailing boats. Will Darwin has lived on board his 1980s, 27ft Colvic yacht for 10 years now; five of them spent in Milford (he has also lived on the water in Brighton and Bristol). His love affair with boating began when he stepped aboard a clinker-built rowing boat, aged 18; now he has trouble finding his 'land legs'. One day, he sailed into Milford Haven just to refuel and ended up staying.
'It's a really lovely community,' Will says (his neighbours include a young couple and a family with two children). And he loves the location. Working in IT, he can live anywhere, and he gets around – sailing regularly to Liverpool or Caernarfon to visit family. He often spends weeks out on the water during the summer. 'It takes me about 30 hours to reach the Isles of Scilly.'
Other marinas that also welcome liveaboards include Whitehaven on the Cumbrian coast; most don't officially accept them. However, says Will, 'if your boat is well kept and you respect the environment, you could probably live on any marina in Britain'. Prices differ from one marina to another, but the annual berthing fees at Milford cost around £40 a week (or £2,000 a year) and include parking, mains water and electricity hook-ups and even WiFi. Will pays council tax, but not water rates. A boat like his can be bought for between £5,000 and £15,000, though the sky's the limit in the yacht market.
Reality Check
There is always a premium to pay for waterside properties, particularly on the south coast. A penthouse apartment in Southampton's Ocean Village is selling at just over £1m, but don't let that put you off: there are marina homes to suit all pockets.
Two-bedroom apartments on, say, Midway Quay on Eastbourne's Sovereign Harbour sell for around £280,000. New homes on Hartlepool's new Mansion House development are priced from around £165,000. In Torquay, small apartments overlooking the marina can cost as little as £150,000 (rising to £600,000 for larger properties). Even the most sought-after marina villages offer affordable options. One of the cheaper houses at Hythe Marina is on the market at £439,950, including a 10ft mooring and use of a shared pontoon. Many of the homes in Ocean Village come with a berth on the marina.
There are, of course, other costs. Hythe residents are leaseholders and, says, Di Herbert, 'there are a lot of rules and lot of red tape'. She is not allowed to hang washing outside, for example, and can't alter the exterior of the house without permission; residents are required to repaint every five years. Although there are young families among her neighbours, the majority, she says, are retired. 'This is not the ideal family environment – we tend to have patios on the water instead of gardens.'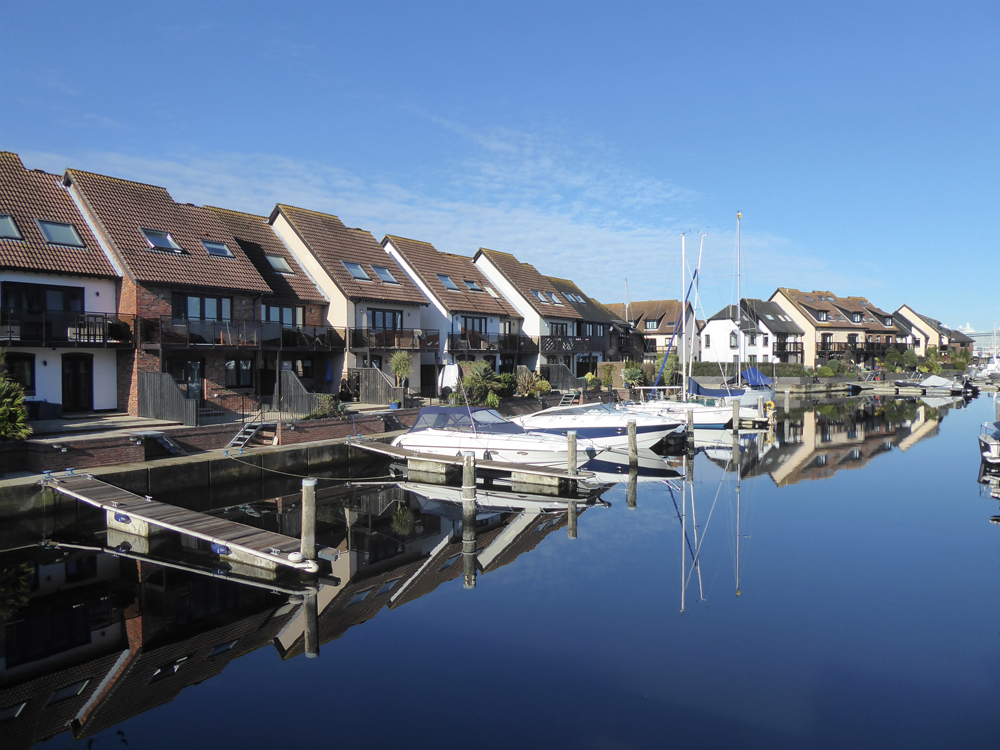 This is the life
Being part of a lively boat-owning community is not the only reason to invest in a marina home. Residents at Portishead, for example, enjoy a range of dry-land facilities: among them a quirky Hall & Woodhouse bar made of shipping containers, a children's crabbing pontoon, an art trail, views of the two Severn Bridges and an annual Festival on the Quay. Marinas are magnets for cool waterside fish restaurants too. Chichester has The Boat House Café, Plymouth's Millbay Village has The Dock. In Torquay, The Elephant has a Michelin star. And these are the kind of places that tend to thrive even during tough times. According to Will Darwin, Milford Haven's marina has seen four new shops open in the last year: marine conservation charity Sea Shepherd UK and a vegan bistro, Green Genie, both set up shop despite the lockdowns. Di Herbert is Hythe's social secretary and the summer, she says, is usually a round of barbecues, dinners and treasure hunts, but the location remains the marina's main attraction. 'It's lovely to live so close to the water.'
New to marina life? Find a new passion for sailing after exploring the Isles of Scilly, learn about the 10 best nautical holidays or discover new UK marina development property to buy.