TV is turning people on to the epic landscapes and wild beauty of Northern Ireland's Antrim coast. Words: Lesley Gillilan. Illustration: Tom Jay
There's not much to see in the way of dragons or giants (not unless you count the Giant's Causeway) but the epic landscapes of County Antrim have proved the perfect backdrop for many of the dramatic winter scenes in the blockbuster television series, Game of Thrones. For fans of the drama, it's become a place of pilgrimage.
The rugged little harbour at Ballintoy stood in for the fictional Iron Islands; the Magheramorne cement quarry near Larne provided the setting for Castle Black (thanks to a bit of computer-generated snow). Real castles, caves, waterfalls, forests and spectacular cliffs have all found a place in the drama. But you don't have to be a Thrones devotee to appreciate the wild beauty of Northern Ireland's eastern coastline.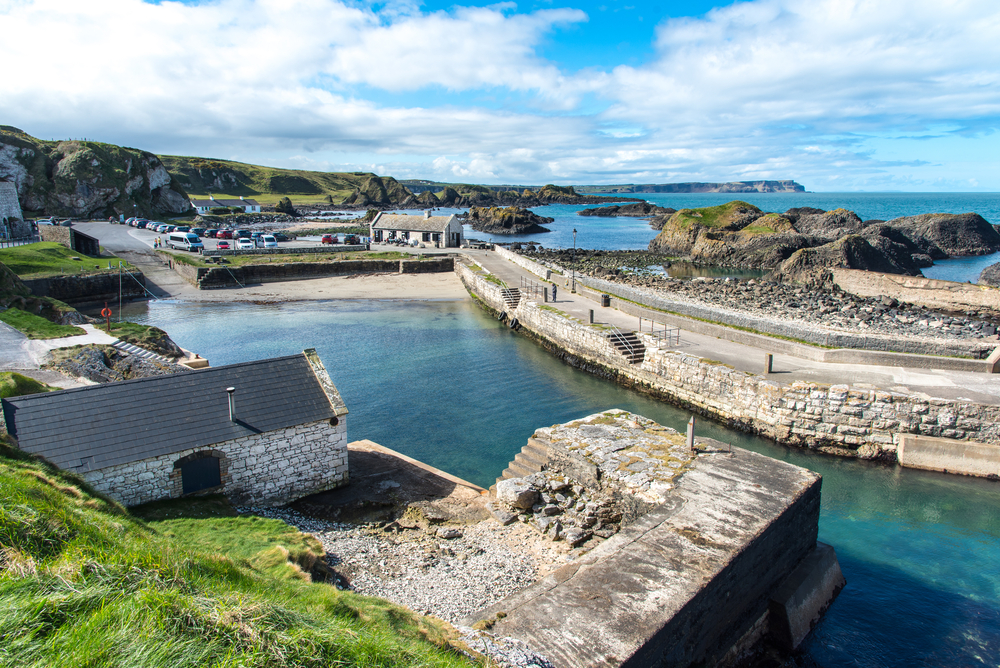 The rugged little harbour at Ballintoy stood in for the fictional Iron Islands. Photo: Paul J Martin/Shutterstock
For Charlie Cole, nature is the main attraction – the glorious beaches and the luminous green hills and valleys of the Antrim Glens. But his decision to move here was about coming home. His mother was born in the area, and although Charlie spent much of his young life 'on tour' – in Germany, Saudi Arabia or wherever his English father's army career took him – his parents bought a farm near Ballycastle when he was still at school. 'We used to come here every holiday,' he says. 'I always wanted to come back for good.'
The Coles have since turned their Broughgammon Farm (broughgammon.com) into a successful family business. Charlie turned his back on a career in estate management to be part of it, carving his own niche in rearing goats for meat (goat bacon is a speciality). He met his wife Becky (a fashion and beauty blogger) on a visit to Dublin (it was 'love at first sight').
'By moving here, I felt I could offer my family a better future and more opportunities,' says Charlie. 'And it's a fantastic place to bring up children.' The Coles' farming enterprise plugs into the region's rich food heritage and expanding tourism industry. Charlie promotes his products at local farmers' markets, country shows or at their own shop. Only two miles from the sea, he relishes the fresh air, the strong local community and the 'stunningly beautiful' countryside. 'This is the good life,' he says.
WHERE TO BUY
Check out Ballycastle (according to The Sunday Times, it's the best place to live in Northern Ireland); a laid-back seaside resort with a market-town vibe, it's an appealing mix of high cliffs, a harbour-marina, a long sandy beach and an old-fashioned high street (a Tesco-free zone). Further south, a string of small towns and fishing villages hug the coast and the glens: pretty Glenarm (with its castle gardens), Carnlough (overlooking its own picturesque harbour), seaside Cushendall (Georgian streets at the meeting point of three spectacular glens) and Cushendun (based on a Cornish village and almost entirely owned by the National Trust). Closer to Belfast, the Islandmagee peninsula is a quiet rural outpost perfect for escapists (notwithstanding the close proximity to Ballylumford power station).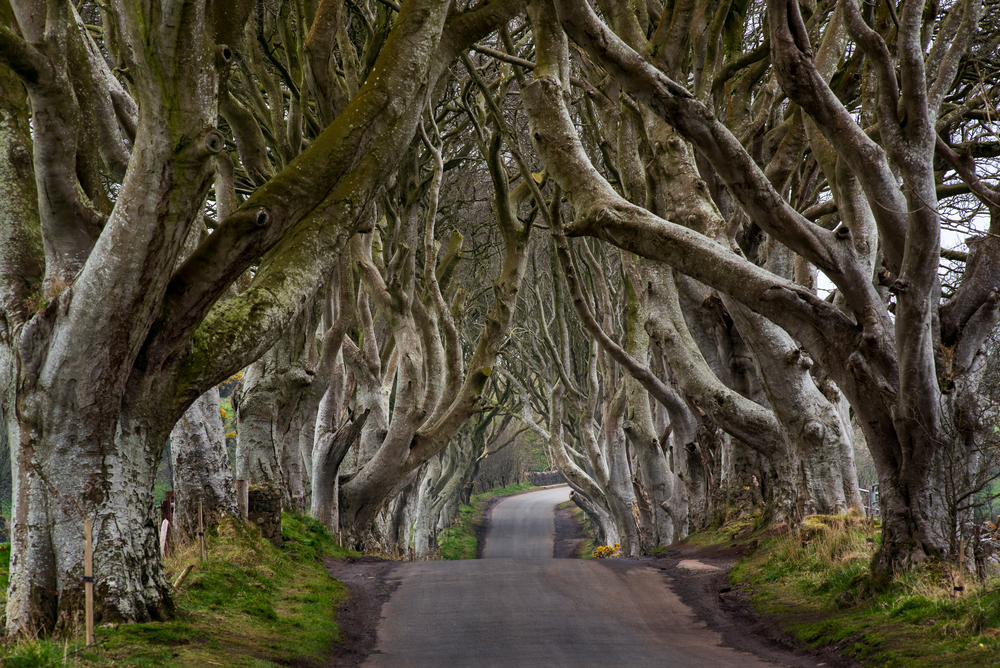 The fictional King's Road. Photo: Paul J Martin/Shutterstock
TIME OUT
Some of the best of the coast's long, lovely beaches include Ballygally, Waterfoot near Cushendall or Browns Bay at Islandmagee. Weather permitting, the region offers great facilities for road cycling, sailing, coasteering, angling, sea kayaking and horse-riding among numerous outdoor activities. There are some world-class visitor centres nearby: the Giant's Causeway (Northern Ireland's only World Heritage site), the National Trust's Carrick-A-Rede Rope Bridge and the famous Bushmills Distillery. And the area is heaven for foodies: For seafood, try Upstairs @ Joes in Cushendall; for an all-local food experience, try the award-winning Thyme & Co café in Ballycastle (thymeandco.co.uk).
JOBS & COMMUTING
Fishing, farming and food industries drive the economy here, with tourism being a new and thriving growth area. There are also jobs in education and the public sector. Ballygally, Islandmagee or Larne are the best places for commuting to Belfast (Larne Harbour is the only place on this coastline with a direct rail link to the Northern Irish capital). The 55-mile drive from Ballycastle to Belfast takes just over an hour. The nearest airport is Belfast International (for flights to most British cities).
SCHOOLS
Good local secondary schools include Ballycastle High and Larne Grammar.
REALITY CHECK
The weather is rather like that of the Scottish islands – often wet, very changeable – although the disposition of local people is generally bright and sunny. There is also some uncertainty as to how Northern Ireland will maintain its borderless relationship with the Republic of Ireland when the former joins Brexit and the latter remains in the Euro zone.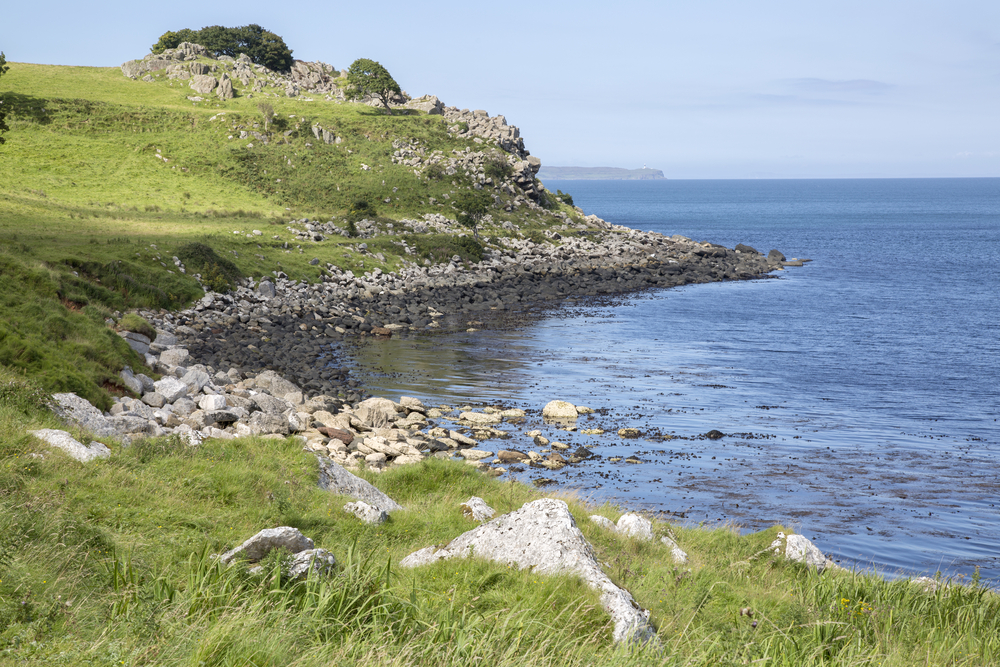 Murlough Bay. Photo: Kevin George/Shutterstock
COMING UP
This is the most visited region in Northern Ireland outside Belfast, and with Game of Throwns remaining so popular, the growth in tourism is likely to continue its upward trend. Meanwhile, house prices are still almost half that of equivalent coastal properties in southern England.
PAY A VISIT
Ballygally Castle (028 2858 1066, hastingshotels.com)
Part of Northern Ireland's Hastings Hotels group, this original 17th-century castle tower (complete with resident ghost) has been extended over the years to provide a roomy seaside retreat which combines history with four-star comfort. Overlooking Ballygally's white-sand beach, the hotel offers giant beds in Coastal Deluxe rooms, the lofty Garden Restaurant (big on local seafood) and manicured riverside grounds. B&B from £75 per night.
For more articles about moving to the coast, visit our property section or pick up a copy of the magazine.
WHO'S WHO?
The filming of Game of Thrones has seen numerous actors on location in Antrim including Kit Harington (Jon Snow), Maisie Williams (Arya Stark) and Alfie Allen (Theon Greyjoy). The role of Hodor was a big break for Northern Irish actor Kristian Nairn.
CAN YOU AFFORD IT?
Ballycastle: £205,898
County Antrim: £184,086
Northern Ireland: £189,019
UK: £285,029
Average house prices: September 2016. Source: Zoopla (zoopla.co.uk).
WHAT CHARLIE LIKES ABOUT… COUNTY ANTRIM
The stunning scenery at Murlough Bay with its rocky beach, spectacular limestone cliffs and giant boulders – 'straight out of Game of Thrones'.
The Ursa Minor café and bakery in Ballycastle (ursaminorbakehouse.com) for great coffee, cakes, pastries and fresh-baked sourdough.
​The Gobbins Cliff Path (thegobbinscliffpath.com) near Larne to the south of the region, a 2km-walk of steps, tunnels and bridges cut into the rock a few feet above the Irish Sea. A remarkable feat of engineering it was first opened in 1902, but after years of neglect was recently 're-imagined' for the 21st-century visitor.