Starting a new business by the sea takes skill and resources – but first you need the big idea. From sweet treats and ice creams to seaweed soaps, Lesley Gillilan meets the can-do entrepreneurs behind some thriving coastal enterprises
Hannah May and Richard Doggett's natural skincare company in Cornwall began with a chance meeting with a stranger who was collecting seaweed from their local beach. They asked what he was doing, and he told them that his wife liked to bathe in seaweed – it was good for the skin, he said. This pricked the couple's interest; they started to do some research and eventually to collect seaweed themselves. A hobby became a side-line and they began to earn a small income by supplying the Scarlet Hotel on the north Cornish coast where warm seaweed baths are a speciality.
'We quickly started to develop other seaweed products,' says Hannah. And their Penzance-based Cornish Seaweed Bath Company now makes a range of soaps, balms and lotions from native fucus serratus (or toothed wrack) hand-picked from the seashore. Both Richard (an acupuncturist) and Hannah (a silversmith) have now given up former careers to concentrate on their venture.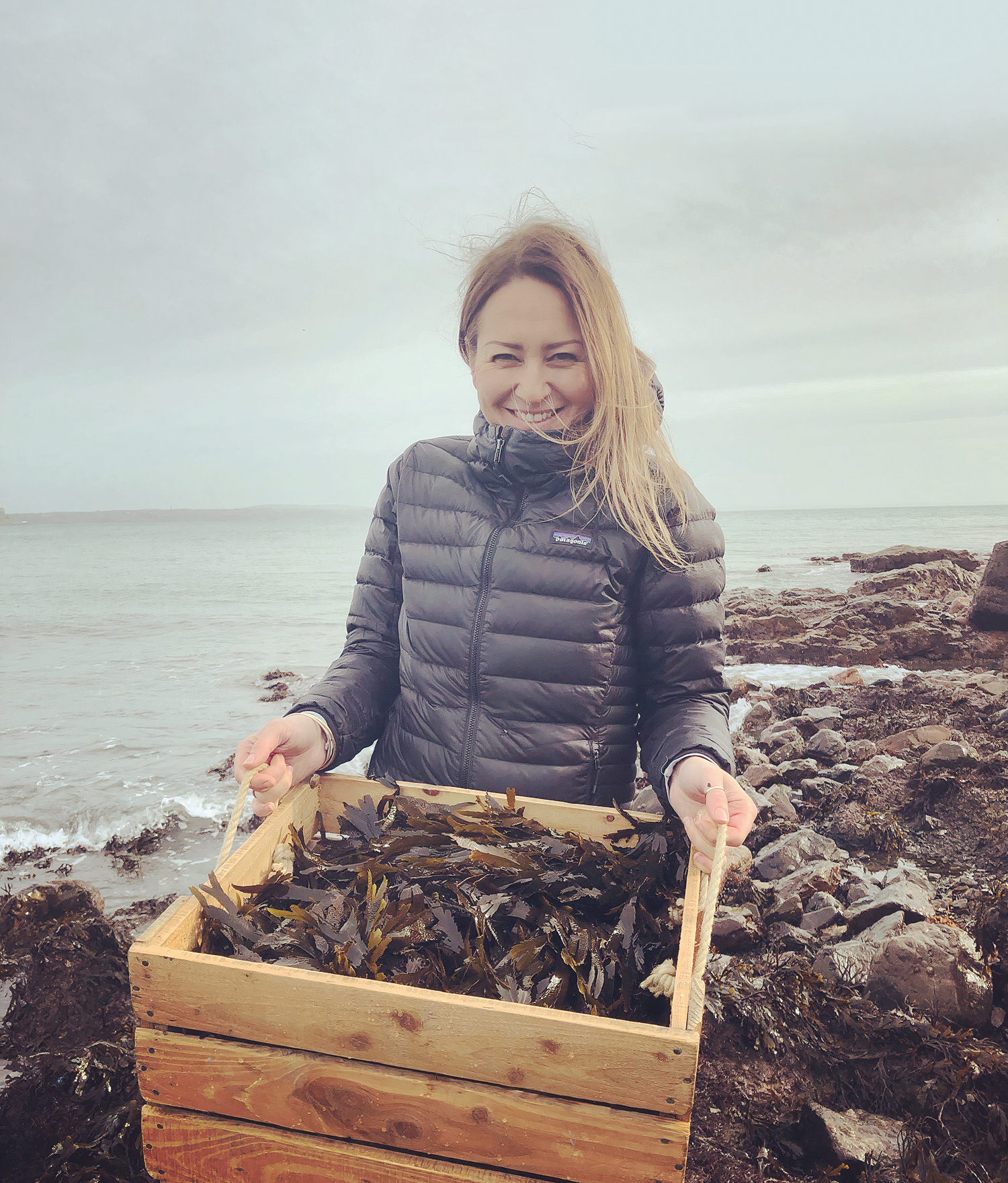 Hannah May started Cornish Seaweed Bath Company with Richard Doggett
Meanwhile, when Annie Hanbury moved to Dorset, she knew she wanted to start a business but she wasn't quite sure what. Annie and her husband had spent several years living in Singapore; they worked in finance and fashion but had no intention of taking either of these careers to their new life on the coast. The answer lay on their doorstep – the house they moved into came with a wild kitchen garden overgrown with fertile raspberry bushes. 'I love cooking,' says Annie. 'And when I was thinking about how to make use of all that fresh fruit, it dawned on me that ice cream might be the thing to do.'
Annie now runs Baboo, an artisan gelato business with its own Bridport ice-cream factory, state-of-the-art refrigerated storage units and kiosks in Weymouth, Lyme Regis and West Bay. With its distinctive logo and yummy flavours (salted caramel is a big seller), Baboo has gone from kitchen-table experiment to familiar Dorset brand in just a few years.
You may also like 10 Best Ice-Cream Parlours
Cake-maker Autumn Rabbitts turned her art into a business when she moved from London to Northumberland, where her RAF husband is stationed. Between them they have five daughters to keep them busy, and Autumn – who studied jewellery design at the Royal College of Art – had to think of something she could do at home without disrupting family life. So, she used her design skills to make decorative confections of bakery and sugar paste. Now her Plumb & Rabbitts Cake Studio specialises in lavish bespoke wedding and celebration cakes and happily there's no shortage of demand (customers are asked to place their orders weeks, or even months, in advance).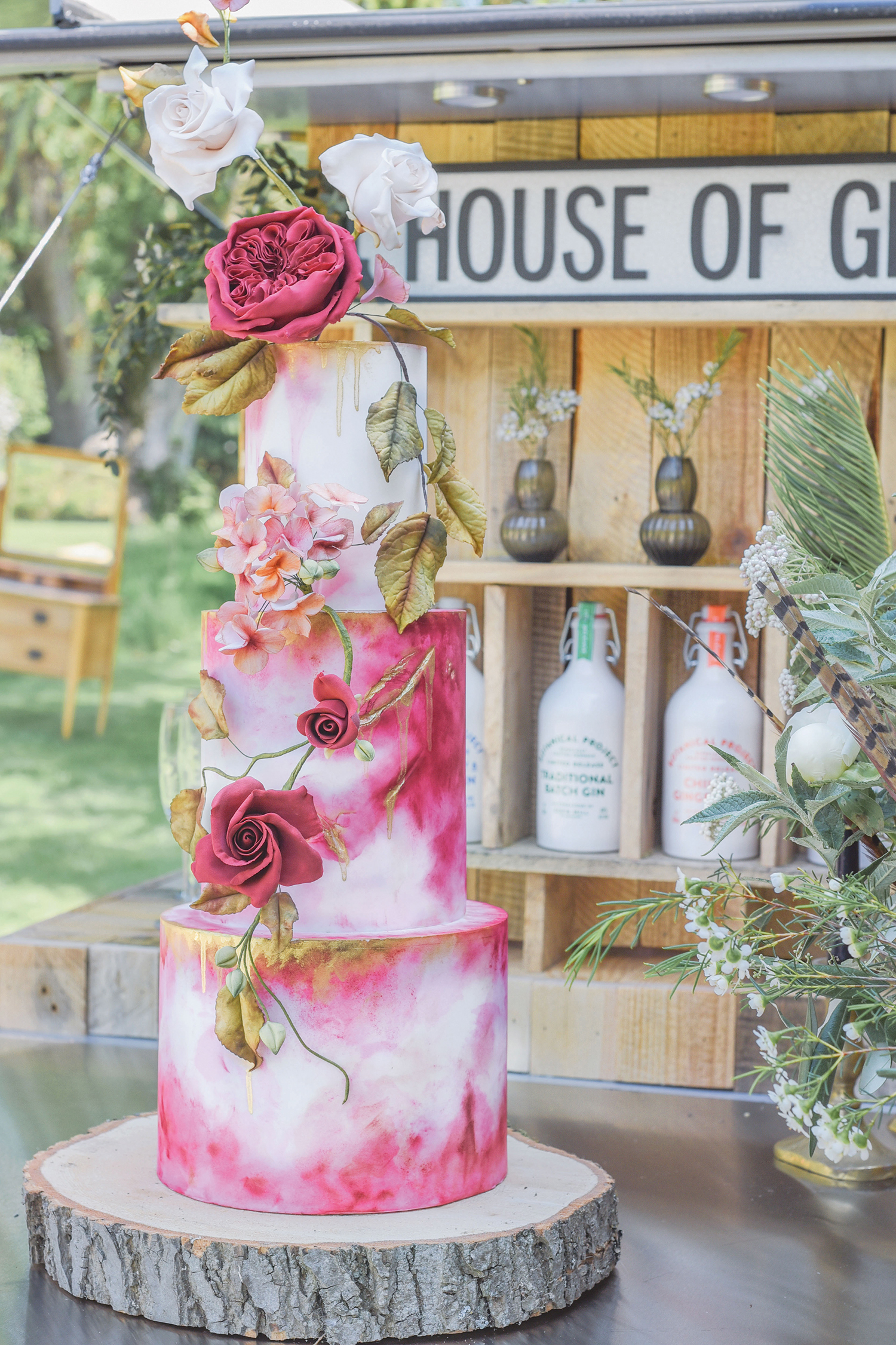 Wedding cake by Plumb and Rabbitts. Photo by Laura Beasley
Not everyone has a raspberry garden at their disposal, a transferable skill or the drive to take an idea to profitable reality, however, all these stories provide a good basic recipe for success: combine something you love to do with a spirit of adventure and a sensible approach to enterprise and finance. It's not that easy, of course – growing a business takes courage and conviction – but notwithstanding the rising cost of coastal property and a global pandemic, there's an argument to say that it has become a little easier.
In the current post-Brexit, post-lockdown era, there is a new appetite for supporting start-up businesses. British tourists are staying closer to home, meaning that there is more potential to thrive in coastal areas where there is an increased footfall. And a shift in priorities has nurtured a 'try something new' attitude, not only for suppliers but for consumers, too. People who might have funded a move to the coast by buying post offices or corner shops are now offering llama trekking, kitesurfing courses, sailing schools, glamping sites, guided walks and bike hire. Micro-breweries and craft distilleries are other popular enterprises. There is a growing market for sustainable products – like salt or seaweed (perfect foundations for a coastal enterprise). Instead of buying existing businesses, fledgling entrepreneurs are doing their own thing.
RELOCATION, RELOCATION, RELOCATION
A more traditional route is to take your old job with you; and in this new age of remote home-working this, too, has got easier. Moving to the coast, however, is often part of a complete lifestyle change, so the job may have to adapt accordingly – like ceramicist Liz Emtage and her husband, furniture restorer Geoff Osler, who moved an existing business from a studio-workshop in London to a shop in St Leonards-on-Sea. 'We'd always dreamed of living by the sea,' says Liz. 'And we chose St Leonards because we wanted to be somewhere arty – somewhere we thought we'd fit in.'
Liz Emtage at work at Pelhams in St Leonards
Their shop, Pelham's – named after a relative 'because it sounds posh' – combines an open workshop and ceramics studio with retail space. Liz's delicate porcelain pots, lamps and tiles and Geoff's restored antique furniture (a walnut-veneered Queen Anne chest of drawers, for example, or a gilded mirror) are a perfect fit for St Leonards and neighbouring Hastings – known for its bohemian mix of vintage shops and craft galleries (Pelham's combines both). But neither Liz nor Geoff had any retail experience. 'It was tough at first,' admits Liz. With no experience of running a shop, they had to learn on the job.
LEARNING THE ROPES
Feasibility studies and in-depth research are among the pillars of creating a business, according to the British Business Bank. Annie Hanbury took this seriously. 'I did loads of reading,' she says, adding that ice-cream making is not something you can do commercially at home; the process dictates a host of food safety regulations in a clinical setting (she calls it a 'lab' not a kitchen). And her first big step was a stint at the Gelato University in Bologna, Italy. 'I learned from the world's master gelato-makers.'
Baboo Ice Cream. Photo by Matt Austin
Hannah and Richard are self-taught and their route into business entailed a very steep learning curve. 'We had to ask a lot of questions,' says Hannah. 'At first, we didn't know how to make skincare products, where or how to harvest seaweed, or even what it is about seaweed that's so good for the skin.' They also learned that you can't just rock up to any old beach and start picking. They have permission to harvest seaweed from a small, privately-owned cove but only on a small scale. They hand-pick, twice a week, during the low spring tides; anything more industrial (like using a wheel-barrow) requires a licence. There's been a lot to learn.
Autumn's learning curve was a case of transferring her creative skills from one medium to another. 'I was trained to sculpt,' she says. 'So, I simply switched from wax carving to sugar craft.' She did a course to help with the craft side, but she'd always baked (vanilla Swiss butter-cream, apple jelly layers and red velvet sponge were already in her skill-set) and the artistic flair came naturally.
KEEPING IT REAL
A move to the coast usually begins with a stirring of the heart – a love affair with a particular town or place – but successful new ventures need to put practicalities first. Is there a demand for your product or service in, say, Pembrokeshire, South Devon or North Norfolk; is there enough footfall, or is the market too crowded already? Property prices, affordable work space and available resources are also important factors. Some businesses work almost anywhere (restaurants and guest houses, for example) but others are made for coastal locations: deck chair hire, crabbing, surfing, seafood cafés, boat trips, ice cream. Anything that adds to the visitor experience is often the way to go.
For Annie's gelato business, being by the coast has been 'amazingly important – buying ice cream is always part of a day out by the sea'. But her model also relies on good local suppliers. Baboo is rooted in the 'heart of the West Country's dairy farms' – its vital ingredient is milk (in Baboo's case, organic milk).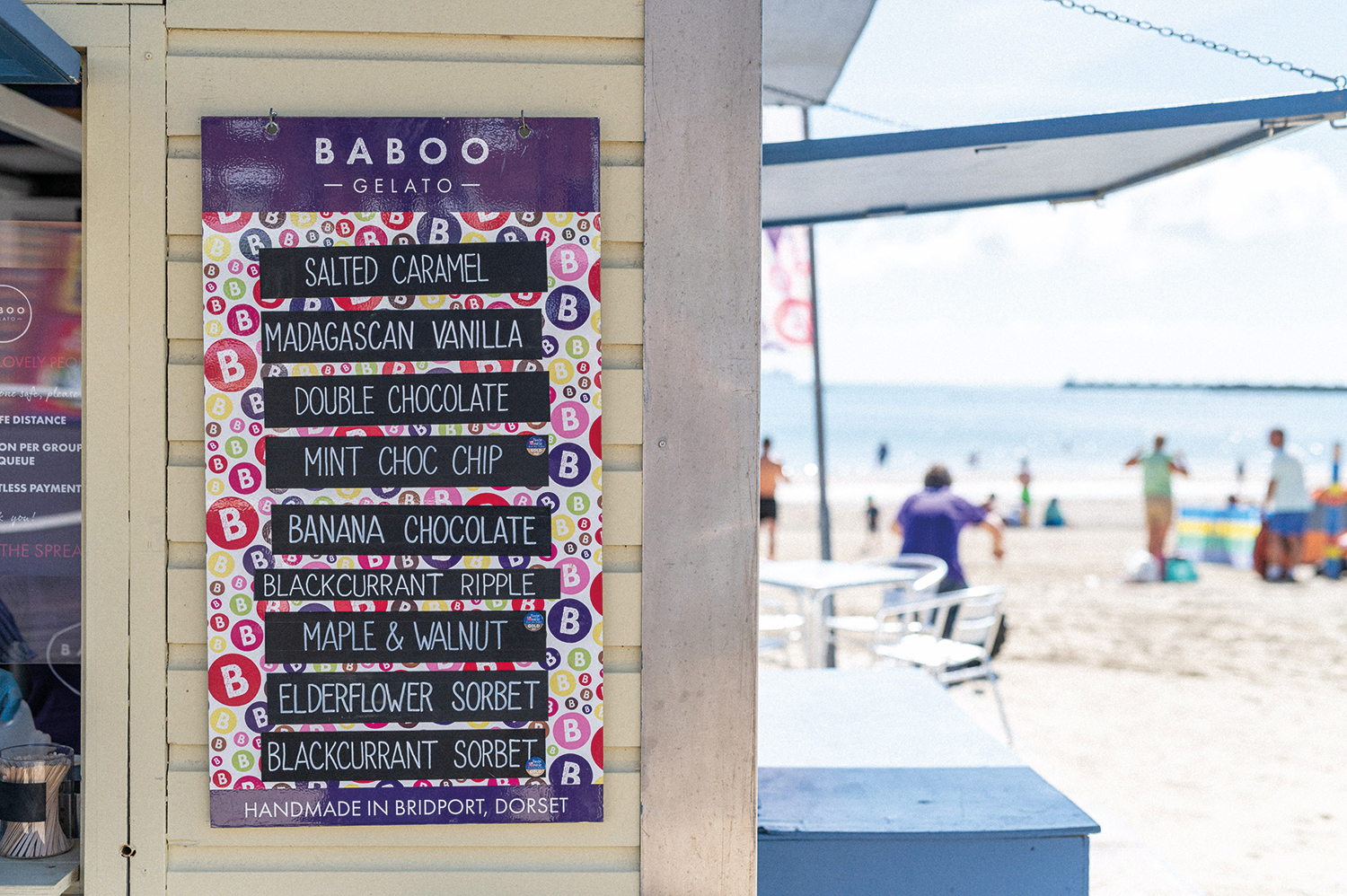 For Liz, being by the coast has enhanced her work from a creative point of view. The glaze colours on one of her porcelain lamps 'have been inspired by staring across the glittering water at sunsets far outto sea', for example. Pelham's has also been helped by a change in demographic. London, she explains, has come to St Leonards-on-Sea – a factor that has stepped up since lockdown.
As the last year has shown, businesses need resilience to survive. Some have fared better than others: the stand-out successes being takeaway food outlets and online shopping. For Hannah and Richard, online sales have rocketed since lockdown. Website sales have also proved a lifeline for Autumn; when weddings were put on hold, she offered decorative treat boxes and iced cookies by mail order. 'Don't put all your eggs in one basket,' advises Annie. 'Businesses these days need to be flexible.' Often they need to be distinctive, too.
'There has been a transformational change in coastal holidays over the past decade or so,' says Samantha Richardson, director of the National Coastal Tourism Academy. 'People are more demanding, they want locally sourced food, sustainable holidays and bespoke experiences, such as foraging with an expert. They want to discover something new and invigorating – hence businesses that offer immersive experiences are booming around the coast.'
TAKING THE NEXT STEP
Annie has plans to expand beyond the Dorset borders (look out for more Baboo beach kiosks, particularly in the West Country), but she doesn't want to get so big that she loses the artisan side – all her flavours are 'real' (rum and coffee, best chocolate, fresh raspberries). 'The market is dominated by large companies – and I want ice cream buying to be fun.'
Autumn is also expanding. Her new Sweet Solstice bakery and patisserie in the coastal town of Alnwick in Northumberland opens this September. 'It's a big step,' she says. The transition from single-handed, home-based business (earning around £10,000 a year) to retail enterprise will entail a step up on marketing, branding, cash flow and forecasting, and she will now become an employer (a manager, a baker and front-of-house staff). 'Other people do it – so I should be able to do it,' she says – which is exactly the kind of positive attitude wannabe entrepreneurs need to succeed.
Since they started 'messing around at home', Hannah and Richard's seaweed enterprise has now moved into a three-storey premises, providing space for manufacturing and admin as well as packing and curing soaps. They have taken on part-time help, as well as Koko, their dog – 'She's not a founder member,' says Hannah, 'but she's very much part of the company' – however they have no plans to expand. 'We don't want to compromise on quality or lose our environmental integrity,' adds Hannah. 'We are happy as we are, making a living by the sea, doing something we love.'
You may also like Open Your Own B&B or be inspired by more coastal communitiy stories in our People section.
Good advice for starting a business
• The Bournemouth-based National Coastal Tourism Academy offers a free Tourism Maker Tool kit – on 'how to develop your own coastal visitor experience from market research and pricing structure to fishing trips and fossil foraging' (coastaltourismacademy.co.uk).
• Visit Britain's Business Support Hub offers a wealth of free online advice related to start-ups in the tourism sector and includes guidance relating to Covid 19 and Brexit (visitbritain.org/business-advice).
• Visit Britain also produces the Pink Book (the 11th edition was published in April), a guide to legislation for tourist accommodation and attractions, from food hygiene and health and safety to business management and tax. Available at £9.99 plus postage through visitengland.org/pinkbookonline.
• The Government's Business Support Helpline does what it says on the tin but is mainly aimed at finance and recovery in the wake of Covid 19.
• The Government-backed British Business Bank is a good source of information on start-up loans, funding grants plus advice on skills, growth, marketing and how to test your business or write a business plan (startuploans.co.uk)