White-sand beaches, chocolate-box villages and a lively arts scene make this Dorset isle a heaven for country-lovers and escapists.
Words Lesley Gillilan IllustrationTom Jay
A chunk of Dorset limestone jutting into the English Channel, Purbeck is not a real island; but it feels like one – especially when arriving on the chain ferry that chugs across Poole Harbour to Studland Bay. First impressions are of Studland's long strip of white powdery sand: a dream beach for castaways.
Heading south, across the wild heaths of Ballard Down, narrow roads meander down to a spectacular stretch of the Jurassic Coast (a World Heritage site), running from Studland's Shell Bay to Lulworth Cove. There is one walled, market town (Wareham) and one old-fashioned beach resort with a pier (Swanage).
In the countryside, the gentle landscapes of the Purbeck Hills are the essence of Thomas Hardy (think Far From the Madding Crowd), all ancient tracks, sheep and chocolate-box villages of thatch and Purbeck stone. And in the heart of the isle, the ruins of William the Conquerer's magical Corfe Castle sits on a pudding-basin hill overlooking the village that shares its name. The regular hoot of passing steam trains on the vintage Swanage Railway is as familiar as birdsong in this part of the world.
Read next Building a Dream Home in Dorset
Originally from London, artist Charlie Money was living in East Devon when she first visited Purbeck nearly ten years ago, and it was more or less love at first sight. 'The moment I saw the ruins of Corfe Castle, I felt I'd come home,' she says. Later, she and her husband were strolling along the seafront at Swanage and saw a couple sipping wine in their garden. 'What's it like living here?' they asked them. 'Paradise' was the reply. According to Charlie, 'there's always something going on' (music festivals, fish festivals, arts events). She likes the people too. 'Everyone is easy-going and very kind – nobody is trying to keep up with anyone else,' she says.
Like many local artists, Charlie finds the area's beauty spots endlessly inspiring. The seascapes depicted in her fresh watery paintings include north Swanage beach, the white cliffs and chalk stacks at Old Harry Rocks or sunsets at Durdle Door (Lulworth's distinctive rock arch). 'The light here is not dissimilar to the light in St Ives,' says Charlie.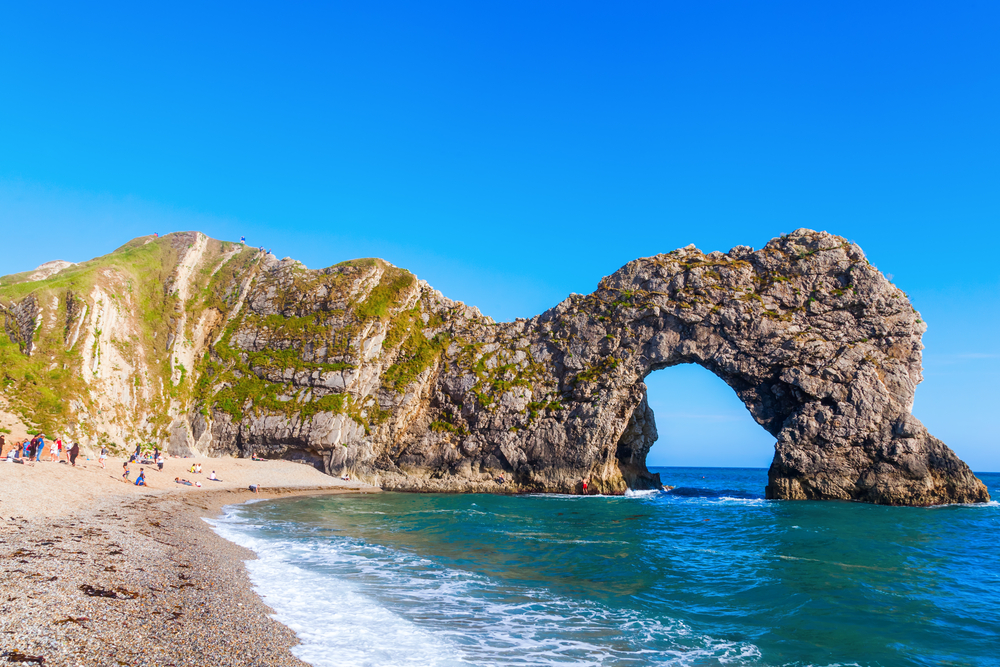 Photo: Christian Mueller/Shutterstock
'I feel blessed,' she adds. 'It's a fun place to live, the coast is varied and exciting, and there's a fantastic sense of community. It's true, it really is heaven here.'
WHERE TO BUY
Studland, with its stunning beaches and Poole Harbour views, is the place to buy – if you can afford the millionaire prices or, indeed, find anything for sale. Swanage is the best bet for affordable family houses with sea views; explore the areas around Ulwell Road, Queens Road, Park Road or Peveril Point. Charlie's home is in Swanage's Ballard Estate – a collection of vintage, seaside bungalows which were originally built as a military camp around 1907. For a more rural life, explore the picturesque Purbeck villages of Langton Matravers, Worth Matravers or seaside Kimmeridge. Prices start at around £250,000 for modest two- to three-bedroom houses in Swanage – or from around £30,000 for one of the town's ubiquitous beach huts.
TIME OUT
Whether it's sailing, sea-kayaking or wind-surfing in Poole Harbour, snorkelling in Kimmeridge Bay or hiking in the Purbecks, the region is big on watersports, wildlife and outdoor activities (there are nature reserves at Studland, Durlston Country Park and beautiful Ballard Down). The best beaches include the National Trust's four-mile stretch of sand and dunes at Studland and the Blue Flag beach at Swanage. Shopping and nightlife are limited, though Swanage has its seafront Mowlem Theatre and Wareham has the 1920s Rex Cinema, and there are some excellent seaside eateries: try Studland's Shell Bay (shellbay.net), Gee Whites in Swanage (geewhites.co.uk) or the conservatory restaurant at the
Pig on the Beach (thepighotel.com/on-the-beach). For more information on the area, go to visit-dorset.com.
JOBS & COMMUTING
Other than farming, tourism and the remnants of ball clay mining (once a thriving Purbeck industry), this is a cider and tea-shops kind of place, but although jobs are scarce, it's a fairly easy commute to Poole or Dorchester, either by road or from Wareham (Purbeck's only station is on the main line between Weymouth and London Waterloo). Trains to London take two-and-a-half hours; it's just over an hour to Southampton. The nearest international airport is Bournemouth (an hour away).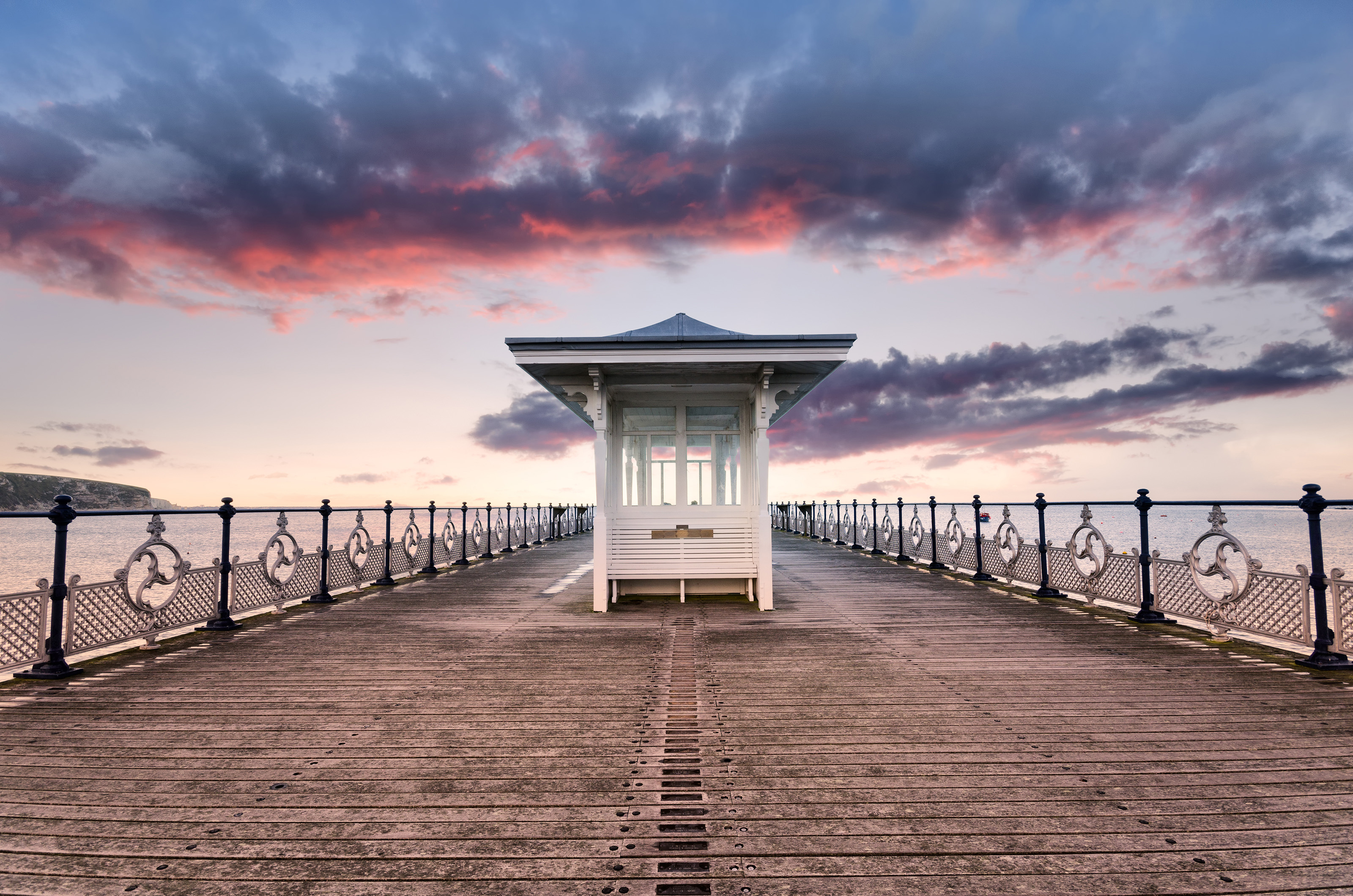 Photo: Helen Hotson/Shutterstock
SCHOOLS
The Swanage School provides secondary education for 11-16-year-old pupils; The Purbeck in Wareham is the only option for sixth formers. Both are rated as Good by Ofsted.
REALITY CHECK
It's so easy to fall for the beguiling charms of Corfe Castle or West Lulworth but before you snap up your Grade II-listed Purbeck cottage, remember to factor in coach-loads of summer tourists. A home in these popular places can be like living in a goldfish bowl.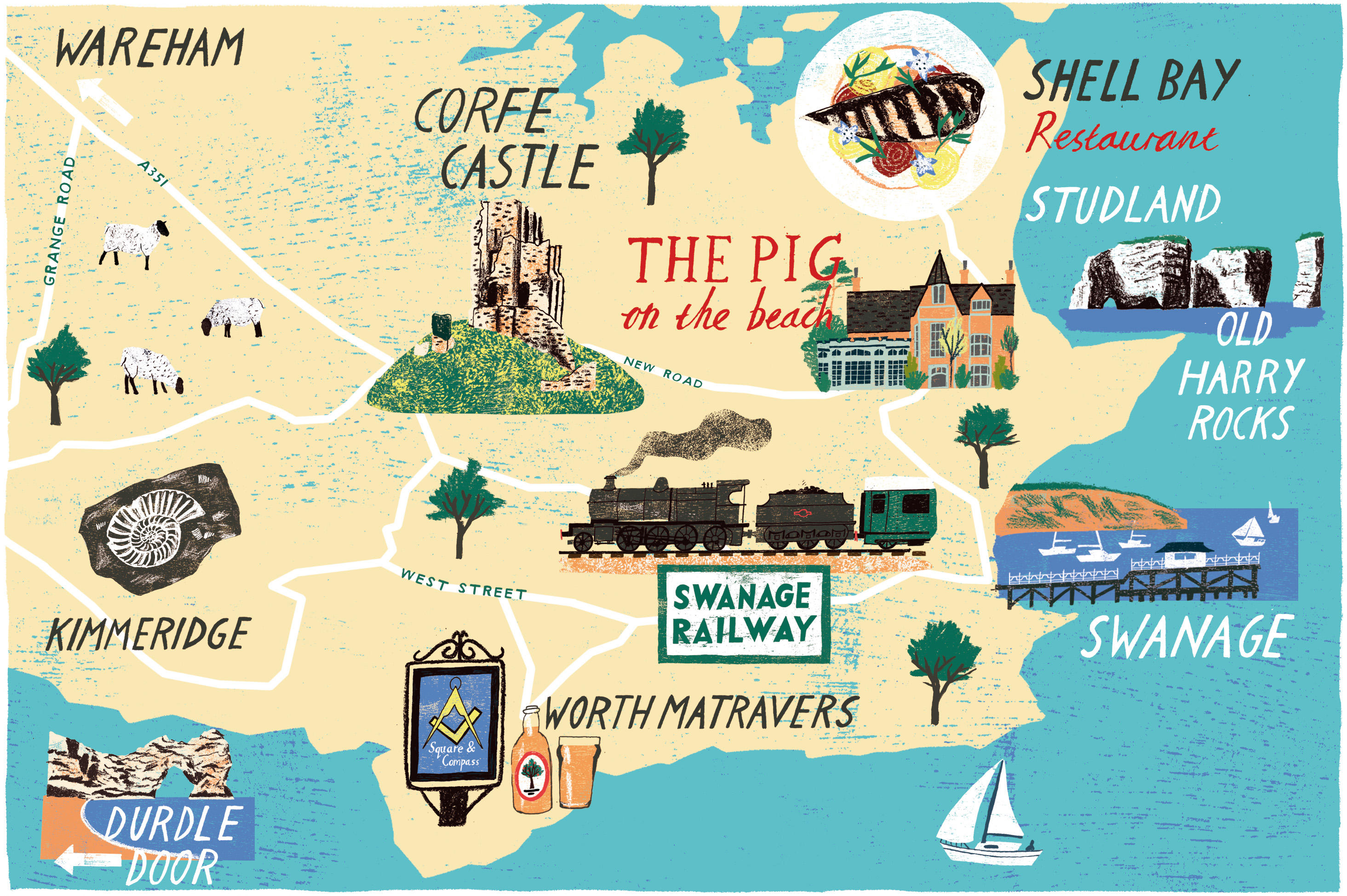 Illustration: Tom Jay
PAY A VISIT
The Pig on the Beach (01929 450288, thepighotel.com)
In a perfect location overlooking Poole Harbour and Studland Bay, this young member of the Pig family occupies a romantic period house owned by the National Trust. The look is posh vintage (velvets, maritime paintings, rugs on floorboards, shabby-chic collectables, original panelling). The 23 rooms include sea-view shepherds' huts and thatched dovecotes in a walled kitchen garden. In the glasshouse restaurant, food is fresh, foraged and often fishy. And there are real pigs in the grounds. Doubles from around £129.
Another Dorset gem to live in is Bridport and West Bay, or read about other coastal places to move to here. Alternatively, pick up a copy of the magazine.
WHAT CHARLIE LIKES ABOUT THE ISLE OF PURBECK…
Combining workshop space and exhibitions in a former milk depot, the Boilerhouse Gallery (boilerhousegallery.co.uk) in Corfe Castle is run by 10 Purbeck artists, including Charlie.
On the South West Coast Path, head for Old Harry Rocks, the magnificent chalk stacks off the white cliffs a mile or so from Studland or Swanage (nationaltrust.org.uk).
In the same family since 1907, the Square and Compass (squareandcompasspub.co.uk) is a classic English pub, famed for live music, the landlord's museum of fossils, his own Purbeck cider, and dreamy sea views from the hilltop village of Worth Matravers.
WHO'S WHO?
Author Enid Blyton's Famous Five adventures were set in and around the Purbeck Isle she regularly visited. Studland is said to be the inspiration for Toytown in her Noddy stories.
CAN YOU AFFORD IT?
Swanage: £386,617
Studland: £897,615
Dorset: £385,800
UK: £266,000
Average house prices: [August 2021]. Source: Rightmove and Zoopla