Celebrating a shared affinity for life by the sea, we meet a close-knit community of beach hut owners on the East Sussex coast who reveal the inspiration behind their eclectic seaside interiors. Words: Jessica Johnson. Photographs: Louise Haywood-Schiefer
Picture the scene: it's high summer and just a handful of clouds scuff a perfect blue sky. Across a vast stretch of pebbly shingle on the East Sussex coast – characterised by sprouts of sea-hardy greens and wooden fishing boats – a string of beach huts are being opened up ahead of a day of certain sunshine.
Stretching over a mile west from the outskirts of St Leonards-on-Sea, the sands of West of Haven and its neighbouring beach, Glyne Gap, are lined with over 300 beach huts. A mixture of council-owned timber chalets and roomier, privately owned huts, each is unabashedly British in its structure, aesthetic and eccentricities.
Look closely and smuggled amid the whitewashed wooden planks and smart black-painted rooftops, you can spy bands of sea-faring stripes and pops of colour in mustards, greens and sherbety pinks. One rooftop, bedecked with manicured grass and flowers, offers a nod to the many gardenless dwellings both of St Leonards and nearby Hastings – the ancient fishing town is just a 10-minute cycle ride away following the coastal path east. This architectural legacy, left by the Victorians, has long encouraged locals to abandon the house for a lungful of sea air.
THE HUTS THAT JACK BUILT
Many of the structures at West of Haven date back to the Second World War when the late, much-loved, local character Jack Corke started to build many of the huts that stand here today using reclaimed timber from old bomb sites. Fondly known as 'Grandfather Beach' and 'King of the Huts', Jack spent the best part of his life in his beach hut and became the watchman for the local community, always on hand to help with repairs, from new hinges to a lick of paint.
The owners here are a proud bunch, drawn together by the bucket-and-spade traditions that come with owning a pocket-sized sanctuary by the sea. True, two owners might live as far away as France and Spain, and many travel from London for a day at the beach, yet the central community is defined by a band of bohemian, seaside-loving locals – painters, illustrators and creative teachers, who think nothing of throwing down their blankets for an impromptu sunset barbecue, jumping in the sea for a dip or working up new arty wares from the peace of their hut to the sound of lapping waves.
ARTISTS' TREASURE TROVE
CLAIRE FLETCHER & PETER QUINNELL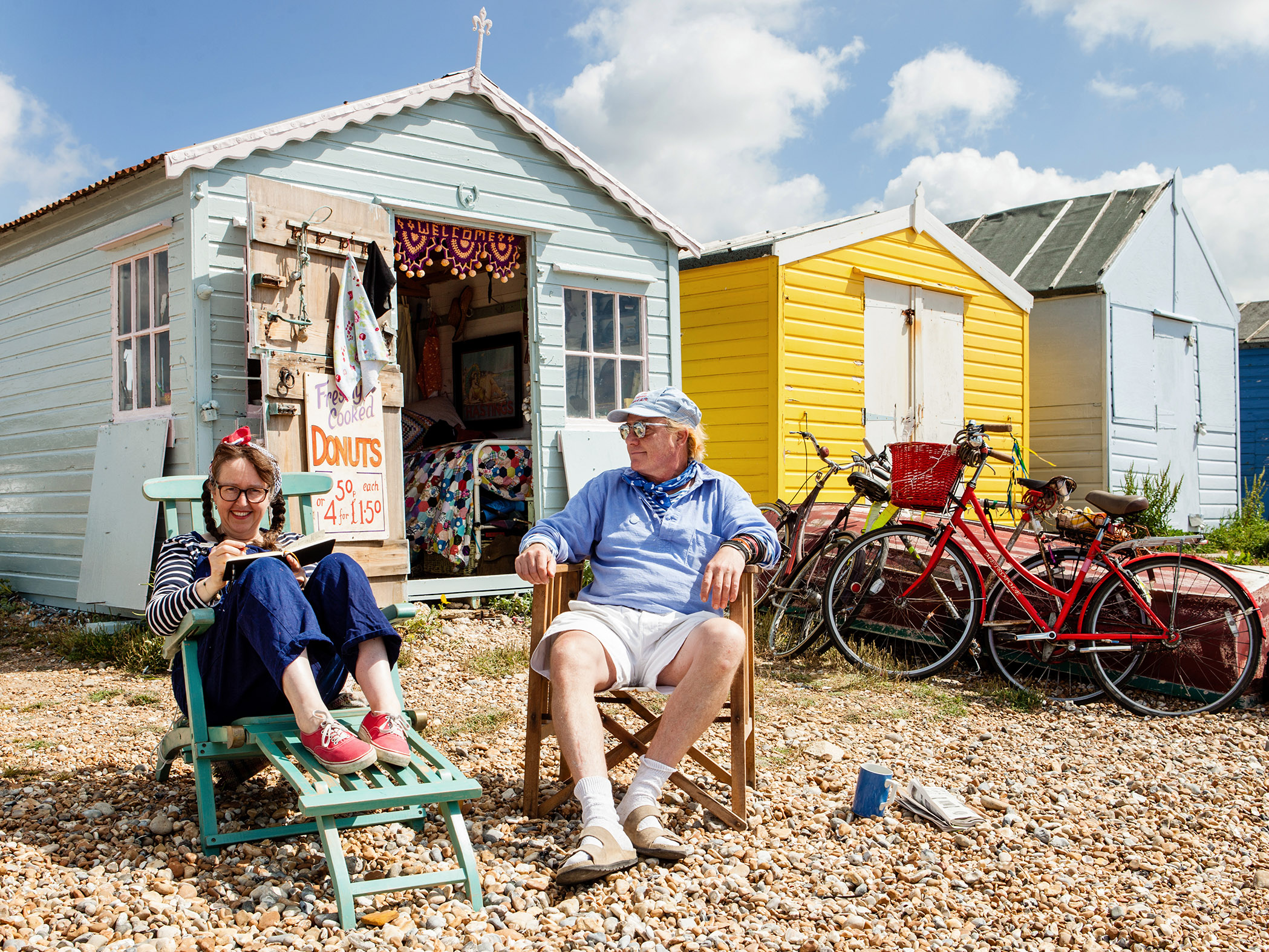 'They say if you can see Eastbourne from here then the weather is going to change,' says artist Claire Fletcher, who is sketching a typical coastal scene from her beach-hut desk. The etchings echo the illustrations on the walls surrounding her; fairytale worlds graced by mermaids, ice-cream wafers and sand-covered toddlers which, after being brought to life through pen, ink or watercolour, find their home in Claire's part-owned shop, Made in Hastings.
The hut, which the artist shares with her partner, artist and sculptor Peter Quinnell, is packed with nostalgic treasure; a cheery mix of tambourines, flags and feathers festoon the walls, while retro crockery, dog-eared books and salvaged signs adorn the shelves.
'I'd probably sum up our style as "jumble sale",' says Peter, who names his favourite local interior haunts as Wayward ('great for haberdashery'), Philip Oakley Illuminations (for 'big lighty-up letters') and Robert's Rummage in Hastings Old Town – an Aladdin's cave of pre-loved curios.
'Being freelance, we have both become real squirrelers,' agrees Claire. 'Whenever something is ready to be thrown out at home, it gets a new lease of life at the hut!'
Since moving from east London to Hastings more than 15 years ago with their daughter, Alice, a beach hut has always been part of the draw of living a 10-minute cycle ride from the beach – a place to swim, cockle, paint and snooze. 'We've spent the night here to the sound of crashing waves before,' says Peter, as he takes a seat on the old hospital bed that – once destined for the skip – is now smothered in comfy blankets and crocheted quilts. 'But we're not really supposed to!' (clairefletcherart.com; peterquinnell.com)
FAMILY ESCAPE
CLAIRE SANDAVER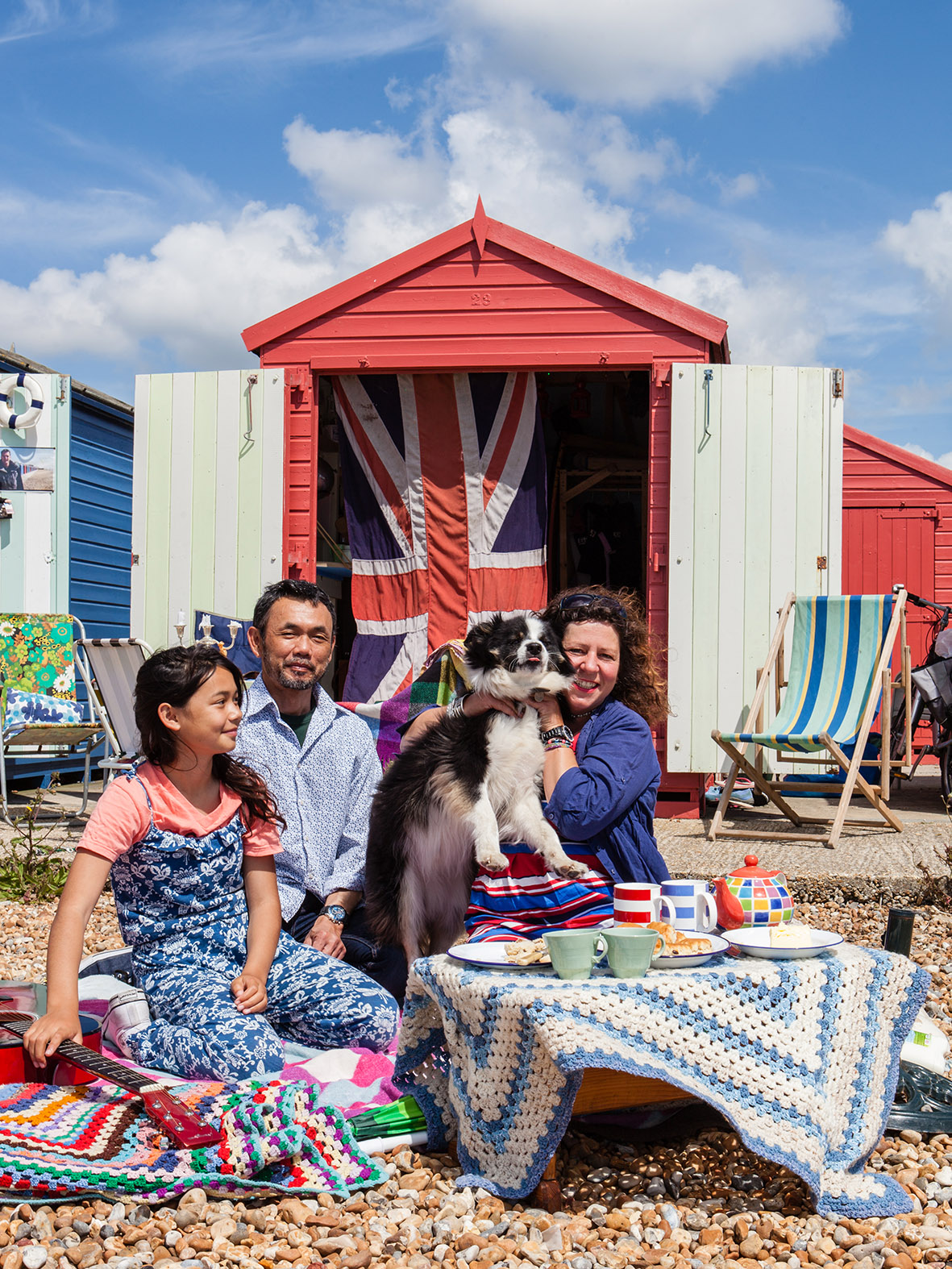 'Our hut looked like a shed when we first got it. We painted it red and created our little kitchen side-on so that we can make tea and talk without having our backs to the sea,' explains Claire Sandaver, who works as a therapeutic learning mentor for local charity, Education Futures Trust.
Claire rents one of 90 council-owned timber chalets and splits the annual fee of £980 with three other families. Though dinky in size, the hut commands front-row views to sea and serves as a storage space for towels, wetsuits, bodyboards and even an inflatable dinghy. Interiors feature an array of Cath Kidston mugs and blankets from charity shops mixed with ceramic jugs and trinkets crafted by joint owner Judith Rowe, a local artist and potter.
Most weekend mornings during the summer, Claire will look to the sky 'to see if it's a hut day'. A glimmer of sunshine signals wake-up calls for all the family, who cycle to their beach hut for a breakfast of crusty bacon rolls, coffee and orange juice slap-bang on the wave-lapped shingle. 'It's very much easy come, easy go here – we do the big gatherings but we also like to come down on our own for a sneaky cup of tea or a swim,' says Claire. 'We don't have a garden at home so this is my answer to it. I'm not sure I could ever be without a hut now.'
POP-UP GALLERY
ANDY & MARY YOUNG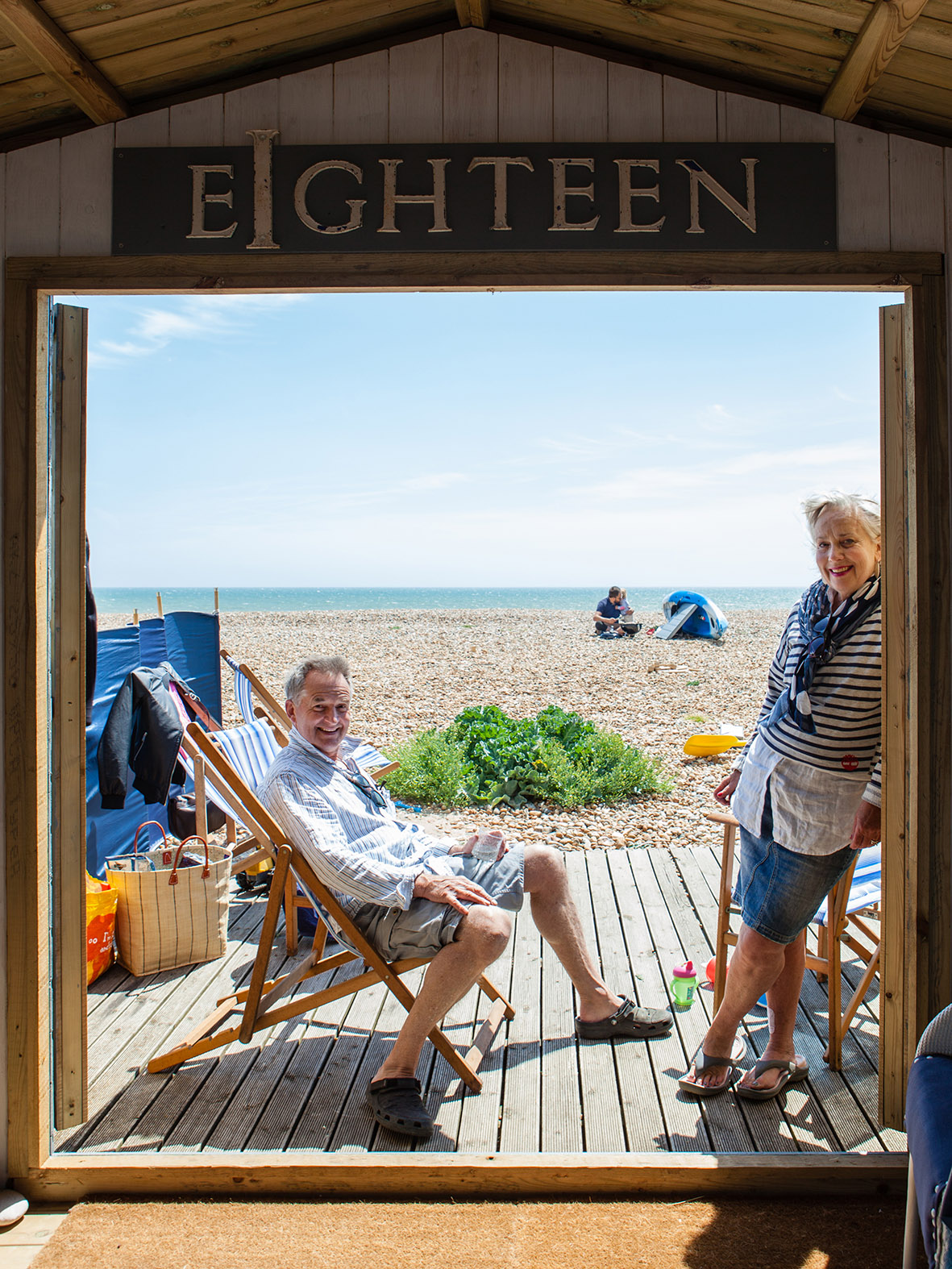 Nautical minimalism may be trending, but it needn't cost the earth. Faced with a blank canvas on the installation of a brand new beach hut in 2013, artists Mary and Andy Young decided to cap their budget at £20 per item. A wide range of supermarket and charity shop buys inform a stylish yet thrifty interiors base that Mary has customised with nautically inspired ceramics and cushions she made herself. Using simple stencil patterns in white and navy, she drew out a range of her favourite seaside illustrations and stitched these onto large squares of recycled fabric.
'I adore fish – they've become a strong theme and it's also a joy to paint them in watercolour,' says Mary, who sells her art during September's Coastal Currents Arts Festival, when huts are turned into pop-up galleries exhibiting the works of local artists. Meanwhile, Andy's hand-thrown jugs, vases and coffee mugs, flecked with shades of oceanic blue and muted stone, continue to sell like hot cakes. Over the first two weekends in September, 'Number Eighteen' will welcome up to 400 people through its tiny door.
The hut was originally purchased with the couple's nephew, Jon Young, in mind. In 2013, Jon moved back from Stockholm to run Hastings-based boutique B&B, The Laindons, with his wife Sara. After growing up shrimping and building sandcastles at his aunt and uncle's second beach hut (still just yards down the sand), Jon loves nothing more than reliving childhood memories with his own children Sam, four, and two-year-old Ellie.
'It's fun to see my son and daughter screaming in delight as they run up and down the sand through the little streams,' says Jon. 'The hut is an idyllic place for family gatherings.' (coastalcurrents.org.uk; thelaindons.com)
TECH-FREE ZONE
TIM MARRS & GARY NEILL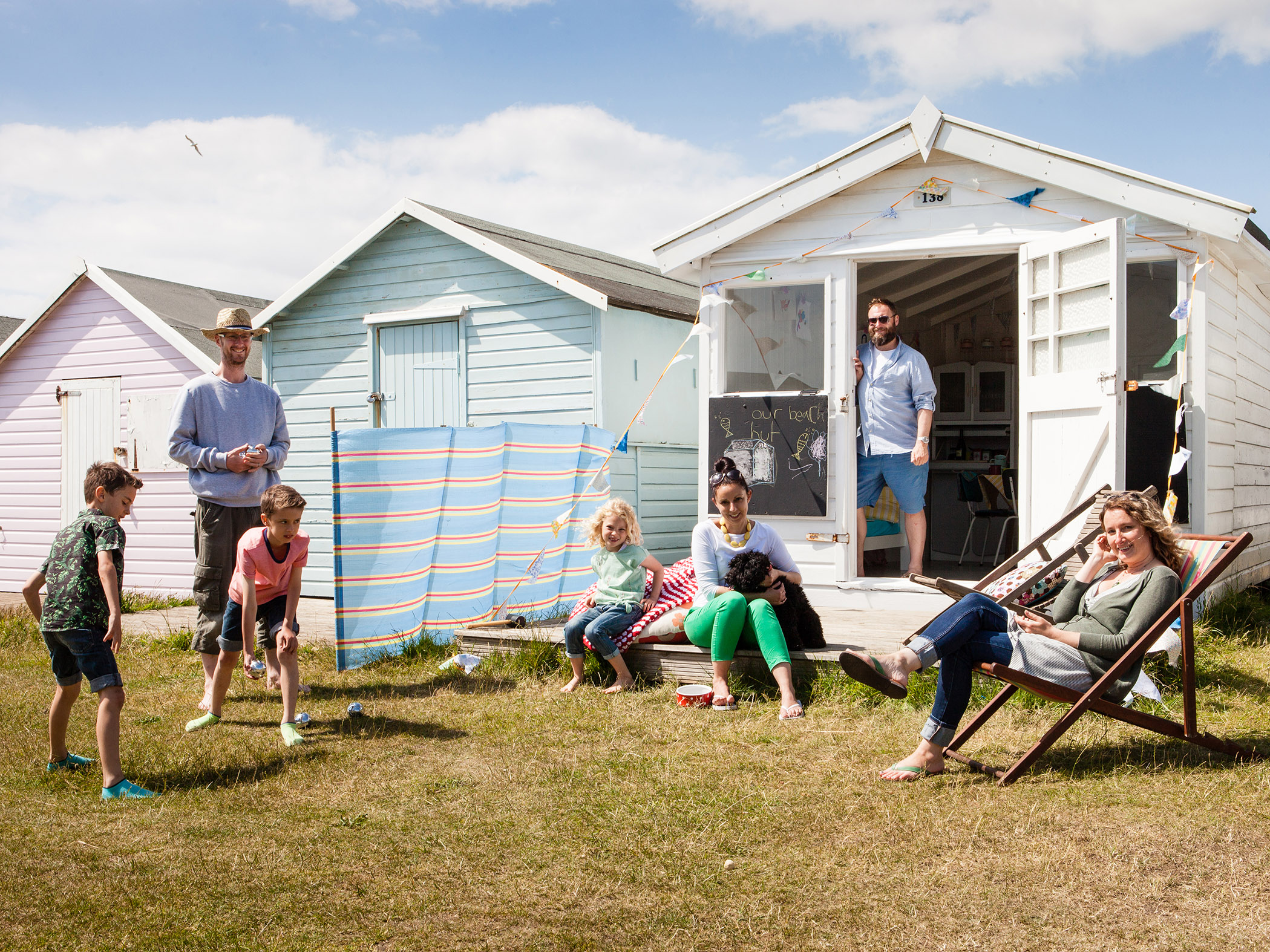 In the mid-90s, before the rise of all things digital, illustrator Tim Marrs and his wife Shelley would escape the trappings of London and make a beeline for the bric-a-brac stalls and antiques shops of Hastings Old Town, before combing the local beaches for washed-up treasure. Thirteen years later, after moving to the seaside and being followed down by friends – fellow illustrator Gary Neill and his wife Mandi – their shared beach hut epitomises the many talents the four have for bourgeois styling on a shoestring budget.
Upon buying the hut in 2008, the families were faced with 'hideous' windows and a 1980s kitchen, which they replaced with a salvaged larder and a cabinet that's now home to fresh flowers, colourful flasks and a miniature stove. The whitewashed tongue-and-groove walls are garlanded with bunting in shades of grey and white on a simple piece of twine that creates a cheerful gallery for the children's drawings.
Yet it's the beach that remains the main design inspiration. Two gnarled lengths of driftwood, holding an array of teapots, painted pebbles and pictures, were dragged up from the shore – an area of rocks the youngsters excitedly refer to as 'Dragon Mountain'.
'The beach hut is a great escape from a messy house with kids,' says Tim, laughing. 'Life is so simple here and it's a great chance to replace technology with the simple things. The best bit is being huddled around the remnants of a barbecue fire with a glass of wine while the kids are still making dens out on the grass with the smell of late summer and sea in the air. There's nothing quite like it.' (timmarrs.co.uk; garyneill.com)
SHORELINE STUDIO
NICK SNELLING & ADRIENNE HUNTER

Mounds of yellow-horned poppies, springing up through the shingle, create a bright and untamed welcome into the beach hut of local artists Nick Snelling and his wife, Adrienne Hunter. The 'spare studio' allows the couple to paint and sketch close to the elements. Natural art materials such as ink-dipped seagull feathers share their space with a well-worn collection of sea-faring apparatus; kayaks, fishing rods and hangers full of costumes, towels and life jackets speak of the pair's shared love for the waves.
Nick's sea paintings are inspired by his underwater photography and videos documented in the nearby surf, while Adrienne uses the coastal landscape as a foundation for her wild portraits, using gesso, ink and washes.
'You feel like you're on holiday here – even washing up on the pebbles is fun!' says Adrienne. Nick, for whom the sea is his 'biggest obsession' since moving to St Leonards from London in 1993, concurs. 'There's a lovely community of fishermen working on their boats, other artists and all kinds of different people. It feels like there's a kinship between the beach hut owners – we all know how lucky we are to have a piece of this beautiful spot.' (nicksnelling.com)
UPCYCLED STYLE HAVEN
BENEDICT & ALI MOONCIE

'We're going through a red and white phase with lots of enamelware,' says Ali Mooncie, who is enjoying a sunny afternoon at Glyne Gap beach with husband Benedict and their Jack Russell terrier cross, Gus. 'There's no running water or electricity here. It's very Enid Blyton and I love that!'
The Mooncies bought their hut in 2002, initially attracted to the landscape of wild shingle and sea poppies that would become an idyllic backdrop to their family retreat. Inside the hut, buckets, spades, straw hats and jelly shoes – once essential beachy items for their three girls growing up – are now used by small grandchildren on their visits to the seaside.
The childlike joy of furnishing a miniature house has led to happy hours hunting for bargains, which the couple enjoy mixing up with hand-made details. Ali used scraps of old fabric to upcycle cushions for the sofa (which doubles up as a bed when anyone 'starts to feel frazzled'), while much of the pint-sized furniture is sourced from local car boot sales.
'My advice is not to be too precious – the roof might collapse and things get damp,' says Ali. 'I like evolving huts that represent people's personalities. We've gone from furnishing everything in grey to having an all-pink scheme – but plumping for a white backdrop makes styling that little bit easier.'
Like this? Check out Beach Hut Living. For more stories about people living by the sea, click here or pick up a copy of the magazine.