A former industrial wasteland, County Durham's Heritage Coast mixes reclaimed beaches and colliery villages with sea glass and Lord Byron. Words: Lesley Gillilan. Illustration: Tom Jay
Nearly 30 years ago, Blast Beach, near Seaham, on the coast of County Durham, took the role of a dark and sinister alien planet in the opening scenes of the movie Alien 3. And it really looked the part. Like most of the coastline in this once industrial region, the beach was hidden beneath tons of dumped coal slag. Nature didn't have a chance.
Seaham is at the heart of a string of former coal-mining villages – Murton, Easington and Peterlee – which line the North Sea shoreline between Teesside and Tyneside. Until the early 1990s, when the last of its collieries closed for good, it was an environmental disaster zone. But it has since undergone a remarkable transformation. Over £10 million was spent on cleaning up the black, polluted beaches, creating footpaths, cycle tracks and nature reserves. The area was given heritage status in 2001.
'The change has been dramatic,' says Seaham resident Gavin Hardy, who grew up among the coal-black landscapes of what was then a typical Durham pit village. 'It was pretty grim,' he says. 'Now, it's a really nice place to live.'
Seaham's Victorian port has been reinvented as a marina with a lifeboat museum and a row of touristy shops and cafés right on the seafront. Seaham Hall – where local celebrity Lord Byron married Annabella Milbanke in 1815 – is now one of the best luxury hotels in the North East. Byron Place is the town's glassy shopping centre, and there are cafés, bars and an ice cream parlour on the seafront, noted these days for its public art.
There are, says Gavin, still remnants of coal and iron waste on some of the beaches; and the old names have stuck: Chemical Beach, for example. But Seaham's new industry is tourism – and in particular nature tourism. 'People are even seeing beauty in the area's mining heritage,' says Gavin, who has turned an element of the town's past into a thriving business.
His shop, Seaham Waves, sells jewellery made from the area's famous 'sea glass' – waste from a Victorian glassworks in Seaham (closed in the 1920s) which has been smoothed into pebbles by the waves and washed up on local beaches.
Gavin, his wife Denise and two young daughters spend much of their time scouring Seaham's shoreline for these tiny treasures. 'We love the outdoor life,' he says. 'And with the fresh air, green spaces and beaches on the doorstep, this stretch of coast has become a great place to bring up kids.'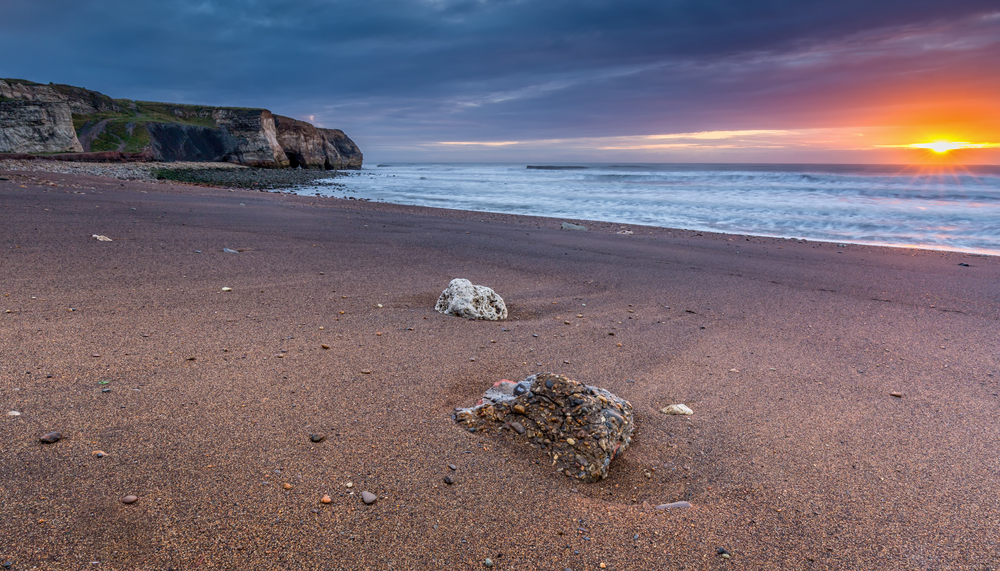 Photo: SreeM/Shutterstock
1. FOR THE CHOICE OF PLACES TO BUY
There are old and interesting pockets of Easington and Peterlee – both former colliery villages en route to Hartlepool – but the harbour town of Seaham is the place to be. The finest houses tend to sit close to Old Seaham and Lord Byron's Walk on the northern outskirts. Closer to shops and seafront, there are roomy Victorians on North Terrace (from around £275,000). And in Dawdon, on the inland side of the railway track, a grid of classic industrial-town terraces offers compact two- and three-bedroom houses for around £80-£95,000; some streets have views of the sea. For large period townhouses, take a look at Ashbrooke or Thornhill on the southern suburbs of Sunderland.
2. FOR OODLES OF ACTIVITIES
Discover the region's natural assets: lofty Magnesium Limestone cliffs (rich in fossils); lengthy, often empty beaches (man-made stacks on Blast Beach, dunes and tern colonies at Crimdon) plus sea caves, anemones, orchids, butterflies and yew trees in Castle Eden Dene National Nature Reserve. For the active, the region offers cycle paths, fishing, sailing, golf and the luxury of Seaham Hall's Serenity Spa, one of the few places in the country to offer Ishga treatments (based on salty-seaweed products from the Hebrides). For details see visitcountydurham.org.
3. FOR NEW JOBS & THE COMMUTING
Until 31 years ago, the area's economy depended on mining, metals and heavy industry; now it's an emerging tourist destination, popular with relocating families as well as visitors. And for commuters the location couldn't be better: Seaham is on the Durham Coast railway, which runs between Sunderland (5 miles north) and Hartlepool (16 miles south). Newcastle, with its airport and high-speed rail link to London (King's Cross in under 3 hours), is just 18 miles away. The tiny cathedral city of Durham with its university is a half-hour drive.
4. FOR THE GOOD SCHOOLS
State secondaries (for 11 to 16- year-olds) include Seaham School of Technology and Easington Academy, both rated as Good by Ofsted. Sixth-formers can head for Sunderland College or Peterlee's Byron College.
5. FOR THE CELEBRITY STATUS
The region's mining landscapes have proved perfect backdrops for gritty British films: Easington Colliery played the fictional Everington pit village in Billy Elliot. And Blackhall Rocks beach provided a real-life industrial setting in the 1970s classic Get Carter.
FOR THE LOCALS' TIPS… Gavin shares what he likes about Seaham
6. The 11-mile East Durham Coast Walk (durhamheritagecoast.org) which runs from Seaham Hall beach down to Crimdon, taking in Nose's Point at Dawdon and the beaches and wooded 'denes' at Hawthorn, Castle Eden and Blackhall Rocks.
7. Seaham's trail of public art, which includes a wooden statue of Lord Byron and his wife Annabella by David Gross, and Ray Lonsdale's larger-than-life 'Tommy', a Corten-steel tribute to WW1 soldiers.
8. The Lamp Room on Seaham's North Terrace is Gavin's favourite local restaurant (0191 903 3747, thelamproom.co.uk). 'They do fantastic seafood and tapas at the weekends.'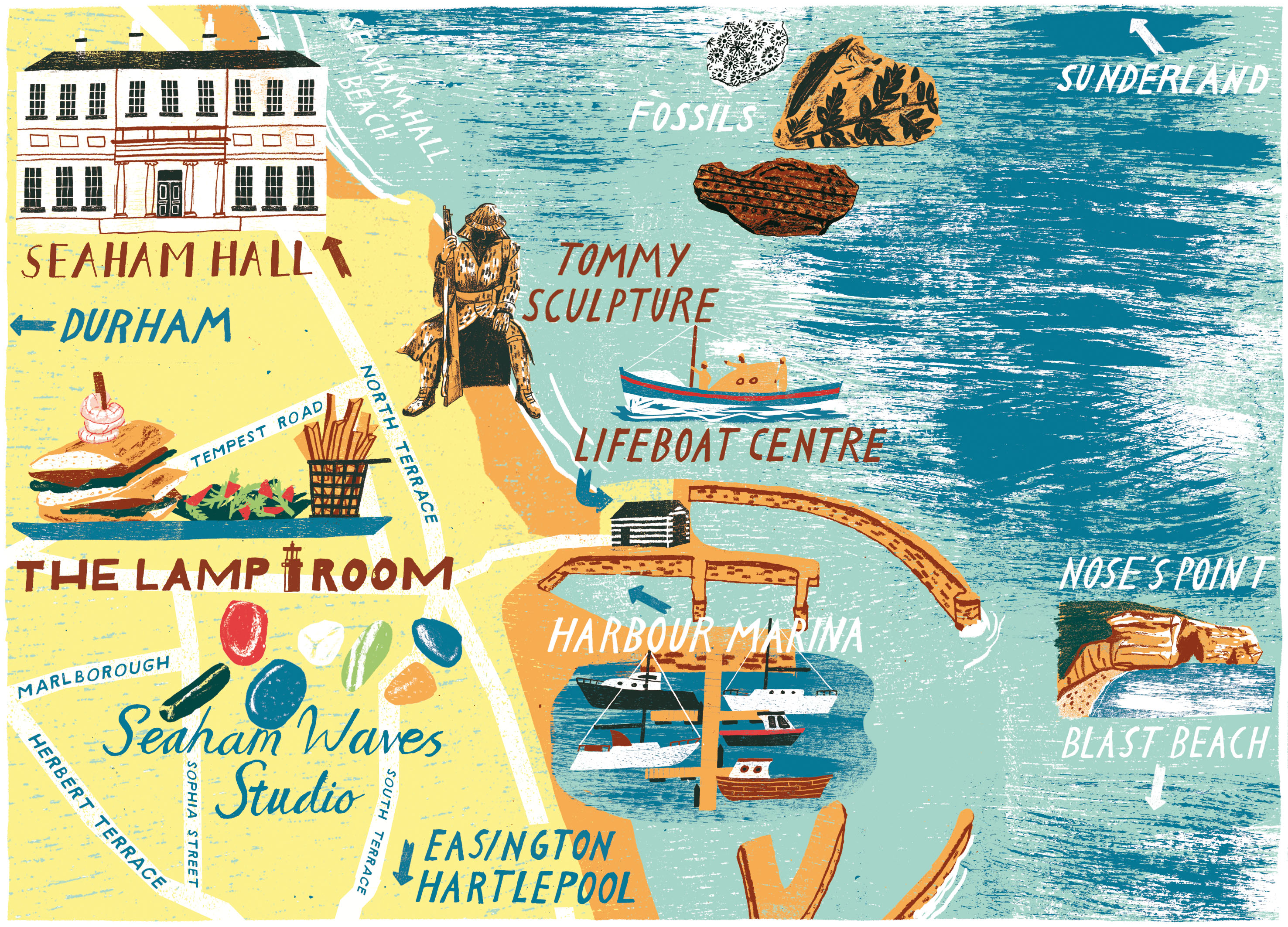 Illustration: Tom Jay
REALITY CHECK
The Durham coastline is not big on pretty houses. At one end of the spectrum, there are the grand mansions of colliery owners or shipbuilders; at the other, terraces of Victorian miners' cottages – but there's not a lot in between, other than post-war bungalows and small estates of modern red-brick houses. On the plus side, the majority of house prices are well below the national average.
CAN YOU AFFORD IT?
Average house prices May 2021. Source: Rightmove
Sunderland: £154,495
Seaham: £140,866
County Durham: £156,029
UK: £249,000
PAY A VISIT AND STAY AT…
Seaham Hall (0800 089 3929, seaham-hall.co.uk)
The North East's 'small hotel of the year' is a class act: a Georgian mansion with 20 beautiful, contemporary suites – like mini apartments, furnished with huge beds, velvety sofas and bold seaside colours – and two restaurants (the Byron and the pan-Asian Ozone) set in 37 acres overlooking the sea. The service is impeccable, the atmosphere is relaxed (wander down to the gym in your luxury bathrobe) and you can use the Serenity Spa's pool, sauna-steam rooms and outdoor hot-tubs. Suites from £195.
Find more inspiration for moving to the coast here, or pick up a copy of the magazine.