JENNY JEFFERIES is a passionate campaigner for us all to eat more sustainable seafood…as she reveals here upon publication of her latest sustainable seafood cookbook.
Eighty per cent of our fish is exported; as islanders, we don't eat enough sustainable fish and seafood. We enjoy such a rich and versatile coastline, but our knowledge of what's on our doorstep is extremely limited.
The big retailers may be able to play a role in commercialising UK-caught seafood only after adequate processing infrastructure has been put in place, and consumers have started actively looking for local species, which should be inspired by local shops and fishmongers.
One of the key challenges for UK-caught seafood is that supply cannot be consistent, both in terms of species and of volume. So first and foremost, it is key to educate consumers about the seasonality and regionality of different species, so that the diversity and lack of consistency are appreciated, rather than seen as a hurdle.
A rather delicate and controversial subject is the slow demise of our small boat fishermen. A combination of the Covid pandemic and Brexit is entirely to blame. There are approximately 70 pieces of paperwork that have to be completed for exporting shellfish to mainland Europe, who used to be our biggest customer. Due to the time it takes to process all the paperwork, which ought to be all digitised by now, the waiting shellfish rots in vans waiting to be transported. Everyone doesn't understand everything and there's a lot of grey area.
The good thing is that there is a lot of regulation. It makes the producer safer to eat and with greater confidence. There's a serial number for each and every batch of shellfish which has to be properly labelled. The quality and the grading of the fish is checked periodically as the shellfish is sold alive which is the reason why it is highly regulated and traceable. This is super for the reputation of the seafood supplier. However, the problem is with the lack of administration and technology to enable this process to be suitably speedy and accurate, Shellfish is highly perishable and there's not a lot of wiggle room.
However, as an island nation, we need to eat more sustainable fish and seafood. Education and accurate information is always so important and with the current, modern epidemic of mass mis-information I endeavour to share with people of all generations and backgrounds about simply where our food comes from and the sharing of convenient and delicious recipes and heartfelt stories from the fishermen themselves.
Once again I champion Britain's fishing communities, with my latest compilation, For the Love of the Sea II. Following the course of its predecessor, which won the Guild of Food Writers' Award for Best Self-Published Work in 2022, this sequel celebrates Britain's cornucopian coastline through the people, produce, and practices that define it.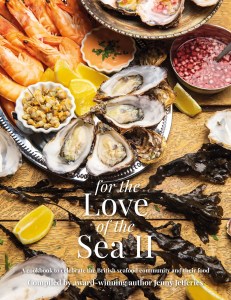 Mitch Tonks, founder and CEO of Rockfish, hails the book as "a seafood odyssey" in his foreword. As readers travel along our island's shores, you'll discover the stories and recipes within its diverse coastal communities, from fishmongers to foragers and basket weavers to marine scientists.
Alongside our food and its provenance, a central theme of this book is advocacy for sustainability and education. It explores the legacy of the fishing industry while looking forward to the futureproofing of its practices. For example, the 'Fish in Schools Hero' programme, run by The Food Teachers Centre, aims to introduce young people to the delights of cooking with fish and seafood for both flavour and nutrition. I will be donating ten per cent of my net profits from the sales of For the Love of the Sea II to The Food Teachers Centre.
Combining familiar flavours with fish and seafood in ways that may be new to many readers, recipes include Cockle and Bacon Chowder; Haddock Scotch Egg; Thai Red Curry Mussels; Stargazy Pie; Whelks in Chilli Garlic Butter; Mediterranean Roasted Whole Seabass and many more.
The celebration continues as I share here these two delicious recipes from the book.
For The Love Of The Sea II is by Jenny Jefferies, published by Meze Publishing, and is a hardback story/cookbook £22 available from all good book shops and Jenny's website jennyjefferies.co.uk. Follow Jenny @jennyljefferies
MACKEREL SHAWARMA
"I love the flavours of a good kebab so here they are with one of my favourite fish. This really is a flavour explosion. There's lots going on, from the smokiness of the mackerel to the garlic yoghurt, fresh herbs and crunchy salad." By Mitch Tonks, CEO Rockfish
PREPARATION TIME: 20 MINUTES | COOKING TIME: 5 MINUTES | SERVES 2
Ingredients:
75g white cabbage, finely sliced
1 lemon, juiced
1 mackerel, filleted and skinned
1 heaped tbsp plain flour
Pinch of ground cloves
Pinch of ground cardamom
Pinch of ground cinnamon
Pinch of white pepper
Olive oil, for frying
2 flour tortillas
1 tomato, chopped
1⁄2 small red onion, finely sliced root to top
Small bunch of dill, chopped
Pinch of za'atar (a Lebanese spice sold in most supermarkets)
1 fresh green chilli, finely sliced
Pinch of chilli flakes
2 tbsp pomegranate seeds
For the smoked mackerel hummus:
1 smoked mackerel fillet, skinned
80g tinned chickpeas, rinsed and drained
1 tbsp tahini
2 tbsp mayonnaise
1⁄2 lemon, zested
For the garlic yoghurt:
1 clove of garlic, crushed
2 tbsp plain yoghurt
Method:
To make the hummus, combine the smoked mackerel, chickpeas and tahini in a food processor and blitz to a smooth paste. Transfer to a bowl, then fold in the mayonnaise and lemon zest. Set aside until ready to serve. To make the garlic yoghurt, mix the ingredients together with a good pinch of salt. Now dress the sliced cabbage with the fresh lemon juice and set aside.
Remove any pin bones from the mackerel fillets. Mix the flour with the cloves, cardamom, cinnamon and pepper, then dip the mackerel fillets in this mixture to coat both sides. Fry in a little olive oil, skinned side down, for about 2 minutes or until crisp. Turn over and finish cooking on the other side for about 1 minute. Leave the mackerel in the pan, off the heat, while you assemble the wraps.
Warm the tortillas, then lay them out and spread the smoked mackerel hummus over them. Scatter over the cabbage, then the tomato and onion followed by plenty of dill. Lay a mackerel fillet on each tortilla. Add a tablespoon of garlic yoghurt, then sprinkle liberally with za'atar, fresh chilli, chilli flakes and pomegranate seeds. Fold the bottom in and wrap it all up to serve.
SMOKY PRESERVED SEAFOOD CHOWDER
"Buying, storing and cooking live bivalves can be daunting, particularly for beginners! Smoked, pickled, cooked, and frozen bivalve meat is a great alternative, available from most seafood suppliers and supermarkets. This hearty preserved seafood chowder is a delicious, accessible way of incorporating seafood into your diet." By Khatiche and Rebekah Larcombe of Sista Shuck!
PREPARATION TIME: 15 MINUTES | COOKING TIME: 30 MINUTES | SERVES 4
Ingredients:
100g carrot
100g onion
100g leek
100g celery
400g waxy potatoes 50g butter
Glug of olive oil
Salt and pepper
2 fat cloves of garlic
125ml white wine (optional)
2 heaped tbsp plain flour
600ml fish stock (veg or chicken work too)
1 large bay leaf
60g pickled cockles
60g clams in brine
60g smoked oysters
60g smoked mussels
400ml single cream
Fresh parsley
Method:
Peel the carrot and onion. Rinse the leek and celery well to remove any grit. Chop all the vegetables into a medium dice. Chop the potatoes into small cubes of about half an inch (peel them first if preferred). Set aside.
Melt the butter with a dash of olive oil in a large saucepan on a medium heat. Add the carrot, onion, leek, and celery and season well with salt and pepper. Sauté on a medium heat, stirring occasionally, for 5 minutes, until softened but not browned.
While the veg sautés, peel and chop the garlic. Add to the pan and stir well. After 2 minutes, add the wine. Stir again and let the wine cook off for 1 minute.
Add the flour and stir well, making sure everything is coated. Turn the heat to low and cook the mixture for 2 minutes, stirring regularly.
Add a quarter of the stock and stir vigorously to avoid lumps. Turn the heat up to medium-high. Add the rest of the stock gradually, stirring continuously. Bring to a boil, then add the potatoes and bay leaf. Cover and simmer on a low heat for 10-12 minutes until the potatoes are tender, stirring occasionally.
Meanwhile, drain the cockles and clams. Drain and roughly chop the smoked oysters and mussels. All the smokiness comes from these, not bacon, in this chowder so be sure to include some. Leave a few whole if you like the texture or chop very fine if you don't! You can add or reduce the type and quantity of bivalve according to your own taste.
When the potatoes are tender, add the cream, stir well and simmer uncovered for 5 minutes on a medium low heat.
Add the seafood to the chowder and stir well. Remove pan from the heat. Let the chowder sit, lid on, for 5 minutes to allow the bivalves to warm through.
Chop the parsley and taste the chowder to check the seasoning. Add more salt and pepper if necessary. Chilli flakes are nice too! Garnish with the fresh parsley, add a wedge of lemon, and serve with crusty bread.
This also makes an excellent pie filling! Simply put the creamy mix into an oven dish, top with a sheet of pastry and bake at 180°c until golden brown. Puff is best, but filo and shortcrust work too.