From his South Devon HQ, Mitch Tonks runs his chain of Rockfish restaurants and takeaways, offering diners superb seafood fished from local waters by the Brixham fleet. Here, he shares his favourite seafood recipes for you to make at home
Words Caroline Wheater
'I've travelled and cooked around the globe and Britain's south coast fishery is the best in the world. At Brixham harbour in Devon, boats land 40 to 50 wild caught species every day,' says renowned chef, Mitch Tonks, who buys produce from Brixham Fish Market for his flagship restaurant, The Seahorse in Dartmouth, and his chain of Rockfish restaurants and takeaways. It's not just the variety that makes this fishery worth £40m a year, but the quality too. 'The huge flow of seawater coming in and out of the English Channel every day brings with it nutrients and food for marine life, so the flavour of the catch is superb.'
Mitch has lived in Brixham for 15 years and never tires of the sights and sounds of the town's 100-strong fishing fleet. A host of day boats (including his own vessel, Rockfisher) land John Dory, Dover and lemon sole, turbot and brill. Larger trawlers spend up to a week netting sole, plaice and turbot, while hake boats venture into the Atlantic Ocean to find shoals of this ultra-sustainable fish. Then there are the small craft that service netters, potters and divers harvesting shellfish and crustaceans.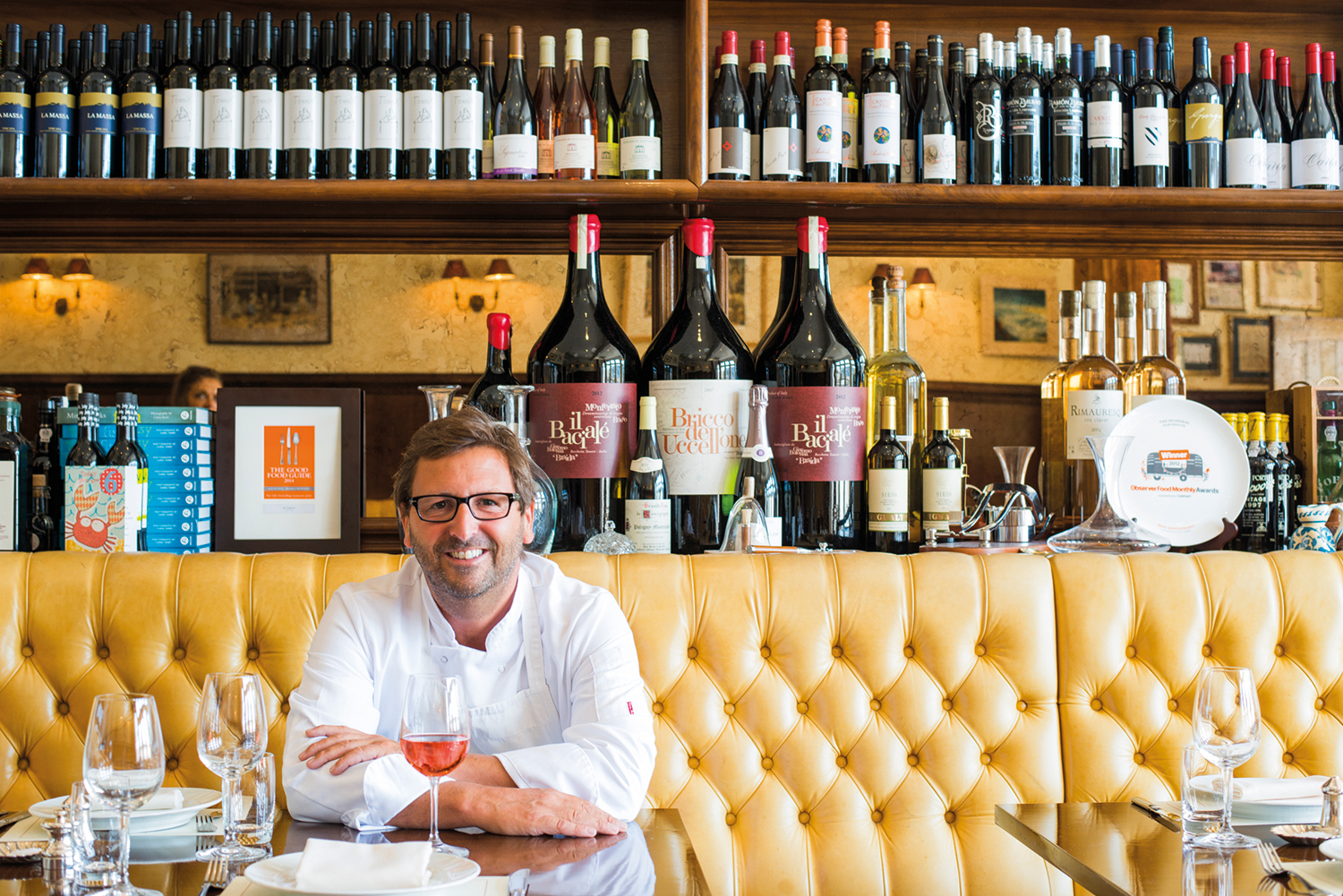 For many years Mitch has supported sustainable fishing, and lauds the efforts of the Brixham fleet to improve practices within an already well-managed fishery. Most of the boats use nets with mesh dimensions larger than the legal requirement to allow smaller fish to swim away. 'The fishermen here are really good people, and they are always looking to adjust their ways to the new science. A huge amount of money has been invested into a new rope-cultured mussel farm in Lyme Bay, which is producing fantastic mussels, and there's investment in scallop lantern nets too. We're working towards being sustainable.' And Mitch is also a big fan of Marine Conservation Zones. 'We don't need to fish everywhere and it's important to protect breeding areas to keep stocks plentiful,' he points out.
During the Covid-19 pandemic, Mitch vowed to save every job in his business and developed different ways to reach customers, such as selling fish direct from the Rockfisher, launching a retail outlet at Brixham Fish Market, and starting up Rockfish Delivered, a menu service delivered nationwide by courier. 'A new market has opened up offering people a food experience at home – our crab thermidor served on toast has gone down really well,' he remarks, adding that he plans to continue this service once normality has returned.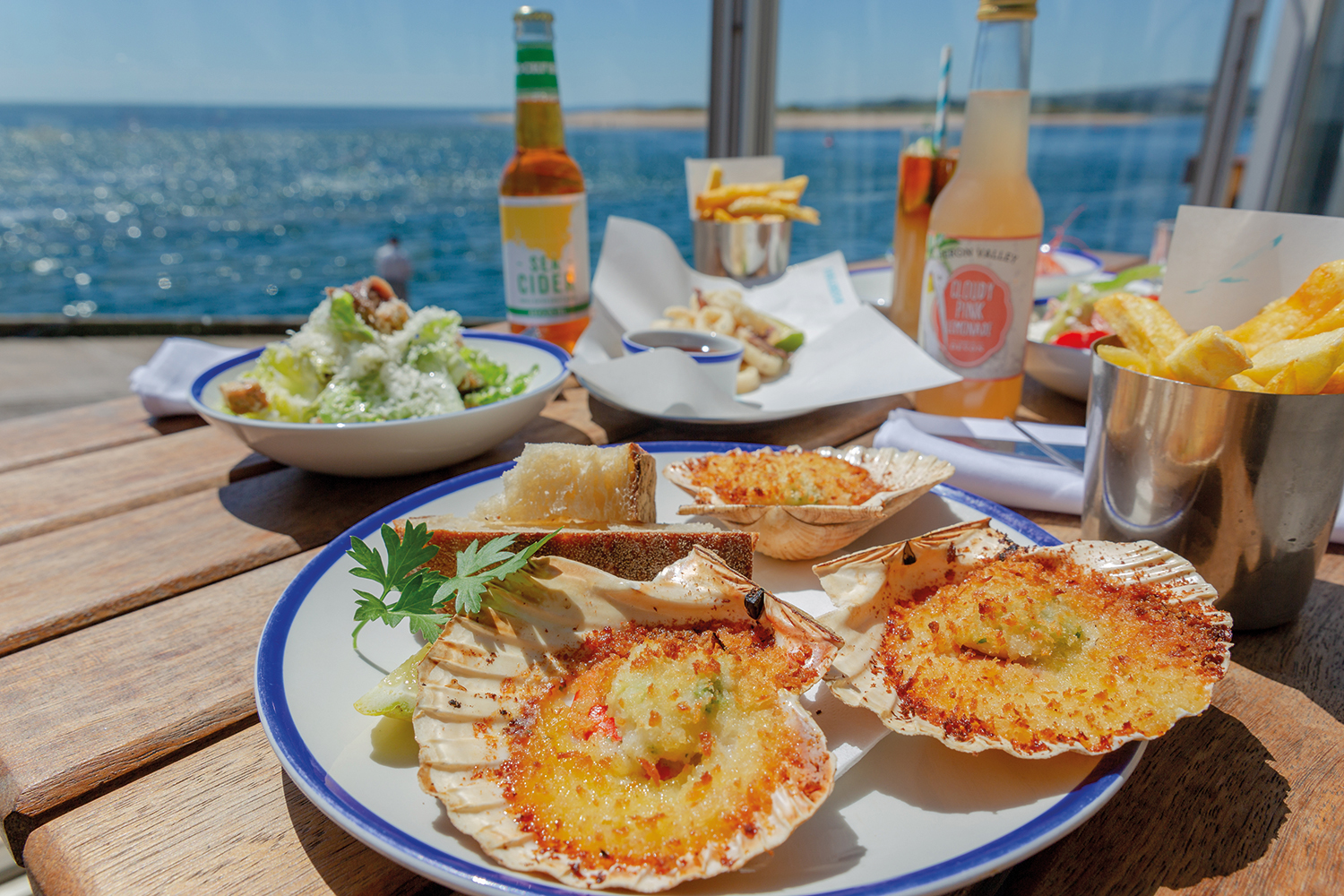 Read next 8 Top Coastal Restaurants in Devon
TOP RECIPES FROM MITCH TONKS
POTTED SOUTH DEVON CRAB


You will need:
250g brown meat from South Devon crab
150g white meat from South Devon crab
Splash of cognac
1 tsp ground fennel seeds
1 crumbled dried chilli
100g melted butter plus 50g for pouring
on top
Fennel fronds
Juice and zest of ½ a lemon
Method (SERVES 4)
1. Melt the butter, stir in the crabmeat, cognac, fennel, lemon juice, chilli and zest, then season and taste.
2. Put into ramekins and pour a little melted butter over the top, and sprinkle with the fennel fronds.
3. Chill well and serve with toast.
Read next 4 delicious recipes to make at home by top chef Robert Thompson
HAKE WITH SWEET GARLIC AND GOOD OLIVE OIL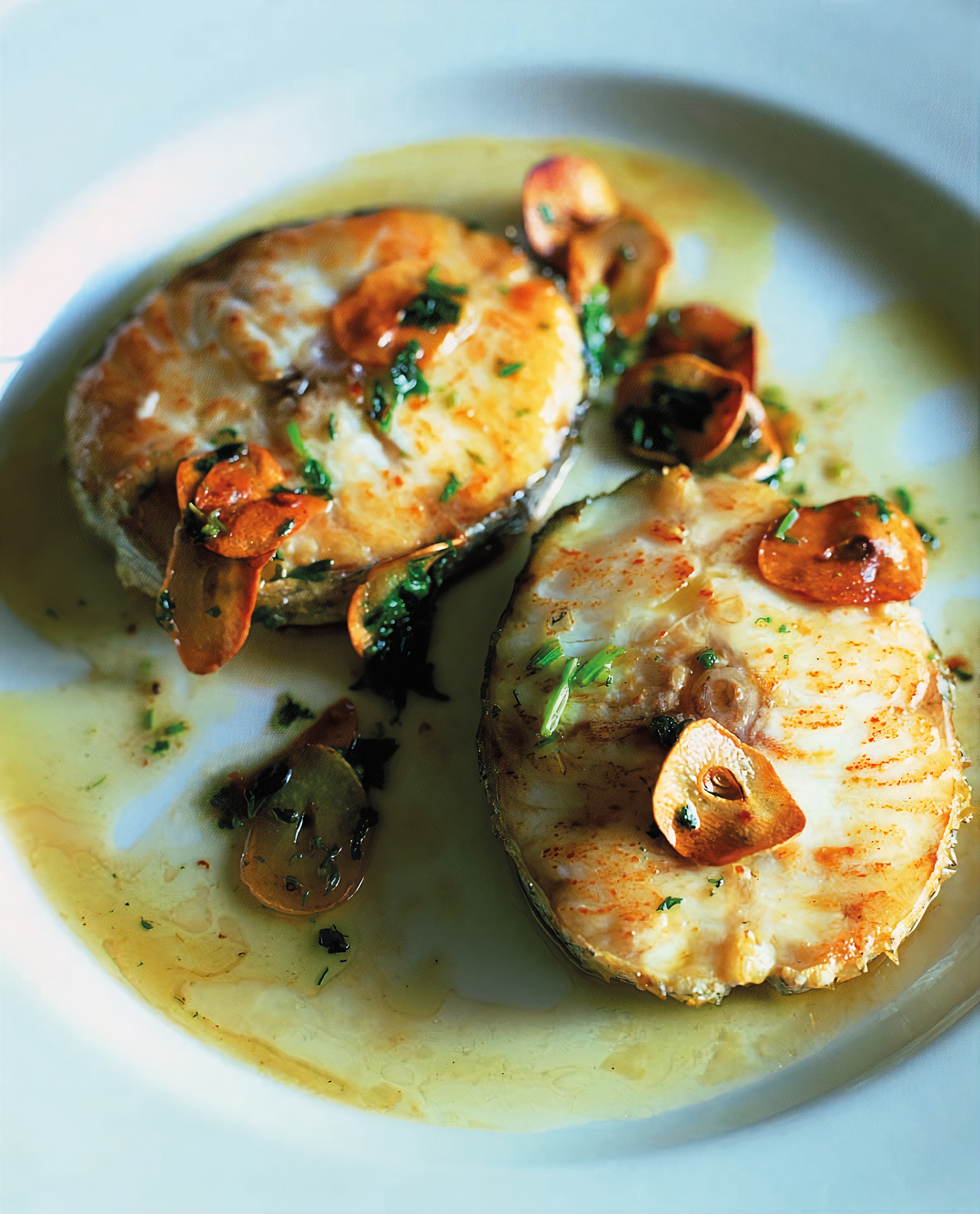 You will need:
Olive oil
6 hake steaks
Sea salt and freshly ground black pepper
2 cloves of garlic, very finely sliced
Good extra virgin olive oil
Juice of ½ a lemon
A handful of fresh flat-leaf parsley, finely chopped
Method (SERVES 2)
1. Heat a heavy-based frying pan until really hot, then add just enough olive oil to fry the fish in. Season the steaks with a light sprinkling of sea salt and freshly ground black pepper. Lay the fish in the pan and fry for a minute or two, then add the garlic. Keep frying till the garlic is golden brown with a sweet flavour. Turn the fish after 2-4 minutes and cook it for 3 minutes on the other side. Make sure the garlic doesn't burn. Remove the fish from the pan to a serving dish.
2. With the pan off the heat, add a good splash of your finest extra virgin olive oil and a pinch of sea salt to the garlic and juices left in the pan. The residual heat of the pan will be sufficient to warm it all through; there is no need to put it back on the flame. Add a good squeeze of lemon juice, then the flat-leaf parsley, and give it all a good stir. You just know even before you dress the fish that it is going to
taste delicious.
CUTTLEFISH WITH NAM JIM SAUCE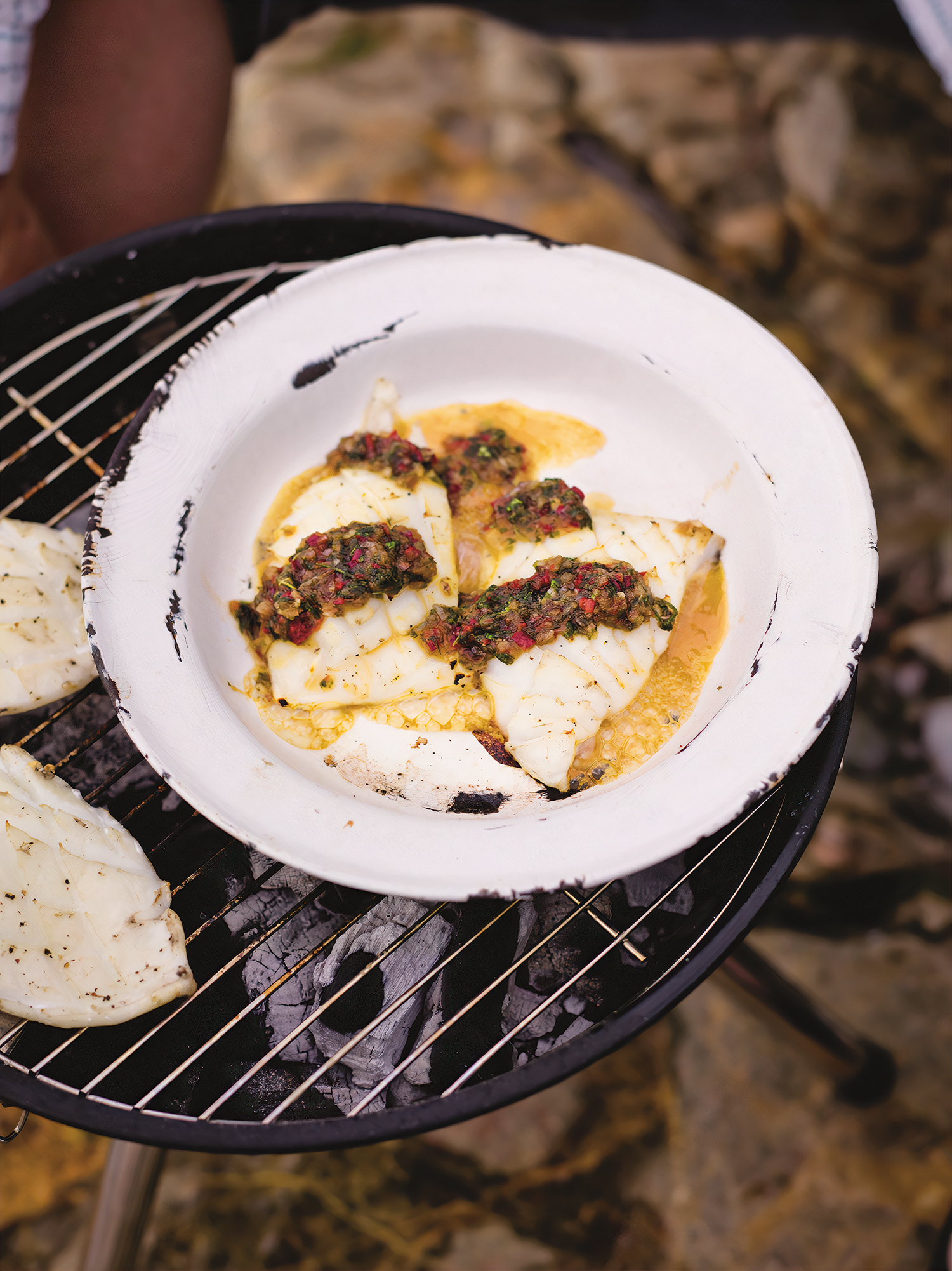 You will need:
3 medium cuttlefish cleaned – get your fishmonger to
do this
Juice of 1 lime
3 garlic cloves
2 tbsp grated palm sugar
2 red chillis, chopped
A small handful of coriander with stalks
2 shallots finely chopped (small Thai red ones are best)
Salt
2 tbsp fish sauce
Method (SERVES 4)
1. Make the Nam Jim sauce first. Crush the coriander, garlic and salt using a pestle and mortar, add chillis and crush, then add fish sauce, lime juice and sugar, taste and balance the flavours by adding more lime, sugar or fish sauce – you want, salty, sweet and hot.
2. Score the cuttlefish diagonally with cuts about 10mm apart on the inside so there is a criss-cross pattern, the depth of the cuts should go down to, but not through, the other side. Brush with oil and season with salt.
3. Cook with the cut side nearest the heat until charred and golden. Spoon the dressing liberally over the
For more food to make at home, head to our Recipes section, or to discover the best restaurants and cafes around the coast, head to our Food & Drink section, or pick up a copy of the magazine
THE ROCKFISH EXPERIENCE
• You can enjoy the Rockfish taste in your own home with Rockfish Delivered, which sends Seafood Experience Boxes nationwide. Go to therockfish.co.uk to see menus and to order. A box containing Dover sole, crab thermidor and smoked salmon costs £87.
• Eat out at Rockfish Brixham and afterwards buy fish at the new retail outlet in Brixham Fish Market. All to be found at Fish Quay, Brixham – call 01803 850872 to book a table. Find other Rockfish venues at therockfish.co.uk.
• Enjoy Mitch Tonks' sustainable approach to buying and cooking fish at his flagship restaurant, The Seahorse, 5 South Embankment, Dartmouth. Call 01803 835147 or go to seahorserestaurant.co.uk to book.