Su Carroll brushes up on her kitchen skills in search of the perfect cookery course, exploring the UKs top coastal cookery schools.
If you're anything like me, you have hundreds of cookery books and still find yourself dishing up the same old family favourites every day – the meals you could make blindfolded. When I do dip into one of my books – a collection spanning more than 40 years – I really love the experience of making something new.
When I had a "significant" birthday it spurred me on to make something I'd never made before from one of my cookbooks every day for a month and blog about the experience. It was lovely – I made new things and reminded myself of how food connects us, to people, places and events.
If you're bored with baking and past it with pasta, a cookery course will brighten your taste buds, sharpen your kitchen skills and give you a great new experience. Plus, you get to eat the results of your efforts.
Here are some great coastal courses to whet your appetite:
RICK STEIN COOKERY SCHOOL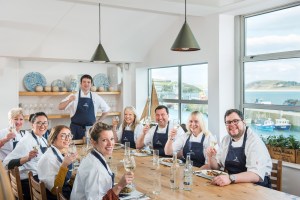 I have more Rick Stein books in my collection than any other chef…and for good reason. He writes with great enthusiasm and passion about food and the recipes are clear and quickly become go-to favourites. You'll find that same zest for life at the cookery school that bears his name in Padstow on the north Cornish coast.
The purpose-built kitchens overlooking the Camel Estuary are the perfect spot for learning about seafood cookery and dishes made with other local produce. You can join in a skills class, or simply enjoy watching someone else do all the work. There's a wide range of options include a four-day course including fishing trip.
BEST FOR: The Rick Stein ethos and waterside location. rickstein.com
FAT HEN WILD COOKERY SCHOOL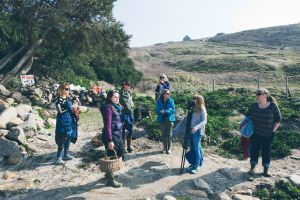 When Caroline Davey set up the Fat Hen in 2007, it brought together her two great loves – food and nature. Initially she foraged for ingredients for local chefs close to home in St Buryan, near Penzance. She realised, though, that what she really wanted to do was to share her passion with others. Course numbers are kept deliberately small and cover all the basics of foraging, producing delicious food to eat at the end of the day.
Try the Spring Wild Greens Foraging Walk and Soup which will show you how to make soups and salads from wild plants growing on The Lizard on the Cornish coast. Or go seaweed foraging and harvesting then enjoy a lunch with a seaweed theme.
BEST FOR: A walk on the wild side. the-fat-hen.co.uk
THE CATCH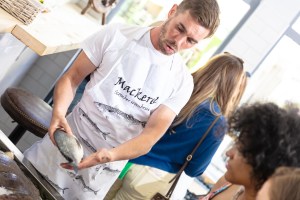 This cookery school launched in January and has already proved to be the catch of the day on Plymouth's historic Barbican. Lee Holland runs the courses in The Catch, which also serves as a fishmonger and restaurant.
The chef, who trained with Rick Stein, is passionate about fish and shellfish, as you would expect, and loves sharing his knowledge and skills. "It can be daunting to be presented with a whole piece of fish when you don't know where to start," he says.
"You look at a scallop and it looks completely alien. We show people how to prepare and clean them, how to shuck oysters, how to fillet a sea bass or a flat fish. It's very informal and fun."
BEST FOR: The fresh fish landed yards away on the Barbican Quayside. thecatchplymouth.co.uk
PHILLEIGH WAY
As you would expect with a Cornish cookery school, Philleigh Way offers courses on fish, pasty-making, foraging, game and woodfired cookery. But they also share their passion for food from around the world – Tuscany, Asia, the Middle East and Scandinavia are featured – mostly as day courses.
There's something for everyone, including pizza-making for all the family or a kids chef course to help teenagers develop basic skills. The farmhouse school is in an Area of Outstanding Natural Beauty on the Roseland Peninsula, bordered by the Atlantic and the Fal, where you may end up fishing for your lunch.
BEST FOR: Well, it has to be the Cornish pasty! philleighway.co.uk
MANNA FROM DEVON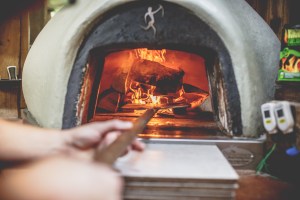 Holly and David Jones run the cookery school and B&B from their home in Kingswear, Devon, overlooking the River Dart. They have a fabulous fish course, making the most of the nearby port of Brixham, and passionate baker David heads up a number of courses, including an artisan bread weekend. You can also learn in the comfort of your home with online courses and tutorials.
The big appeal here is the couple's brilliant woodfired cookery courses, which they have been running for more than 12 years. The passion is contagious and courses are aimed at beginners but also people wanting to improve their skills. There are courses during the year in Suffolk and Edinburgh too and online courses. They have written three cookbooks on woodfired cooking.
BEST FOR: getting all fired up. mannafromdevon.com
CHEWTON GLEN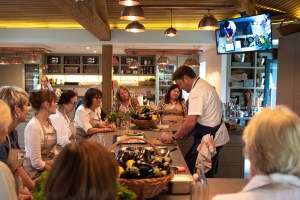 TV chef James Martin is the big name behind The Kitchen Cookery School at Chewton Glen, close to the Hampshire coast and on the edge of the New Forest.
Courses range from lessons for young cooks, half days, days and evenings. You can travel around the world with cuisine from Spain, Thailand, Korea or Italy amongst others or polish up your skills in baking, puddings or vegan dishes.
Visit the garden and greenhouses to see food being grown for the hotel and The Kitchen, which is open plan so you can see all the chefs at work.
BEST FOR: Sharing James Martin's passion for good food. chewtonglen.com
STATION HOUSE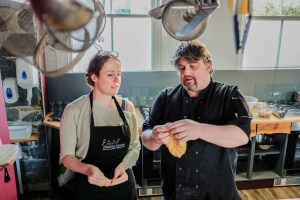 You're on the right track at this cookery school in a 19th century former railway station in Dumfries and Galloway's picturesque fishing village of Kircudbright. Station master is Nick Morris, whose globetrotting has inspired his courses – Middle Eastern, Turkish and Italian courses are available.
"It is very much focused on the home cook", says Nick. "We run courses in August during the school holidays for families to cook together, and kids study for free. We also work with youth and community groups. We work with local ingredients and recipes that people will easily be able to do at home. I want to get Britain cooking again."
BEST FOR: Nick is very cost conscious, so you can opt for a full-day course or just attend a demo for around a quarter of the price. stationhousecookeryschool.co.uk
EDINBURGH NEW TOWN COOKERY SCHOOL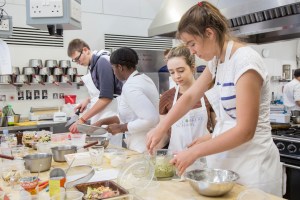 This school is in a beautiful Georgian townhouse in Queen Street, the heart of Edinburgh. There are professional courses taking place here, with less formal cookery courses benefitting from the same attention to detail. Choose durations ranging from half a day to two or three-week courses.
All the favourites can be found here – international cuisine, baking and fish. Look out for the getting ready for university course which helps young people prepare for leaving home with ideas on planning meals, budgeting, cooking and ways with leftovers.
BEST FOR: Plenty of options for everyone. entcs.co.uk
L'AMUSE CHEZ KATE
Kate Probert sold her restaurant business 20 years ago and for the past 12 years has been running cookery classes at her home in Penmaen, overlooking Three Cliffs Bay on the Gower Coast in Wales. You can join in if you want, or just enjoy the convivial atmosphere as Kate prepares a fabulous five-course dinner party for up to eight people.
Typically there's four different canapés, an amuse bouche, two starters, two mains, a cheese course and dessert. "It's not really for people who can't cook, it's for people who enjoy good food," she says. "They have a lovely dinner and leave with 15 pages of recipes – all my own dishes."
BEST FOR: The irresistible combination of food and view. lamusechezkate.com
WEBBE'S COOKERY SCHOOLS
Restaurateur Paul Webbe opened his purpose-built cookery school in the pretty East Sussex town of Rye in 2010. Fish features extensively – there are course on scallops and sushi – and a full day course produces a six-course lunch featuring regional, seasonal food.
Guests can join you for lunch at an additional cost. You can also sign up for fish demo mornings in Hastings. Paul was an early enthusiast of foraging (his restaurant is The Wild Mushroom) and his knowledge and enthusiasm are writ large here.
BEST FOR: Seasonal produce – Rye Bay scallops in winter, Romney Salt Marsh lamb in spring. webbesrestaurants.co.uk
Feeling peckish? Check out our selection of 30 fab south west coastal spots to eat.