How furniture and interior designer Emma Whyte transformed a shoreline 1950s cottage on the Isle of Skye into a showcase for her unique take on upcycled chic
Words: Alex Reece Photographs: David Barbour
On Skye, you get a feeling of remoteness, knowing that the next land mass you'd come to is Canada,' says interior and furniture designer Emma Whyte, whose home on the Minginish Peninsula on the west coast of the island stands right on the shore of a sea loch. Built in the 1950s to house workers at the Talisker Distillery, which fills the village of Carbost with the sweet yet smoky scent of its whisky, the white-painted cottage has exhilarating views towards Skye's jagged Cuillin mountain range.
The wildness of the setting, where white-tailed sea eagles and seals are often seen on Loch Harport, has fuelled Emma's appreciation for nature and conservation – and, in turn, her passion for upcycling. And so the cottage is a showcase for her re-imagined retro furnishings, often rescued from car-boot sales, which she has decorated with mid-century prints or pages from second-hand books, and then teamed with her colourful collection of vintage found objects.
Emma and her husband Chris first came across the cottage online more than 10 years ago, when they were looking for a property investment in the UK before moving to France for work. 'The place had been a holiday let, so it had been well maintained, but it was very bland,' says Emma. She'd visited Skye once before with Chris, a community services manager from Aberdeenshire, who had often holidayed on the island as a boy. 'The minute we saw a picture of the cottage, we could see its location, right next to the loch, was special,' Emma recalls. The couple flew up for a viewing and put in an offer straight away. 'We just fell in love with it,' she adds.
IN STEP WITH NATURE
With work keeping them in the South East on their return to Britain, where Emma was a picture editor in London before giving birth to their sons, Alexander, eight, and John, six, the pair decided to rent the house out to holidaymakers. At first, they simply pared back the interior, by sanding floors, removing woodchip, and adding handmade soft furnishings and bright paint colours. 'We put it online and had our first booking within 24 hours,' Emma says. 'It's such a popular location.' The two-bed end-terrace was a bolthole for weekends and holidays – a place where they could escape the hubbub of mainland life. 'The fact that it's an island helps,' says Emma. 'When you come over the bridge to Skye, there's the sense that you're that much further from civilisation.' It was while the boys were little that Emma really began to perfect her upcycling technique, specialising in decoupage on wood, which she first tried out on a chest of drawers that she found in the street in South-East London. 'It's retro furniture,' Emma says, 'but I tend to go for the more overlooked items.' Signature pieces in the house on Skye include the dining table (sourced from a housing charity on the island) topped with the pages of a Ladybird book about France, and a cabinet from a car-boot sale which has been re-covered in graphic Orla Kiely wallpaper. Emma's designs can also be bespoke-made for her clients, incorporating letters, photographs and other ephemera – 'If I can, I like to use things that are meaningful to the house, its location or the owner' – but she also sells furniture online or through fairs, such as Midcentury Modern in Dulwich, South London, and occasionally hosts upcycling workshops.
MAKE DO AND MEND
This reduce-reuse-recycle ethos has, over the years, informed the whole design of the cottage. The only large items bought new are the beds, the Ikea sofa and the kitchen units (which came from Howdens and Ikea); everything else is from charity shops and car-boot sales. When planning interiors, Emma maps out every detail on paper at home in Oxfordshire, where the family is now based, using sketches and swatches to make sure everything fits together. Emma describes her feel for pattern as instinctive – she can open a book and know instantly whether it will lend itself to furnishings or a feature wall. 'I used to collect old books and it took me a long time to be able to cut them up,' she says. 'But you get far more from the artworks in a book that are displayed this way, where you can look at them every day.' In the dining area, the loch-facing wall is papered in pages from an encyclopaedia of birds – to reflect the wildlife seen through the window, and to bring the outside in.
Among the other inventive features here are the wallpaper stair runner, which is also made from an Orla Kiely design and has proved to be surprisingly durable. 'I just thought that I'd try it, and it's absolutely brilliant,' says Emma. 'I use wallpaper paste and then put four or five layers of floor varnish over the top.' The kitchen is another masterclass in make-do-and-mend – the Belling cooker (installed as a nod to the cottage's 1950s origins) is broadened out to range-like proportions by two freestanding Ikea units. The cooker switch is cleverly concealed by an old shortbread biscuit tin – one of a collection – bringing a fun, three-dimensional element to the room. Floral curtaining sourced from eBay covers all the white goods and continues the vibrant, throwback theme, complemented by the Formica table, native bird-print wallpaper by contemporary designer Lorna Syson, and a cherry-red painted concrete floor.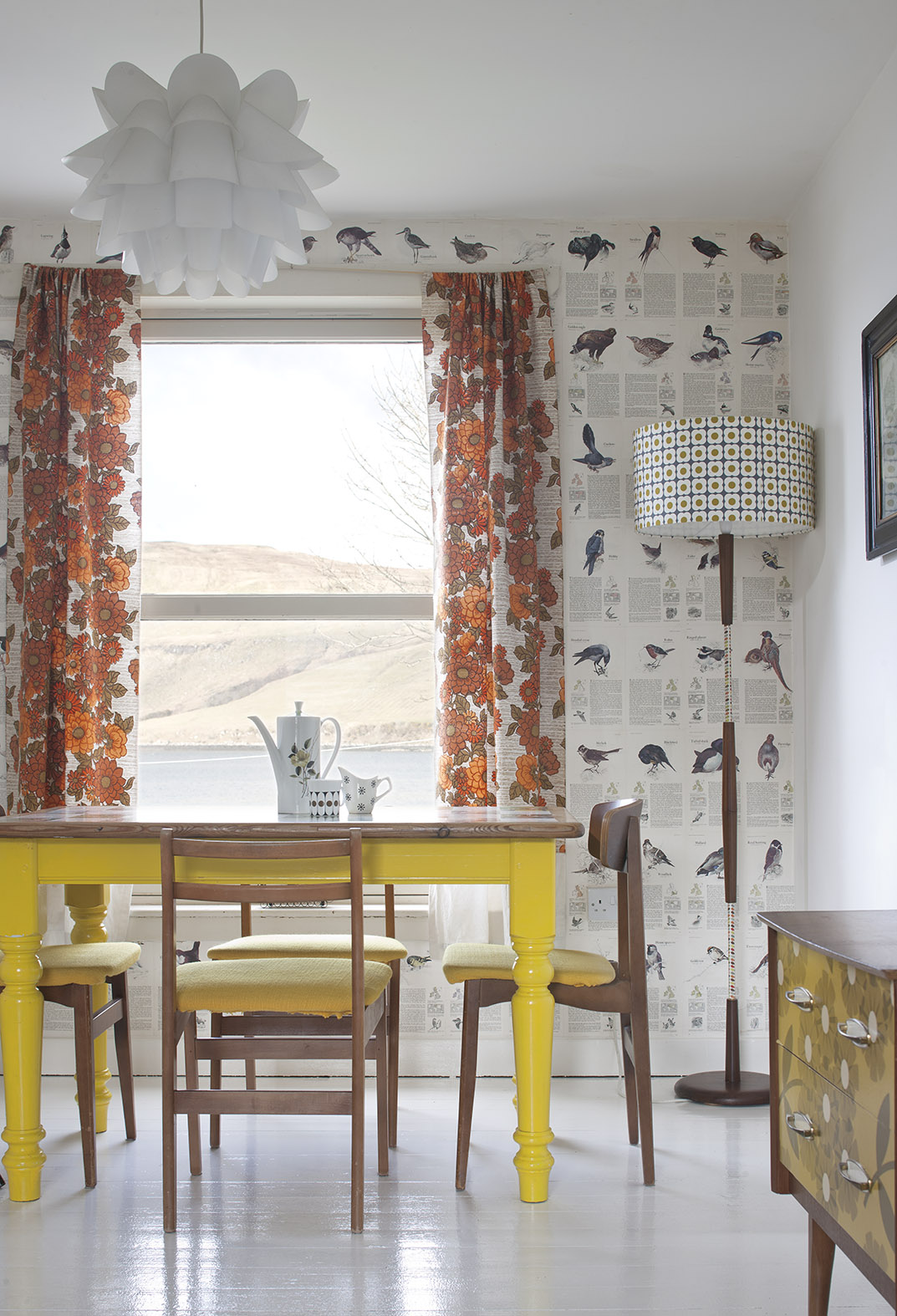 THE HAPPENING HEBRIDES
Emma's green philosophy extends to the running of the house, where she and Chris have installed a woodburner to provide central heating and hot water sustainably (the wood is bought from local suppliers on the island). With no wifi or TV at the cottage either, family time here is spent outside – kayaking on the loch, wild swimming in the nearby freshwater Fairy Pools or going for a run with their collie dog, Mavis, on Glenbrittle beach. For rainy days, there is a DVD player in the loft room (also converted by the Whytes), which projects films cinematically onto the wall.
What has further delighted the family is the vitality of the cultural life on Skye. Emma points to the music scene as a unifying factor. 'It really brings people together,' she says. Their local pub, The Old Inn, frequently has impromptu late-night sessions. Then there is the local produce – whisky, obviously, and beer brewed on the island, superlative seafood and artisan baking – plus there are exciting architectural projects popping up all over. The weather, too, is never dull. Emma recalls a recent hailstorm that came hammering up the loch, accompanied by a double rainbow, as being especially memorable: 'You get that sense of being on the edge of something here.' And if she ever did need reminding of the majesty of raw nature, Emma has only to glance out of the window of her foreshore home on the Isle of Skye, where she dreams of living full time at some point in the future. 'I find it harder and harder to leave, the more it casts its spell,' she says. 'To me, it's magical. It really is.'
For Emma Whyte's furniture and interiors, see: emmawhyte.co.uk.
For more features about coastal homes, keep an eye on the magazine. Or read more about a colourful hideaway in Norfolk and an innovative base on the Pembrokeshire coast.
EMMA'S UPCYCLING TIPS
1. Go to car-boot sales with hard standing; you get house clearance people who come with vans and tend to have a good supply of retro pieces.
2. Look out for furniture with splayed, Dansette legs – for that 1950s feel – or the saturated colours of books from that era.
3. A reviver to use on any scratched wood finishes is: one-third white spirit, one-third methylated spirit and one-third linseed oil. Put it in a jam jar, shake it, and apply with fine wire wool in the direction of the grain. Wipe off with a cloth.
4. Woollen blankets dye well. Put them in the washing machine with machine dye and salt. I use them for making cushions and lampshades.
5. If you're on holiday, visit charity shops and pick up some travel books of the place to make a nice memento of your trip.