Born and raised in Deal on the Kent coast, actor Neil Stuke has renovated a Georgian property in the town to reveal its historic character and create a stylish bolthole by the sea
Words Alex Reece Photographs Alun Callender
'I've bought myself a piece of history here,' says actor Neil Stuke of the handsome Georgian property he has recently renovated in his home town of Deal on the Kent coast. Tucked behind the vibrant and increasingly hip high street, the Grade II-listed, brick-built house is a stone's throw from the seafront in the conservation area – the former stamping ground of mariners, fishermen and smugglers. While site-managing the refurbishment, Neil would unearth tantalising remnants of this rich heritage, such as centuries-old musket balls and clay pipes buried in the garden, or age-worn floorboards made from ship's timbers. 'I've never been so happy in all my life,' he says, 'bringing this beautiful house back to life again.'
The purchase was the culmination of a seven-year search for a good-sized property in the oldest and most sought-after part of town, close to where he was born and raised. Neil's parents moved from London to Deal in the 1960s to run their own restaurant (his late father was a chef, and his mother still lives locally). He describes his childhood spent by the sea as both idyllic and great fun: 'It was a busy town, people used to flock here in the 1960s and 70s to go on holiday – a bit like they do now. It's important for me still to have a relationship with where I grew up.'
Alongside his acting career, including parts in Game On, Silk and Doctor Foster, Neil has worked on numerous building projects. Among these are a fisherman's cottage in nearby Kingsdown, and also the family home in London that he shares with his wife Sally-Ann, an HR manager, and children Minnie and Harrison. So Neil was undaunted by the amount of labour involved in restoring 'a complete wreck', as he describes it. Indeed, when he first set eyes on their new Deal home in 2014, he recalls:
'As soon as you opened the door, you were hit with the damp smell of rotting wood. And the garden – I can only describe it as a lump of earth that had just fallen towards the house.' But despite all this, along with the bright-orange paintwork and leaking roof that had deterred other buyers, Neil could see its potential and put in an offer.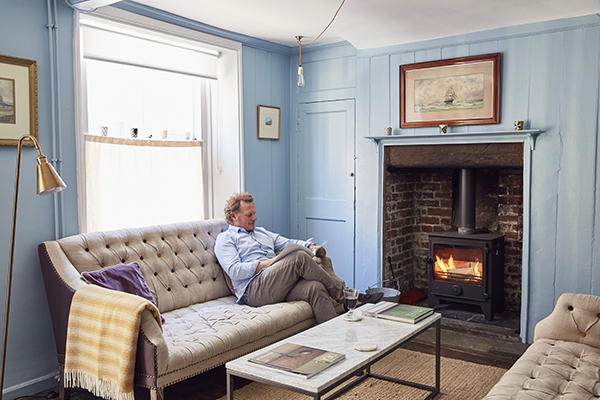 A bold undertaking
Once the house was his, in early 2015, Neil started getting the place ready for the builders – stripping out each room and clearing the garden of a four-foot pile of debris and pigeon droppings. Camping in an empty house on an airbed from Monday to Friday with only an electric heater and a wind-up radio for company might not suit everyone, but Neil enjoyed the back-to-basics experience. 'There was only one source of water – a little standpipe outside – so I had to wash in a bucket of cold water every day,' he laughs. 'The builders thought I was mad, but I loved it. I had Radio 4, and I was working on acting projects in between.'
You may also like The House in the Dunes
By joining forces with long-term collaborators Mick Paulger and Jim Hulbert, plus local builders Will Turnbull and Barry Stewart, Neil managed to drive the rain and water away from the house, adding drains, French gullies and plenty of ventilation. 'You could almost hear it drying out,' he enthuses. The house was re-wired, re-plumbed, insulated and made watertight. Thrillingly, the careful removal of large sections of plasterboard and Artex revealed a sizeable fireplace in the dining room and plenty of Georgian panelling.
Although Neil already had a strong concept of what he wanted to achieve, in terms of the interior design he also found the house itself informed certain decisions: 'It was almost like it was telling me,' he says. One of the five bedrooms is painted in Lichen by Farrow & Ball as this grey-green shade matched the colour of the original panelling once it was brought to light. Similarly, the next-door bedroom, which now also features an indulgent, freestanding bath, has walls of distempered limed plaster, as this was what Neil and his team found there.
History reinvented
The house project was completed in December 2016, and has succeeded in retaining the integrity of the building, while incorporating current interior trends and touches of luxury. The kitchen has the timeless feel of a French pantry, incorporating elegant, white-painted British Standard cupboards by Plain English topped with marble work surfaces, offset by pale-green patterned floor tiles. It overlooks the outside space, which Neil co-designed with a friend (Adam Dunn of Marvel Groundworks), where raised beds are filled with grasses and wild seaside plants, inspired by Derek Jarman's famous garden at Dungeness.
A bold choice of powder-blue paint in the sitting room (Little Greene's Sky Blue) helps to draw out the Georgian spirit of the house, which is decorated throughout with original artworks, many of them local, and maritime finds. The atmospheric dining room is painted in Farrow & Ball's Downpipe to lend a contemporary edge to the period woodwork and fireplace. French glass pendant lights from local antiques store Mileage hang above a table (also from Mileage) with space for up to 12. 'It's all about the table – food, cooking, entertainment – laughter,' says Neil, a passionate home cook and former chef, who made it to the final four of Masterchef in 2010. He has kitted out the kitchen with state-of-the-art equipment, along with attractive crockery and glassware from Zara Home and Anthropologie. 'It's my therapy, really, cooking. I guess I get that from my dad,' confirms Neil, whose passion for food extends to supporting small producers through his farm shop in southeast London, Franklins, which he co-owns. 'We should all support our small shops and local businesses,' he adds. 'In Deal, we're blessed with them.'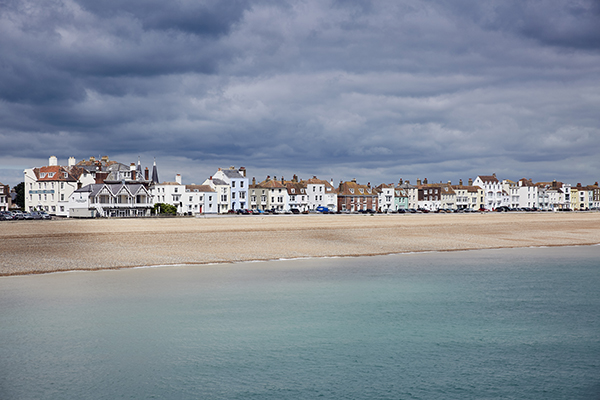 Beside the seaside
When the Stukes are not using the property, they let it to holidaymakers, and it was always Neil's intention for the house to be both a family bolthole and self-catering accommodation for six adults and six children (a nautical-themed bunk room is perfect for kids). Neil enjoys spoiling guests – there are Cowshed products in the bathrooms – and especially when dressing the house at Christmas. 'I decorate the whole place from top to bottom,' he says. 'I'm like Mr Christmas, I love it, and we do it in a very vintage style.'
Year round, the family enjoy coming to Deal to spend time with relatives and friends, and to be by the sea. 'We go down to the beach as much as we can. We try and have a swim every day, if the weather's nice,' says Neil. 'We spend all day in the sun and wind and fresh air, then, as it gets colder, we just put fleeces on and more coats.'
17 Farrier Street sleeps up to 12 and is available to let here.
NEAL STUKE'S DEAL WEEKEND
We love to eat at Frog and Scot (01304 379444, frogandscot.co.uk), which is a fantastic restaurant on the High Street. I like to take my dear old mum, who's 84, there for oysters and steak.
Also on the High Street is the Hoxton Store (01304 360203, hoxtonstore.com), which is great for interiors, and Mileage (01304 363311, see Facebook page), a wonderful antiques shop. They do great retro stuff as well and there's a café and cake shop at the back.
The Deal Hoy (01304 363972, dealhoykent.co.uk) is my local pub and I've been going there all my life. It's owned by a friend of mine and they do wood-fired pizza. It's just fantastic – one of the back-street pubs of Deal.
Jenkins & Son (01304 364613, jenkinsandsonfishandgame.co.uk) in Deal is an amazing fishmonger's – they have their own range now, with things like soups and fish pies, and you can pre-order sushi from them if you're staying at the house.
We love to cycle along the seafront and there is a cycle path from Sandwich Bay all the way to Kingsdown (see sustrans.org.uk). We have big barbecues out here, too, and one of my favourite things to do is to buy fresh fish from the fishermen off the beach.