How creative couple Debra Hepburn and Julian Whitehead breathed new life into a neglected Regency property – once a party house for St Ives artists – overlooking the Cornish coast.
Words: Nicola Smith. Photographs: Paul Ryan-Goff
Whenever Debra Hepburn arrives at Salubrious House in St Ives, she heads straight to the outdoor terrace to drink in the panorama. It's a ritual she carries out whether it's bright sunshine, a raging storm or a mass of twinkling lights in the darkness. 'It's my favourite thing to do – it means I've arrived,' she says.
From the terrace, there are 360-degree views encompassing Porthmeor Beach, Godrevy Lighthouse (which inspired Virginia Woolf) and Porthkidney Sands on the opposite side of the bay. 'It is a wonderful space to be in,' confirms Debra. 'And the light just bounces around the town.' With such an iconic outlook, it is easy to imagine members of the renowned St Ives art colony sipping a Gin Rickey on the terrace in the 1940s, when artist Ben Nicholson lived next door and the property was a popular venue for late-night parties.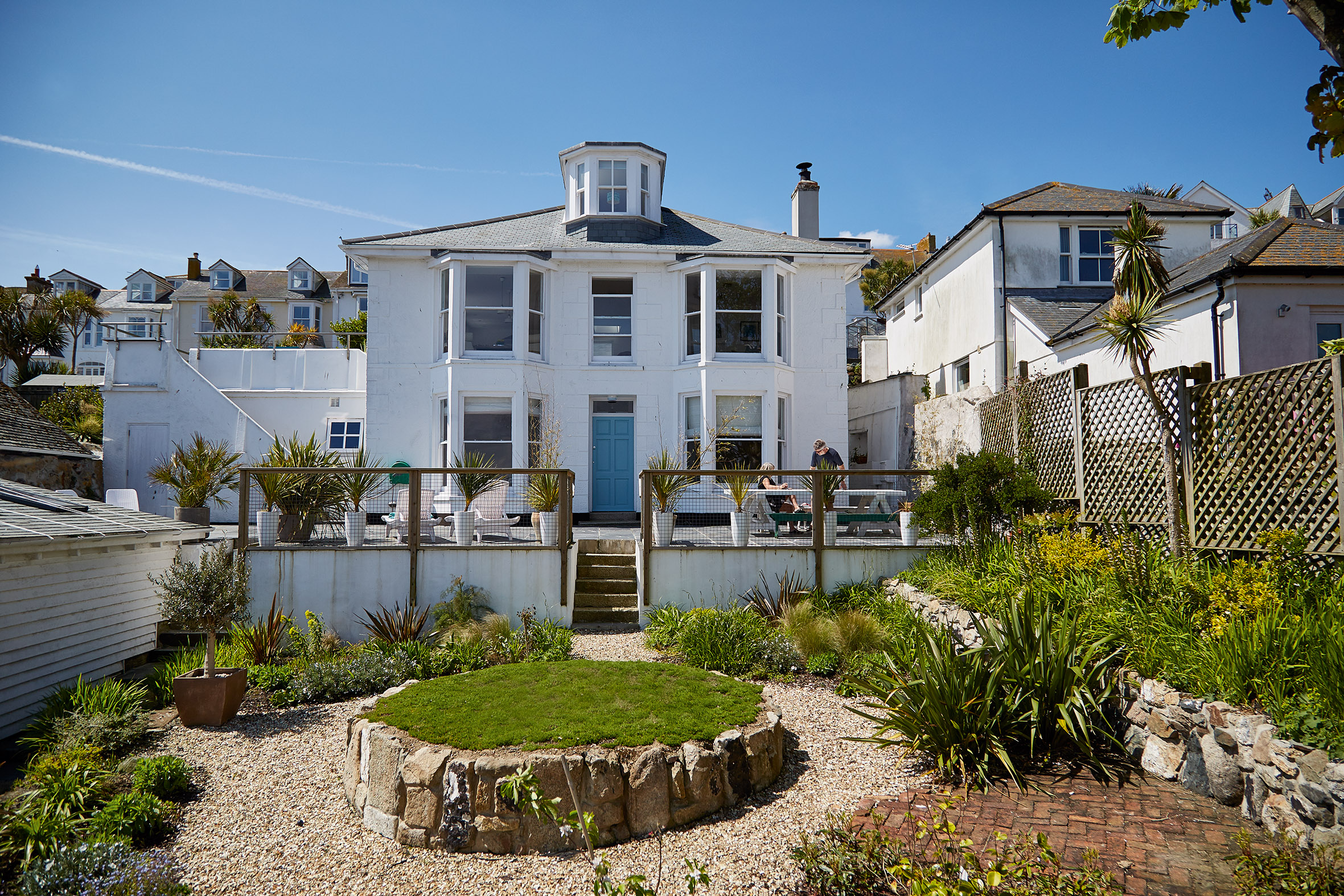 As Debra explains, Salubrious actually means 'health giving', and the house is certainly that for her and husband Julian Whitehead. 'It is both a retreat and, vitally, a re-energiser for us and for our family,' she says. Debra runs a creative communications agency as well as being co-founder of Young British Designers (YBD) along with Julian. Most of the time, the couple are based in Warwickshire while their offices are in London, but they are passionate about monthly escapes to their Cornish home.
FATE & FORE STREET
Debra's dream of a base in St Ives has been a long time coming. 'I've had a real passion for Cornwall ever since holidaying there as a child, and when my children were small, every break was spent at Sennen Cove. I later bought a cottage in Sennen,' she explains. But it was St Ives that really stole Debra's heart. 'I really loved St Ives but couldn't afford to live there when I was starting out in my career.'
After meeting Julian in 2002, Debra sold her original cottage and they began to look for a place together in St Ives. They bought an apartment, however in 2006, while searching for a bigger property in the town, they spotted a small newspaper advert for Salubrious House – a neglected Regency property with a garden in the town's bustling Fore Street. 'It was a massively high price and it was out of reach, but I didn't forget about it,' says Debra. Two years later, and with the recession imminent, Debra saw the same property for sale at a vastly reduced price. 'I was still intrigued, and as it was raining we decided to go and have a look,' she recalls.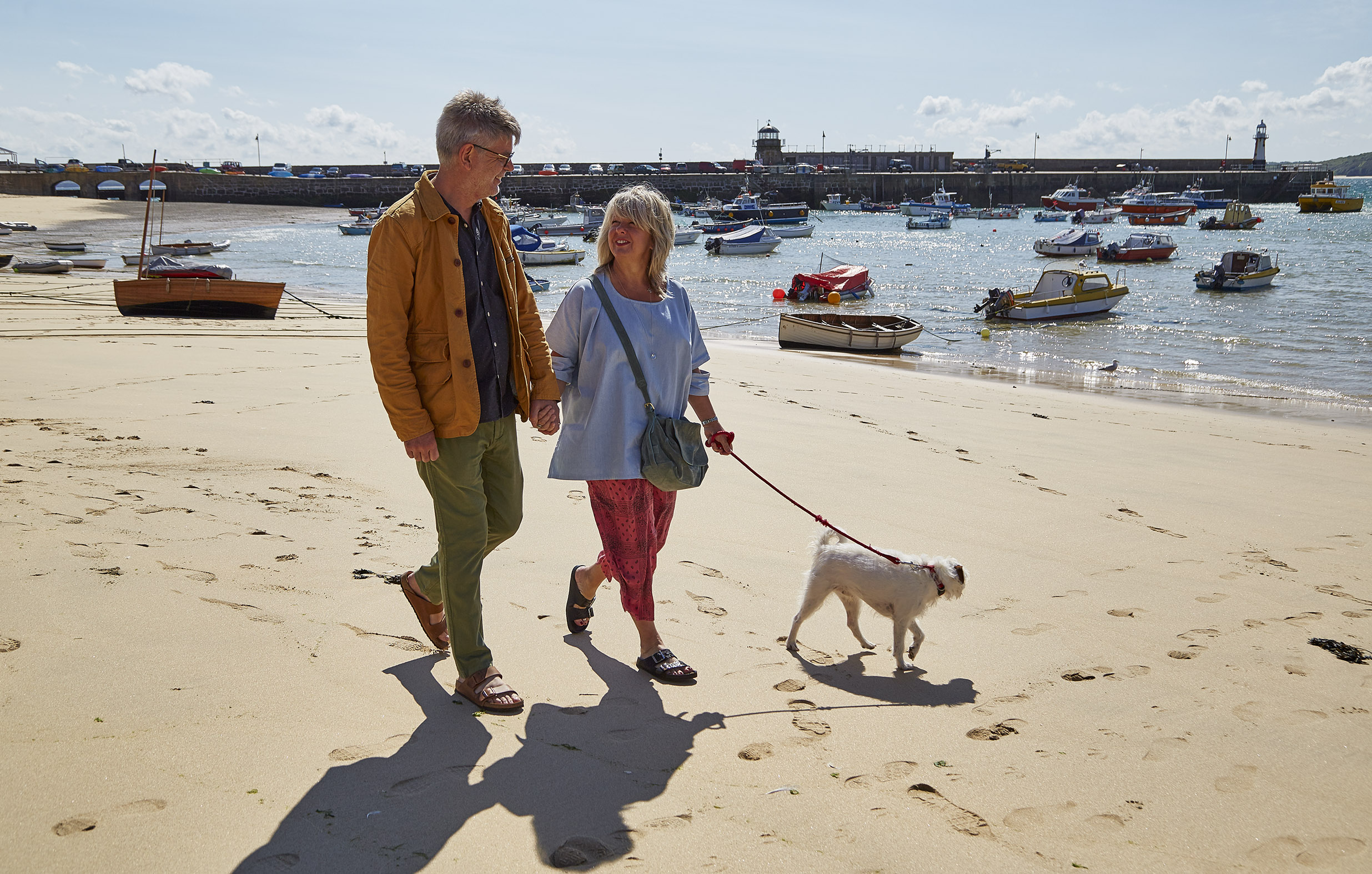 The couple managed to find the garden gate, set into a stone wall in Fore Street. 'There was an overgrown but very lovely garden which led up to a grand but decaying old white house,' says Debra. They made an appointment to see inside and their fate was sealed. 'When we walked in the front door neither of us could look at each other because we both knew we were going to have to have it and we couldn't afford it. It was in a sorry state of repair – the staircase had been taken out and the roof was patched up with asbestos. But we fell in love with it nonetheless.'
Debra and Julian sold their St Ives apartment and re-mortgaged their Warwickshire home in order to secure the purchase in 2008. Once Salubrious House was theirs, they found out more intriguing details about its history: 'A ship's captain used to live here and fishermen used to come to the garden each week to collect their money. Then in the 1940s, when St Ives was a hot-spot for artists, Salubrious was a party house for the artistic community.' Indeed, there are paintings of the view from Salubrious House by Ben Nicholson and Wilhelmina Barns-Graham. 'Every year we learn something new about its past,' says Debra.
UPSIDE-DOWN LIVING
It was late 2013 before the couple had the funds to begin restoring the 1812 property, working with a local builder from Penzance. 'We ended up ripping the whole house apart and climbing ladders to get a sense of the place without any rooms,' says Julian of the project, which took 18 months to complete. 'The only thing that remained were the exterior walls. Everything else was replaced – electricity, plumbing, plastering, roof, and it needed underpinning. Our builder put up a great big scaffolding tent to work on it over the winter as the weather can be so wild here.'
The couple visited in January 2014, staying at the Pedn Olva Hotel, and had their first progress meeting. 'It was fantastic to see it starting to return to its former glory,' they recall. Despite planning to restore it to its original layout, Debra and Julian were struck by the light and space upstairs, prompting a rethink. 'It was completely open and there were huge windows all the way round,' says Julian. 'We knew that we had to live up there, so downstairs became three bedrooms and a bathroom, and upstairs is the open-plan living area.'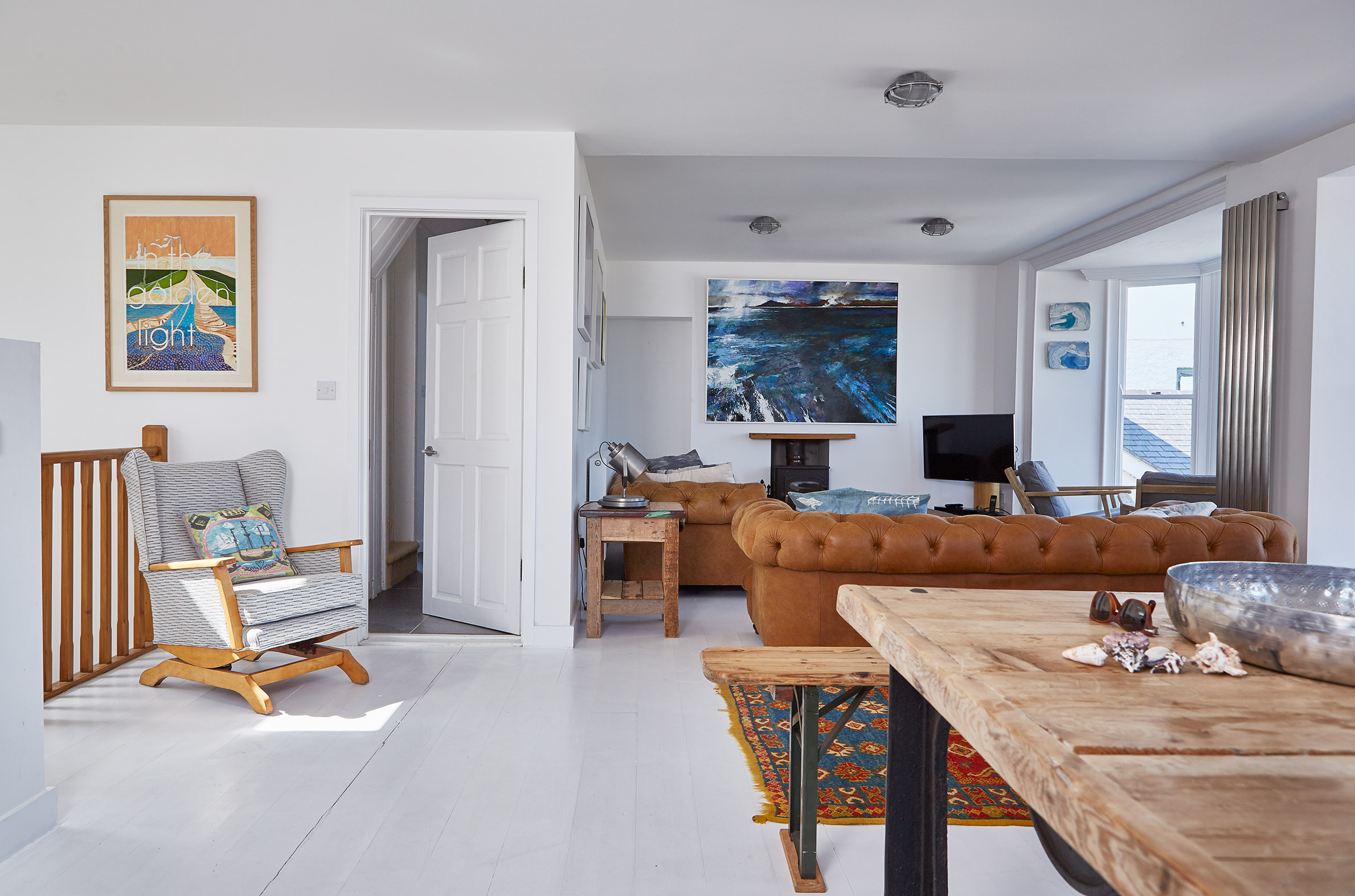 Today the house makes the most of the huge bay windows and sweeping views, with a terrace leading off the kitchen. In the roof is the snug fourth bedroom, with its oblong-shaped windows looking seawards. Light floods in throughout and bounces off the whitewashed floorboards, while sizeable leather sofas invite you to sit and watch the sea at play. It provides a neutral backdrop for the couple's home accessories, from the hand-painted cushions – created by one of YBD's talented designers – to the vibrant rugs, collected on their travels in Marrakech.
The lounge area flows seamlessly into the kitchen and dining space, with its industrial vibe. Inspired by some outdoor tables built from scaffolding at Porthmeor Beach's West Beach Bakery, the couple asked their builder to construct a kitchen from similar materials – a combination of wood and municipal handrail. 'We were running out of money and we managed to get the kitchen built for less than £1,000,' says Debra. 'It looks really at home in Salubrious.'
A TRANQUIL HAVEN
The artistic flair continues in the garden, for which Debra and Julian deployed two of their four grown-up children and Debra's parents to help during February 2015. 'It was all hands to the deck,' says Debra. 'We had seen earlier photos of the garden in an old newspaper article and were keen to re-create it.' Now, it is purposefully low maintenance, with a pebbled path encircling a granite-edged raised bed planted with chamomile. 'It's a lovely place to sit and look down to the sea.'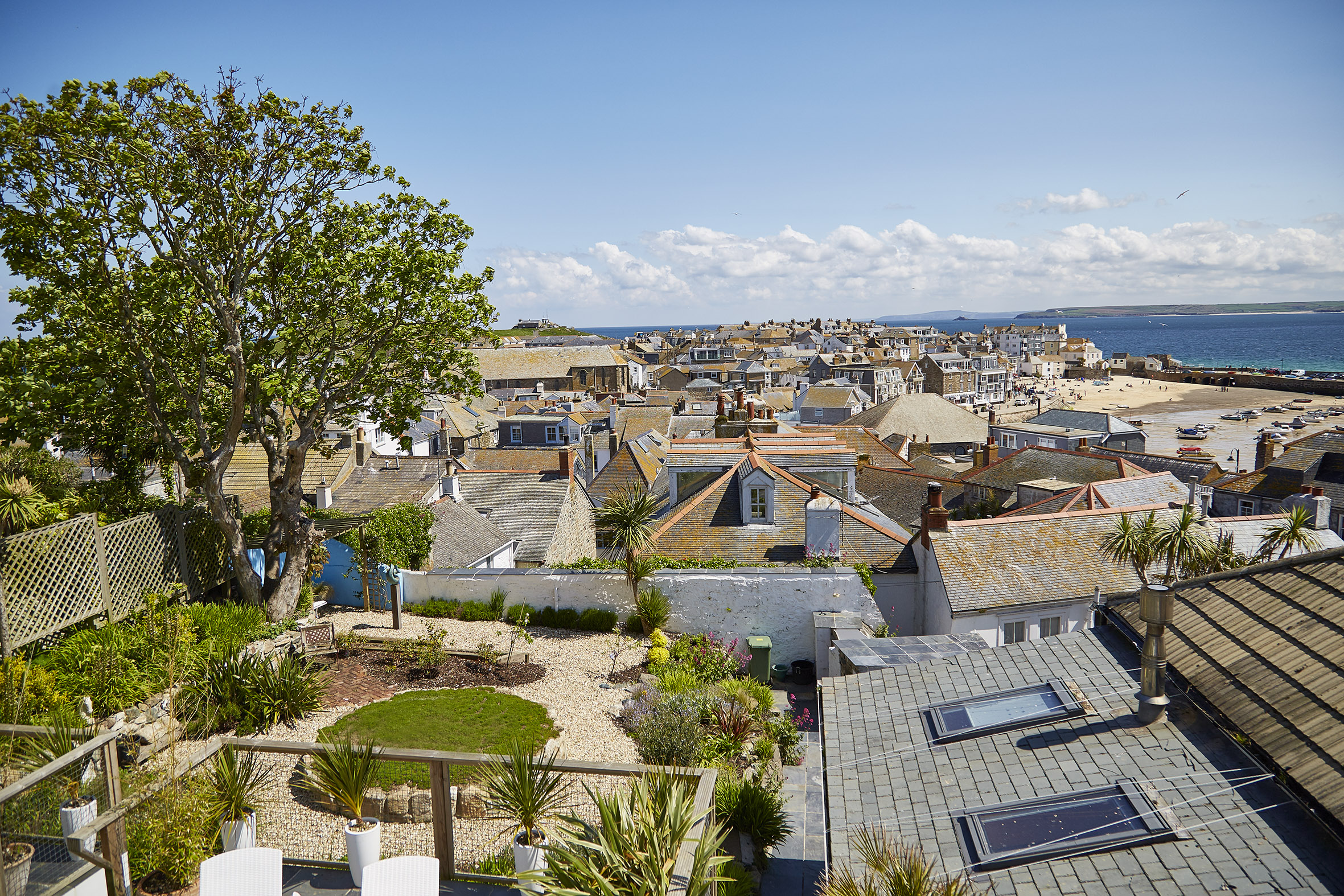 Various sculptures punctuate the outdoor space, while a pergola provides another sheltered spot to hide away. 'Fore Street can be six people deep in summer so it is amazing to find this haven of tranquillity just a few steps from absolute mayhem,' says Debra.
One of the couple's favourite times to visit St Ives is September, when the crowds have subsided but the weather is still warm. 'It quietens down a bit and you have the St Ives festival which is full of live music and art.'
While the couple will always travel, attending fashion shows around the world, their hearts are firmly in Cornwall. 'We see St Ives featuring increasingly in our lives,' says Debra. 'I have a dream of us spending month after month here as opposed to weeks: writing, walking, reading, bodyboarding and drinking in the unique air and light. Maybe we'll even get a boat, which would be absolute bliss.'
For more coastal house stories, click here or pick up a copy of the magazine.
DEBRA & JULIAN'S ST IVES HANGOUTS
We like Mount Zion Coffee (moutzioncoffee.co.uk), which is in a former woodwork store off the harbour.
Tate St Ives (tate.org.uk/visit/tate-st-ives) is somewhere we go a lot. We love the views from the gallery and the light. We can't wait for it to re-open later this year.
We love walking around the headland and taking the South West Coast Path to Zennor (roughly 10 miles, see southwestcoastpath.org.uk), or watching the world go by at Porthmeor Beach – it's our favourite beach in any season and has a great café (porthmeor-beach.co.uk).
On sunny evenings we wander over to the Pedn Olva Hotel for the best gin and tonic in town, not to mention the expansive sea views (pednolva.co.uk).