Susie has found the perfect balance of salty sea air, treasure hunting along the strandline and unleashing her creativity as she takes her design business in a new direction
Words Anna Turns
Just back from a long walk along Porthcothan Bay, near Padstow, artist Susie Ray is editing her images in her studio a mile inland. 'It was calm and the colours were stunning – turquoise blue – there were lots of paddleboarders out and the tide was low so Trethias Island looked magical,' says Susie, who is creating a photography collection for the new boutique holiday cabins she has designed, inspired by her addiction to fresh sea air and coastal living.
Any time Susie visits one of her favourite Cornish beaches, she feels deep gratitude. The coast seeps into every aspect of her work – her photos, her paintings, fish rubbings, collages, seaweed illustrations and now Strand Line and Lobster, her two new boutique self-catering havens. These have been a true labour of love and a showcase for all that she adores about the seascapes that surround her.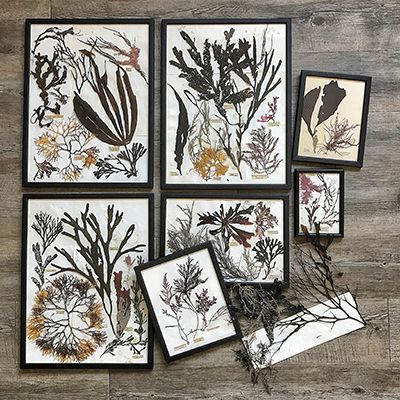 Beauty in the detail
Susie grew up on the Lizard Peninsula on Cornwall's south coast: 'A lot of my best friends have come back to Cornwall and now we call ourselves the Lizard girls,' laughs Susie. Having moved to London to study for her art degree, she always felt the pull to these shores and came back before her twin daughters started school, almost 20 years ago. 'I love it here and have so many memories of playing on the beach as a child, making my own entertainment. I'd be forever collecting shells, swimming in the sea, making sandcastles and exploring, and I don't remember the wet days!' she says. Her girls always really appreciate their ocean fix whenever they're here too. 'The first thing my daughters love to do when they visit is to collect cowrie shells. It's a meditation in itself.'
While studying, Susie developed her illustration skills and discovered a love for painting natural history in watercolours: 'These traditional techniques are very disciplined – it's a much harder medium than oils because you can't afford to make mistakes. I adored it. Within my four-year degree course, I was lucky enough to work a six-month placement at the Natural History Museum, then when I graduated I worked at Kew Gardens doing botanical illustrations,' she explains.
Once back by the coast in Cornwall, Susie illustrated some seashore guides, which she says didn't feel like work at all: 'I'd collect things on the beach or go rockpooling and bring specimens back, keeping them in tanks. That nerdy side of me came out as I drew fish, seagrass, marine plants and shells – I love seaweeds too, and remember the Latin names for all these things, I never forget them.'
Fins and scales
Between working on commissions and developing new designs, Susie now runs unusual creative workshops in her home studio – a big, bespoke space that was purpose-built to host a dozen novice artists. Using natural, foraged items or specimens from the fish market as her starting point, she teaches others how to produce rubbings which result in beautiful, original works of art.
Fish rubbing is something Susie stumbled across one day while looking at Pinterest, and it's since evolved into a major component of her very stylish portfolio. She explains that Gyotaku is based on a 19th century technique used by Japanese fishermen to visually record their catch using rice paper and edible inks on their fish. 'The ink picks up so much detail, it's amazing. One day I found some old sheets and rags and tried it with oil paints and scallop shell – I pulled back the cloth and the detail was insane so it was a real light-bulb moment, I carried on doing rubbings of fish and crabs and other things.'
Susie loves sharing this process and enjoys creating an environment where people can just have a go and play with their creativity. 'It is so successful because you don't need any skill – people turn up, I demo the techniques and they can all just run with it,' says Susie, who loves the way the black and blue pigments show up every nook and cranny of the textured surface. She'll bring out a John Dory (having removed the eyes and pinned out the fins), perhaps a plaice, plus a colourful array of seaweeds, feathers, leaves and ferns. 'By the end of the day, everyone will have a collection of beautiful prints they can take home and frame as a memento from Cornwall,' she adds.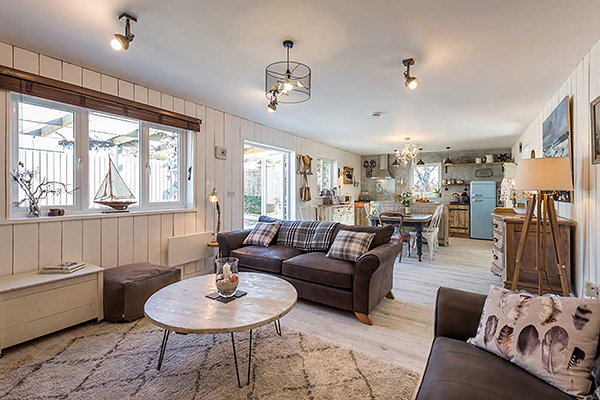 Beachside heaven
Susie's two cabins, which opened as self-catering holiday lets in June, are a culmination of so many aspects of her work. Each cabin has its own unique character. 'I craved having cabins to retreat to on this space; it was a wilderness and I wanted to make use of it. So it was wonderful just to be able to put anything to do with beachcombing and the sea into them,' she says. Susie made them as individual as she could, with seaweed presses, driftwood mobiles, buoys and rope she found washed up on the shore. 'Anything coastal is my addiction, and I love having a place to display it all, inside and out,' says Susie. 'We have upcycled a lot, the galvanised tin for example, and we used old wood from the barn that had to come down, we have recycled an awful lot of stuff – which is satisfying – plus we trawled the auctions for tables, chairs, lamps and accessories. Friends would even give us their old furniture instead of taking it to the tip!' Susie was determined to create a sanctuary with a modern rustic look that met her ideal holiday expectations. 'We made funky lights with oyster shells hanging down, sanded the tables and chairs and re-lacquered them, and transformed old chandeliers into something special.'
The outside spaces are just as important. Lobster Pot's pebbly garden is a sun trap, with buoys, nets, flint-stone chips and rusty uprights. 'It's my homage to the late Derek Jarman's shingle gardens, because I always loved his place at Dungeness,' Susie says. Strand Line's garden is filled with grasses in so many hues of green, all growing to different heights – a style inspired by her favourite garden designer Piet Oudolph. She's added an outside kitchen with a plancha grill for each cabin, sunny decks for al fresco breakfasts and log-burners for cosy evenings, plus unexpected home comforts inside to add a little luxury.
'I love working on commissions and running workshops, and building these cabins has been the culmination of everything I love – I'm very lucky,' says Susie. 'I don't see this as a job, it's our lifestyle, but we work hard because there is always so much to do!'
Susie's two-person luxury cabins, Lobster Pot and Strand Line, are available to rent (01637 861005, beachretreats.co.uk). To find out more about Susie's courses and workshops, visit susierayworkshops.co.uk
Susie's favourite Cornish beaches
Best for sunsets: You can't beat Treyarnon Bay on a summer's evening, plus there's a large natural rock pool if you want a quick dip.
Best for gorgeous views: Bedruthan Steps is a dramatic beach accessible only at low tide via steep steps.
Best sandy beach: Porthcothan Bay is big and beautiful, plus the coastline between Porthcothan and Park Head is where a lot of Poldark was filmed.
Best for catching your first waves: Learn to surf under the watchful eyes of instructors at Harlyn Bay.
Best beach for shell collecting: Rocky Beach is at the right-hand side of Trevone Bay, where there are always lots of shells and sometimes driftwood if it's been stormy.
Best for walking: Booby's Bay is an extension of Constantine Bay when the tide is low and you can walk down from Trevose lighthouse. Stroll along and look out for crystal clear sand pools.
Best for foodies: Watergate Bay is home to Jamie Oliver's Fifteen restaurant and The Beach Hut, which is a great spot to enjoy a bowl of mussels overlooking this two-mile stretch of sand.