Whether you're down-sizing Christmas this year or going all out – you can still make choices to savie the planet by choosing brilliant environmentally friendly alternatives, from reusable wrapping to plastic-free gifts
Christmas is wonderful – but it can be wasteful. Every year we throw away 277,000 miles of wrapping paper alone. Traditional gift-wrap looks glamorous but it's often coated with a plastic film and includes plastic glitter or foiling, which can't be recycled so ends up in landfill. That's before we even get to Christmas crackers, tissue paper crowns, gift tags and rosettes. As Sir David Attenborough said last autumn, when he joined Instagram and gained the largest following in the shortest time ever, 'Don't waste'. He was asked for the single piece of advice that would make the biggest difference to safeguarding our planet, and that was it.
On that note, we have some brilliant advice from Environmental campaigner and author Natalie Fee on how to create a winter wonderland without the waste…
RE-GIFT, REUSE AND RECYCLE
Firstly, when thinking about buying presents for any occasion, check whether you can re-gift, recycle or refill anything. For example, if you've been collecting giant glass jars (we eat a lot of organic peanut butter in my household) and you've also noticed that your nearest zero-waste shop sells loose bath salts, then you've got yourself a great plastic-free present right there. And before being bedazzled by shiny wrapping paper (which can't be recycled), have a look at reusing old gift wrap, newspapers, ribbons and even silk or satin scarves. Why not make gift tags from old greeting cards? I always make sure that I've got a stash of plastic-free paper sticky tape in the cupboard too (theplasticfreeshop.co.uk).
POWERING CHANGE WITH PRESENTS
If you don't have the time or energy to make or bake presents, use gifts as a way to subtly inspire loved ones. Buy good quality, long-lasting items that help them change their lifestyle, like reusable bottles or coffee cups or plastic-free bathroom sets. Some products raise money for good causes – if you buy a blue Refill x Chilly's bottle, food pot or coffee cup (chillysbottles.com) you're also powering City to Sea's ocean-protecting campaigns! Of course, you can always opt for giving green experiences instead of things. A Eurostar voucher can inspire a flight-free continental city break with all the fun and a fraction of the carbon emissions. A vegan or vegetarian cookery course can do wonders for reducing the amount of meat we eat.
CRACKERS YULE LOVE
We use 154 million Christmas crackers every year in the UK and yes, you guessed it, they're mostly non-recyclable and often contain plastic toys that will be thrown straight into the bin (ending up in landfill or incinerators) when the table's cleared. Look out for plastic-free crackers (available in own-brand ranges at Morrisons, Waitrose and John Lewis) or ask a crafty, creative family member to make some crackers this year! Finally, once the organic mulled wine is poured (no excuses, Aldi sells organic red for a fiver), your rented or potted Christmas tree twinkling, and the homemade mince pies warmed, you can kick back and relax, happy knowing you can work off all those extra calories on a big Boxing Day beach clean.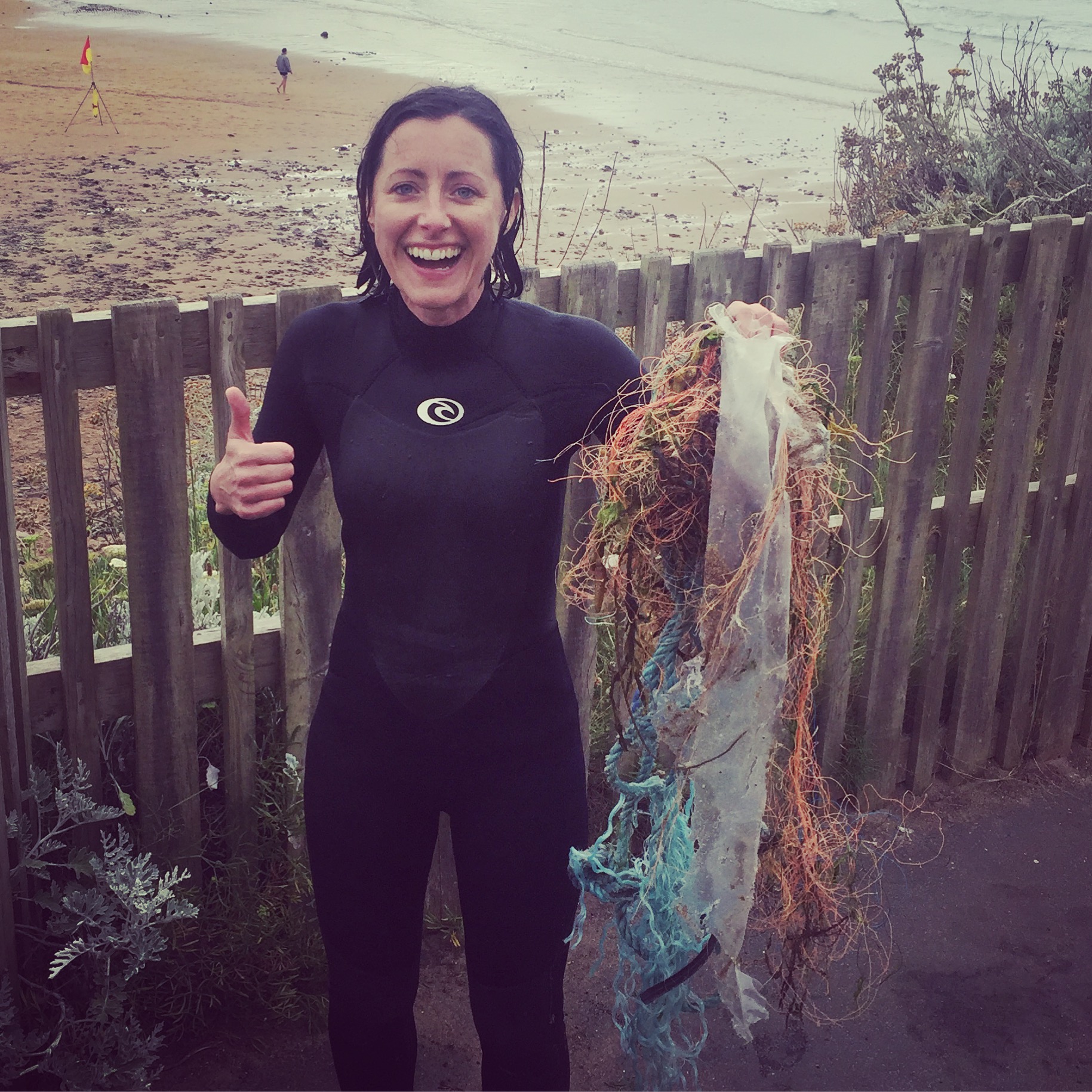 With these tips from Natalie in mind, we've rounded up sustainable Christmas products made of 100% recycled paper, wood, cotton and linen which can be reused or recycled. Many are created by some of our best and most inventive young designers, who seek to make a difference to the way we shop.
Reusable wrapping
Stine and Nicoline, two friends from Denmark who live in the UK, are bringing Scandi eco style to our doorsteps with The Danes brand. Their reusable linen 'Furoshiki' gift-wrap cloth does away with paper altogether and can be washed at 40˚C. The medium 45cm sheet, £9.95, will wrap a book or a bottle, the larger 65cm sheet, at £13.95, suits larger boxes or gifts. Fasten with some candy-striped thick flax twine, £3.49 for 20m (thedanes.co.uk).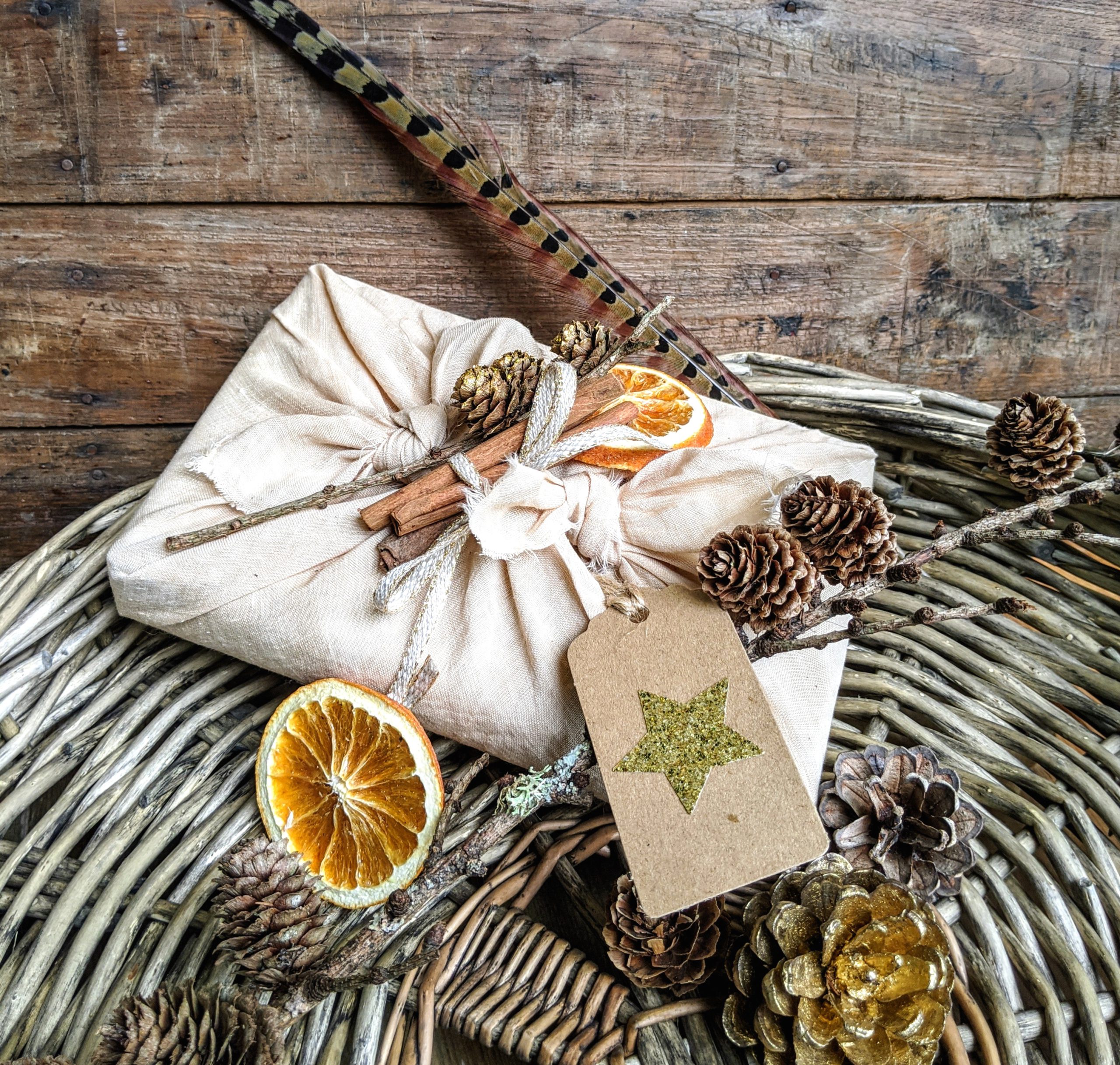 Lay the table
These snow-white linen napkins, 44cm square, are sewn and hand embroidered by women of the Mogalakwena Craft Art Village in the Limpopo province of South Africa. Each set of six Christmas napkins, £95, includes Candy Cane, Candle, Bauble, Stocking, Wreath and Bells motifs. The exclusive stockist, Craft Editions, ensures that the talented craftswomen are paid a fair price for their handiwork (crafteditions.co.uk).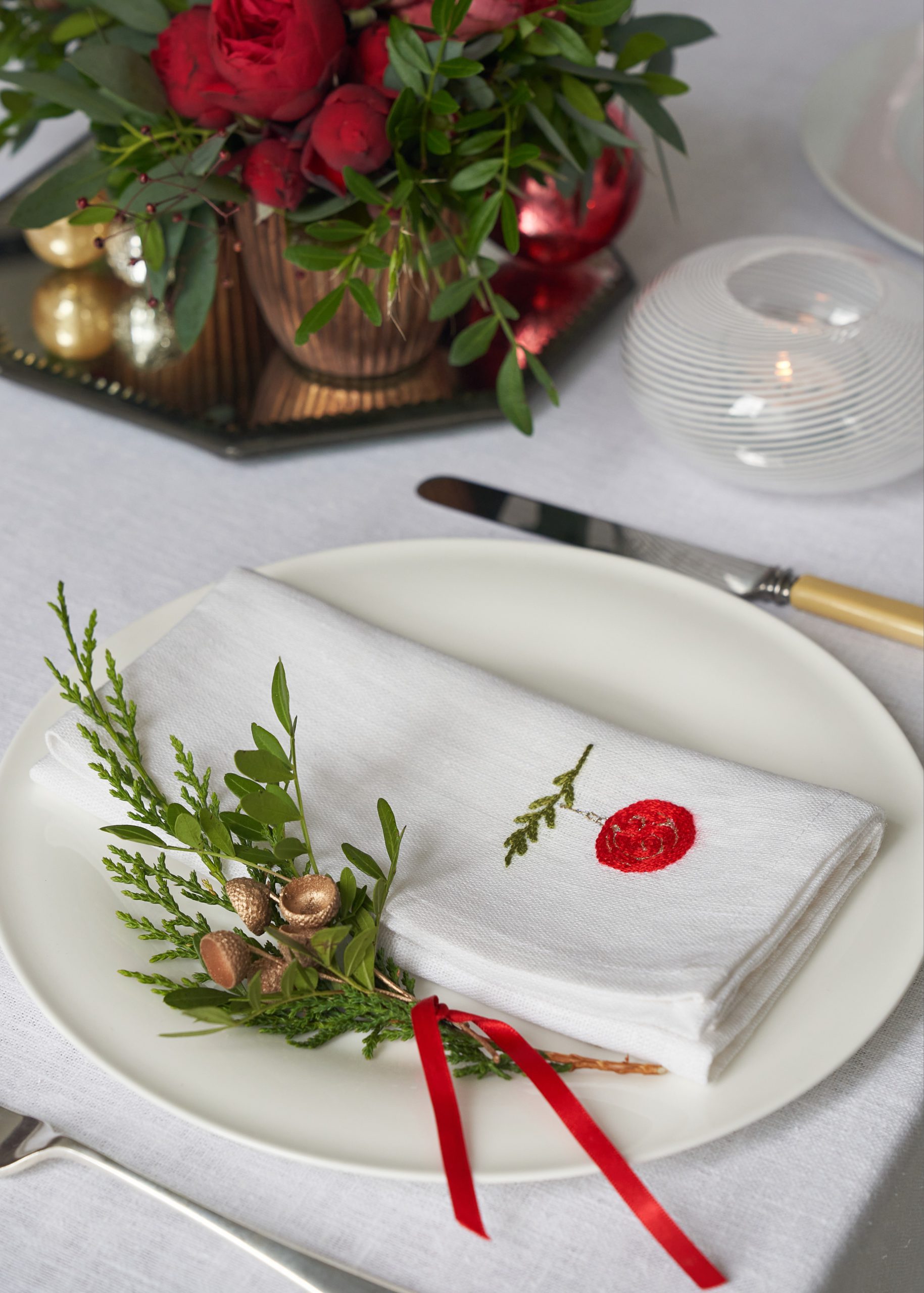 Christmas crackers
Pulling crackers is festive fun, but now you can have a clearer conscience as you tussle. Nancy & Betty Christmas crackers are made from thick recyclable paper, tied with real ribbon, and contain plastic-free gifts such as crayons and chalks, wooden honey drizzlers and wildflower seeds. The wide range of crackers, created by stationery designer Hannah Bidmead at her studio near Canterbury, start at £26 a box of six. Featured here is luxury Oak Leaves & Acorns set, £36 a box. To top off the feel-good purchase, for every box bought a tree is planted (nancyandbetty.com).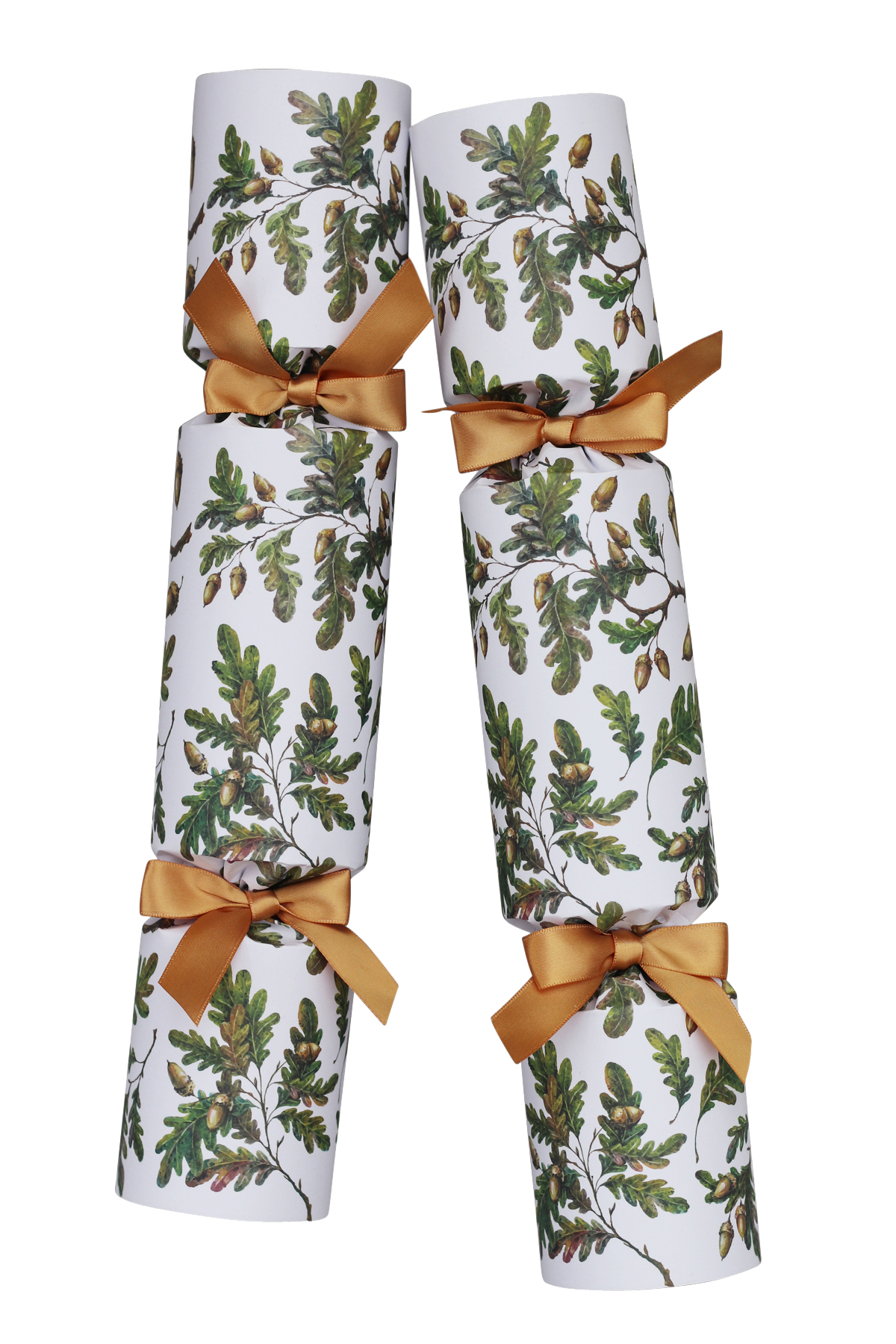 Beautiful stockings
What could be more magical on a Christmas morning than stockings hung over the fireplace? Fabric designer Lorna Syson (an alumni of top London craft hub, Cockpit Arts) designed the Robin fabric stocking in her studio in rural Oxfordshire, and offers Goldcrest and Willowtit versions too. All £24 each (lornasyson.co.uk).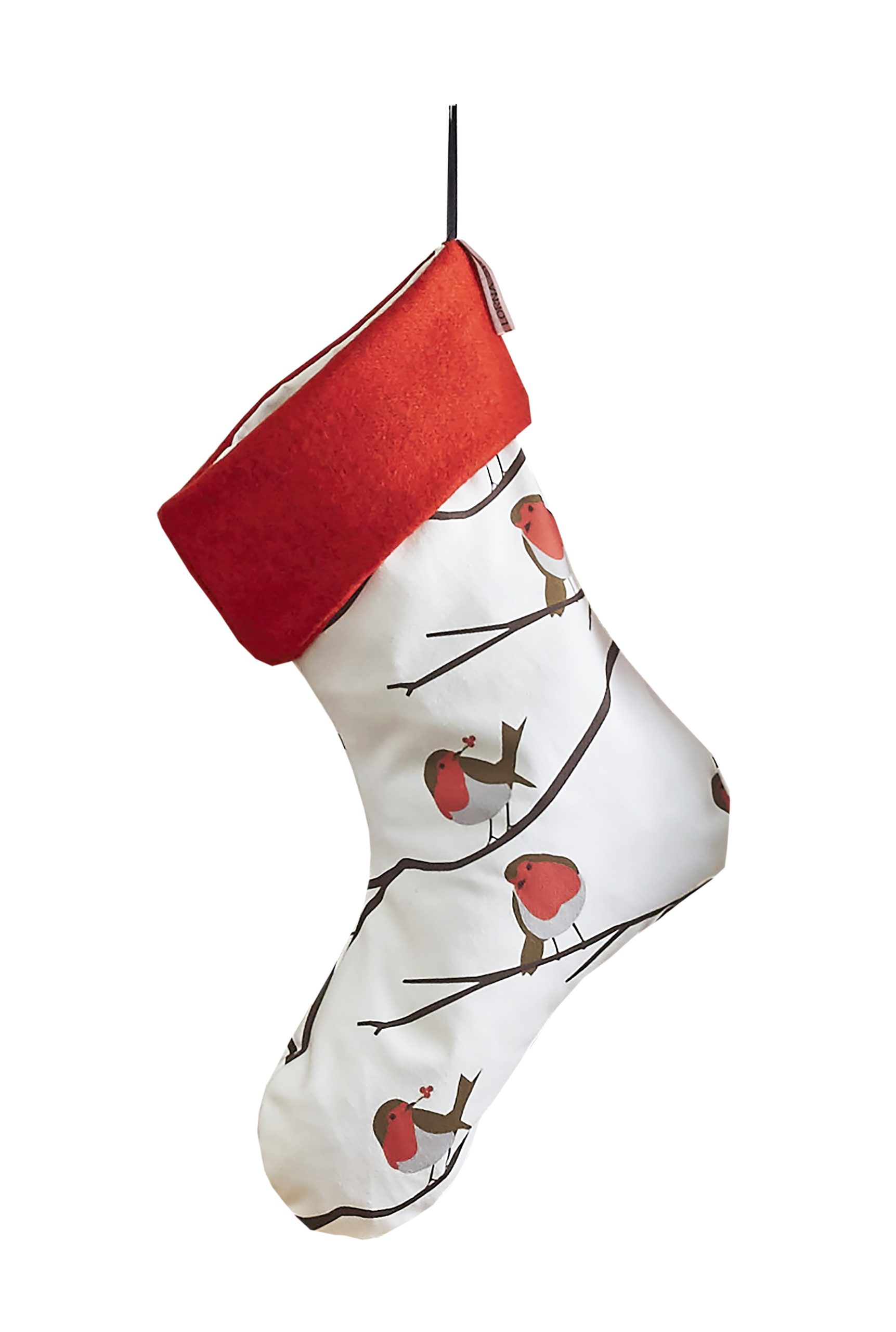 Coastal charisma
The wildly inventive design duo of karandave (aka couple Kara Wilson and Dave Barker) make wooden folk art decorations from their studio in Newquay, Cornwall. Their offering is different every Christmas, allowing customers to slowly build a collection. Prices, including postage, start at £14 for a Puffin and £18.50 for Cornish Fishermen, up to £35 for a Dancing Mermaid of Mawgan Porth. Available at karandave on Etsy (etsy.co.uk).
Make your own bespoke wrapping paper
Create your own gift-wrap with some large sheets of recycled blank paper, a potato cut with a motif, and a sample-size pot of paint – and print away. Annie Sloan's range of Chalk Paints are ideal for the job and come in vibrant colours such as Pure, Barcelona Orange, Primer Red, English Yellow, Antibes Green, Giverny and Napoloeonic Blue, £5.95 for a 120ml pot (anniesloan.com).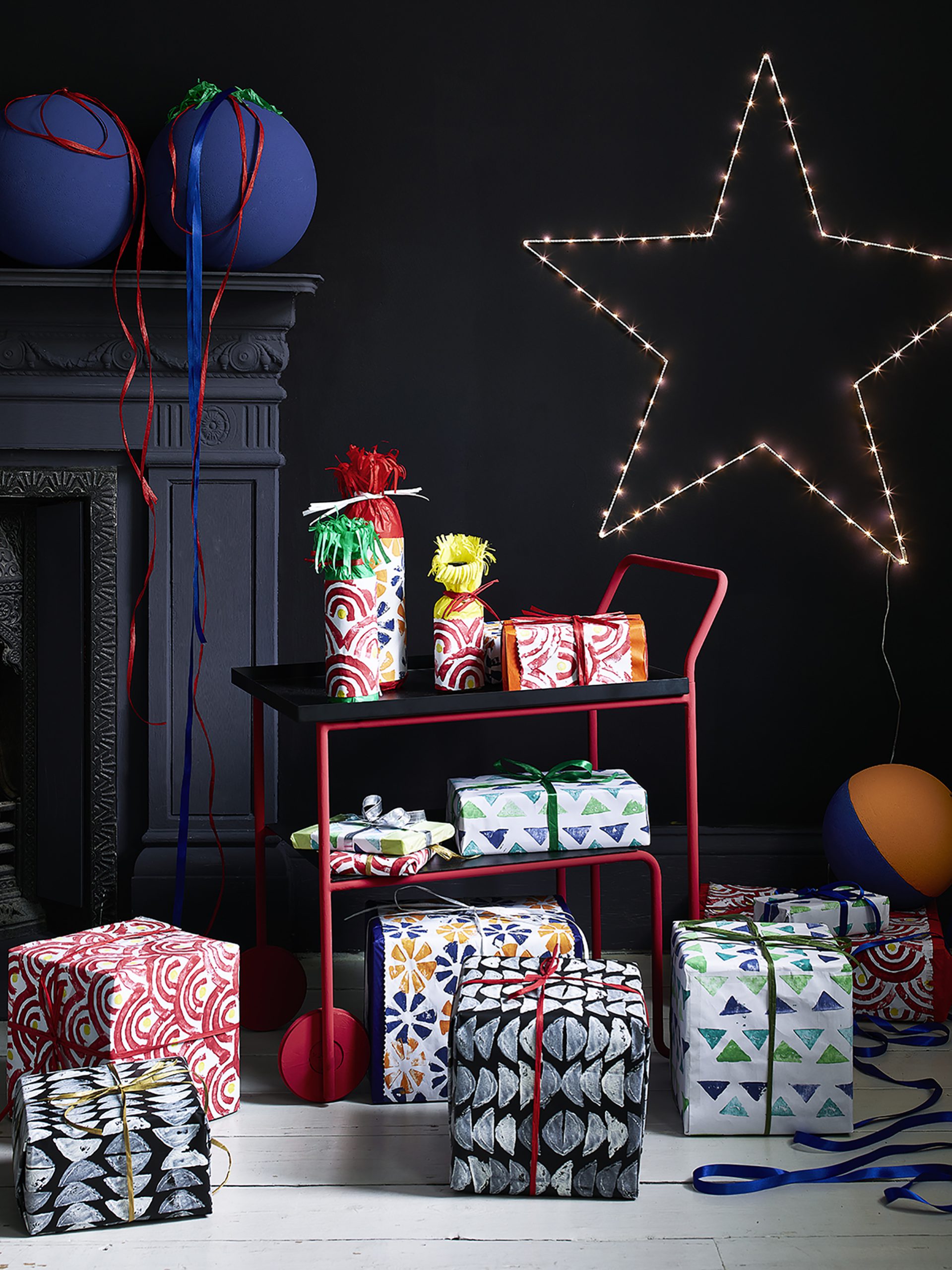 Recycled paper gift tags
Monochrome gift tags can look just as pretty as patterned, as these 100% recycled paper gift tags show. They come in five low-key colours, including black, white and brown kraft, and cost £3.50 for 30 (thedanes.co.uk).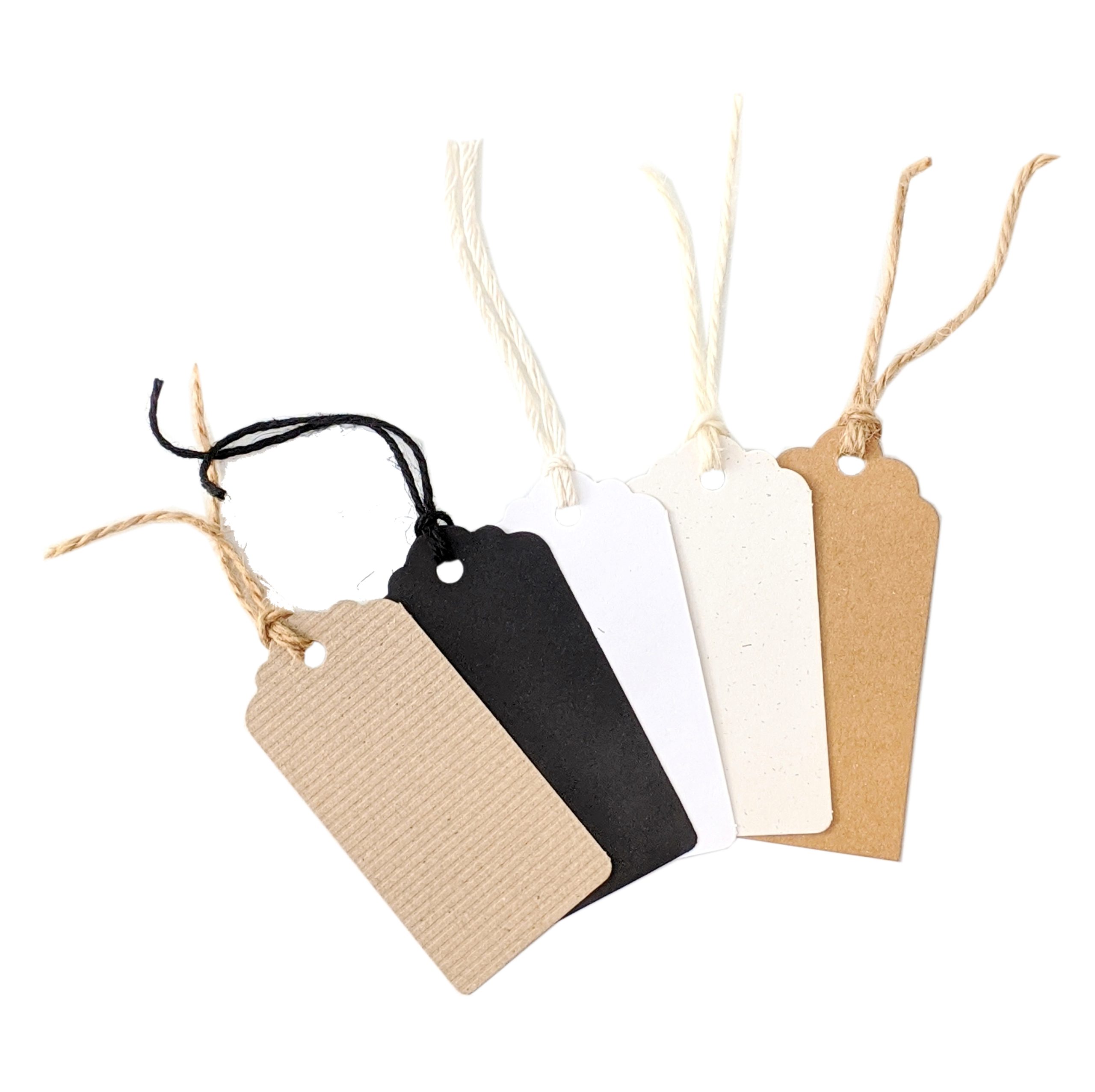 Plastic-free papers
When Hema Chauhan couldn't find the eco-friendly wrapping paper and gift tags she searched for, she decided to design her own – leaving out the plastic coatings, foils and glitter, and printing in the UK with vegetable-based inks in a waterless, chemical-free process. Hema's Curlicue range, made from 100% recycled paper is wholly recyclable, and comes in festive patterns such as Bauble Noire, Nutcracker, Secret Santa and Winter Woodland, priced at £6.75 for three sheets, and £3.45 for three tags (curlicue.uk).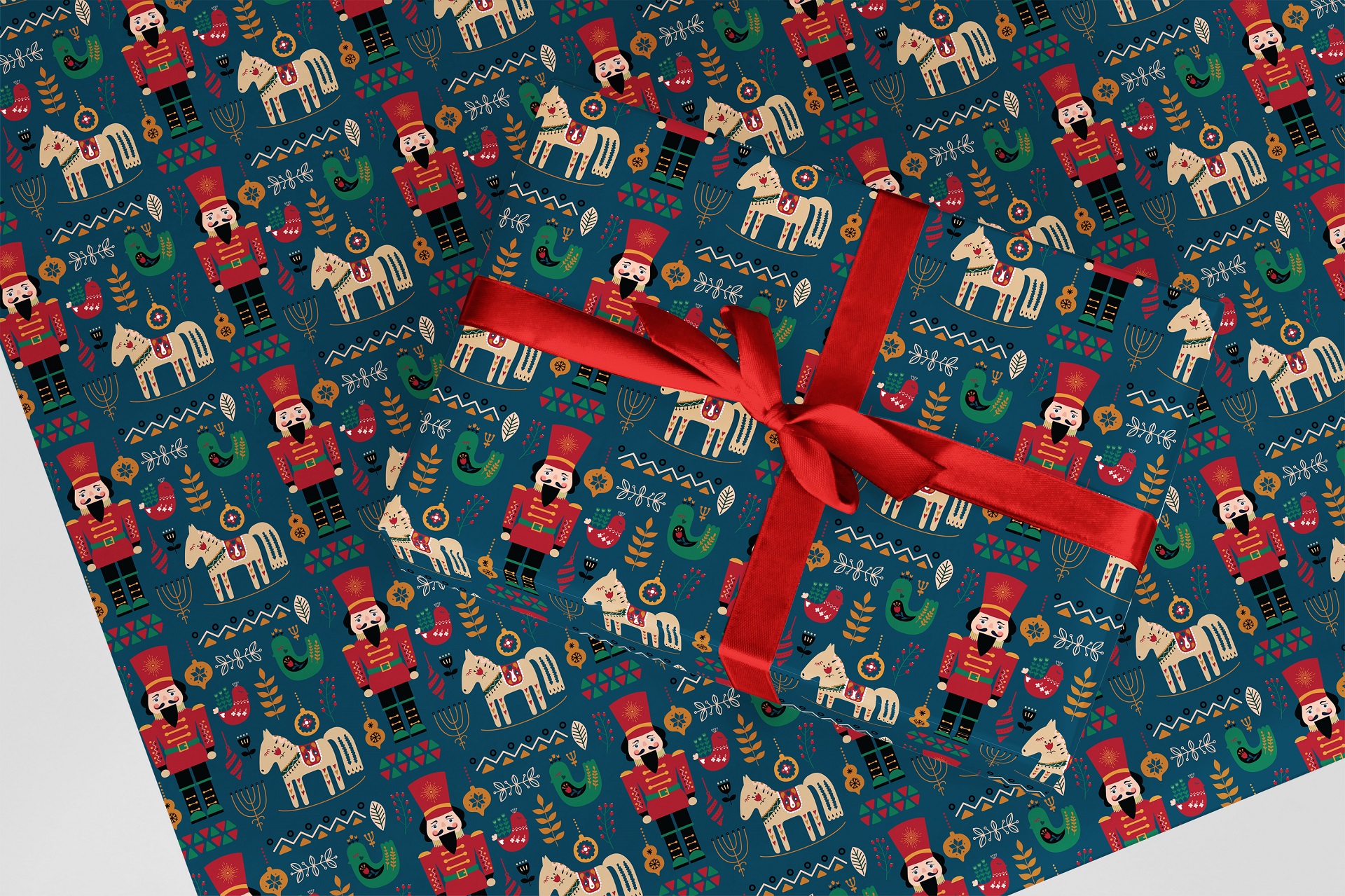 Make your own Christmas angel
Christmas angel a bit tattered? Make a sparkly new one with PaperSam's Treetop Angel Craftkit, £15. Created by stylist Sam Duffy, each kit contains all the wooden and cork components to make a 23cm doll, plus paint brush, cotton organdie fabric and hessian wings. The kit is suitable for children 12 years upwards, and bigger kids of course. Ready-made angels, featuring vintage materials, are available too (papersam.co.uk).