Experience this year's coast Beach Clean through the eyes of 9-year-old Freya, one of the brilliant volunteers who took to Watergate Bay with bin liners in hand and determination in mind
Freya enjoyed herself so much on the Cornish beach she was inspired to write an article for her school newspaper. Here it is:
80 Volunteers Clean Cornish beach!!
On Saturday 8 October I took part with 79 other people in a beach clean at Watergate Bay in Cornwall. The event was run by coast Magazine, Joules and the Marine Conservation Society.
We took part because we love the beaches in Cornwall and we wanted to help keep Watergate Bay clean.
On the day, we arrived at the beach and we listened to someone from the Marine Conservation Society explain what we were going to do and how important the work that they do is. They told us about how litter and plastic items can affect sea animals. They showed us some pictures of a whale which had died because it had swallowed lots of plastic items including plastic bags, wrappers and plastic pieces.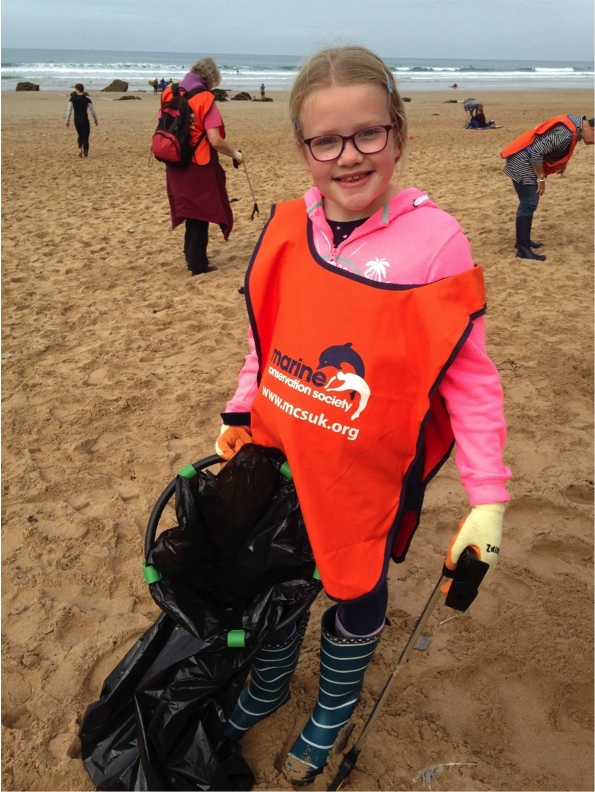 Freya doing a great job!
We then put on our bright orange tabards, gloves and collected our bin bags, litter picker sticks and clipboard with the log sheet which we had to fill in with every item we found. At first the beach looked quite clean so we thought we wouldn't really find much. Once we got going though it was surprising how much litter and plastic items there were. We found lots of small tiny pieces of plastic, bottle tops, cotton bud sticks, rope, bits of fishing net, rubber from flip flops and hundreds of small nodules of plastic which are used to make plastic products.
After an hour and a half we all stopped and weighed our bags. Our bag weighed 1kg and in total we had picked up 748 things!! The whole group found a grand total of over 8,000 small plastic items weighing 23kg! I was amazed and it made me realise how important it is to keep our beaches clean and to never drop litter and be careful about what we flush down the toilet. If we flush things like cotton buds and wipes down the loo, they end up on our beaches.
In the afternoon we went to see what animal life we could find in the rockpools. Within 5 minutes I found a lovely starfish clinging onto a rock. I was the first person to find something!! When we went to show the expert he turned it over and the starfish was eating a mussel. I then held the starfish in my hand and its tentacles felt tickly! We took some photos and then put it safely back in the rockpool under a rock. Some other people found shrimps, fish, crabs and a sea slug.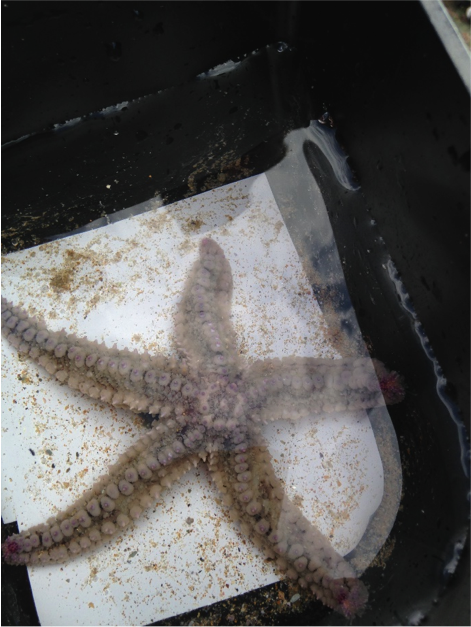 The starfish Freya found when rockpooling
Afterwards we went back inside and there were prizes given to the groups who found the most litter and I won the prize for finding the best rock pool find- the starfish!!
We had brilliant day and I would love to do it all again – why don't you go along to a beach clean and help do your bit for the environment. Go to mcsuk.org and find one near you.
Keep your eyes peeled for our full feature on the Coast Beach Clean 2016 in an upcoming issue of the magazine. And check out other articles on marine conservation here.