Cornwall-based surfer and writer Martin Dorey is making a difference to oceans across the world with his #2minuteBeachClean. Words: James Stewart
Martin Dorey is in full flow, outlining his plans to recycle marine plastic and develop an app that will shame councils – corporations, even – into tackling beach litter, when he catches himself. 'It's mad, isn't it?' he says. 'All this because I wanted to clean up my beach a bit.'
That beach is Crooklets in Bude, Martin's North Cornwall home for the last four years after he quit London in 1996 for a new life on the coast. 'It's this brilliant community who are totally into the sea,' he says. 'You can't put a price on living here. It's absolutely lovely.'
Perhaps that's why Martin is such effervescent company. He meets me the day before he departs to the Hebrides to research his latest book, The Slow Road. He probably has a thousand details to finalise. Yet here he is in a beachside café, as engaging in person as he is in his books on campervan life ('basically about getting off the sofa to enjoy the good, simple things of coastal living') or his TV series One Man and his Campervan ('five weeks away in the van – what a fantastic gig!'), forsaking precious preparation time to talk about the beach-clean project that has consumed him since 2013. We have, it seems, finally woken up to the scale of our problem with marine litter. When a study in 2015 reported that eight million tonnes of plastic – enough to bury the Bristol area ankle-deep – entered the world's seas annually, it made national headlines. Here, the volume of marine litter has doubled in 15 years, with that of plastic rising by 140 per cent in a decade.
Go to any coastline and you'll see the reality of the statistics; lengths of rope braided among seaweed, shattered fish crates, plastic bottles and drinking straws that are the tide-mark of the 21st century. Small wonder that beach cleans have become a staple of coastal life.
The problem with beach cleans though, Martin says, is 'it's always the same people who turn up'. He adds: 'I couldn't go every week but still wanted to do my bit, so I decided to do a clean every time I was on the beach.'
Never was that required more than after the violent storms of late October 2013. Martin joined the community clear-up, then returned alone the next day. 'That's when I began to post.' One morning in November 2013, Martin tweeted a photo of his solo clean captioned 'Today's #2minutebeachclean'. He continued over successive weeks, sometimes after a surf, sometimes just while passing. Each time, another photo, another hashtag. Why two minutes? 'Because it's shorthand for nothing,' he says. 'It's the idea that everyone can make a difference in no time at all, that every bit of litter you take off the beach is important, that this isn't an overwhelming problem.'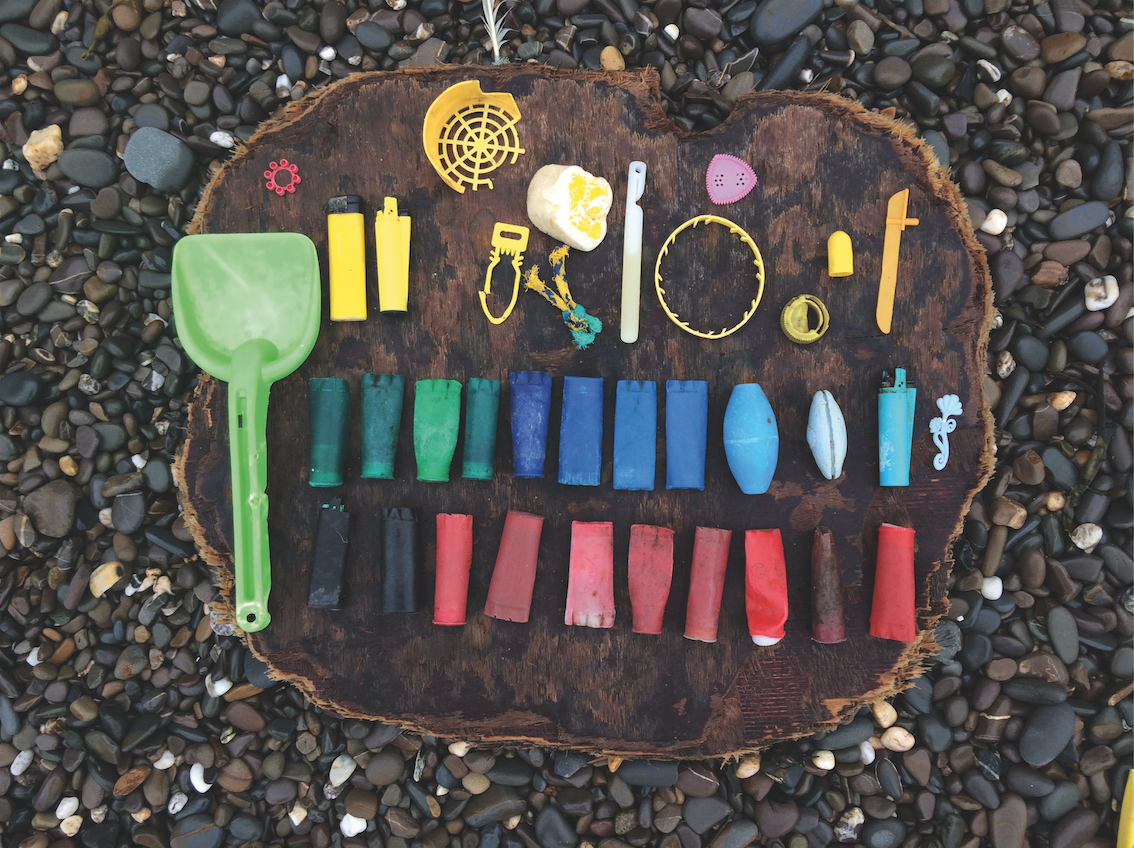 If the hashtag was catchy – it may be no coincidence that Martin has worked as an advertising copywriter – the photos were inspirational: 'I'd collect a load of bottle-tops and arrange them in a rainbow. I didn't want this to look like a chore.'
A friend from Cornish clothing brand Finisterre took up the #2minutebeachclean baton. Then another. By July 2014 the relay had expanded to 800 hashtagged posts on Instagram. That was when BBC Worldwide featured Martin in a story about Lego from a 1997 cargo spill that continued to litter beaches. 'The journalist was interviewed in The New York Times, The Sydney Morning Herald, everywhere. She said the answer was to do a two-minute beach-clean and that was it: whoosh! Off it went around the world.'
When Martin and I met, there were 23,524 #2minutebeachclean posts on Instagram. As I write this one week later there are 24,078. Alongside posts from Scotland to the Isles of Scilly are images from Ireland, Scandinavia, France, Spain and Portugal, from North America – New York to Florida, Anchorage to California – and from Australia, New Zealand, Bali, Brazil, Peru, even Papua New Guinea.
Geography aside, what strikes you about the images is their subliminal message. There's a lot of salt-bleached flotsam, of course. But there are far more shots of smiley beachcombers, of litter re-imagined as art, of old rope upcycled into bowls or plastic melted into jewellery. Who knew rubbish could be so feel-good?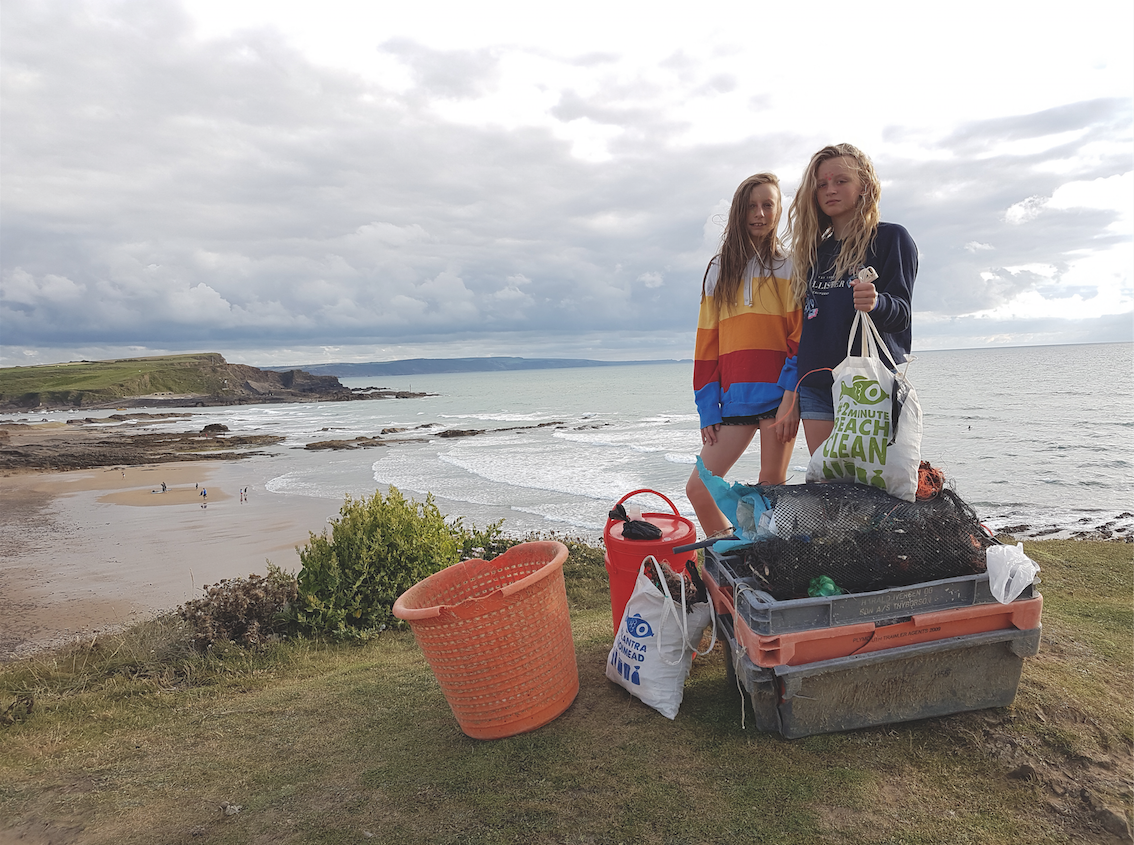 'People just got it,' Martin says. 'I heard an old woman on the radio yesterday saying she was off to do her two-minute beach-clean. I had an email last week from Sweden about starting a scheme. It was launched in Israel in summer. Every day something happens. It is insane; just the most amazing thing.'
By offering solutions not problems, Martin inadvertently met an unspoken hunger for action. When he set up a #2minutebeachclean station – an A-frame board with a litter-picker and bin-bags – at Crooklets Beach in 2014, annual litter fell by 61 per cent. There are now 140 stations in Ireland and 60 in the UK. Their £330 (exVAT) price funds a campaign that remains non-profit; Martin has yet to earn a penny from over four years' work. The scheme's only commercial finance has come from Surfdome and, like everything about this story, it has proven a virtuous circle.
Sure, the online surf retailer basks in reflected glory in return for its sponsorship of promotional materials. But Adam Hall, head of sustainability, wanted to do more than just write a cheque. He has switched Surfdome delivery packaging to 100 per cent recycled paper and cardboard, saving the equivalent of 650,000 550ml plastic bottles a year. And because that packaging now carries the #2minutebeachclean logo, Surfdome raises awareness too. Adam's goal is to export the model to Surfdome's US and Aussie partners.
The unsung hero behind the campaign's phenomenal success is Dolly. She manages the scheme's Twitter and Instagram accounts, snapping up every hashtagged photo, responding to every post or new follower (no small task on an Instagram account that grows by 700 people a week). She explains: 'Without social media, #2minutebeachclean wouldn't exist. People would still pick up litter, but with the hashtag we pull together. We're a family, a tribe, a barefoot army.'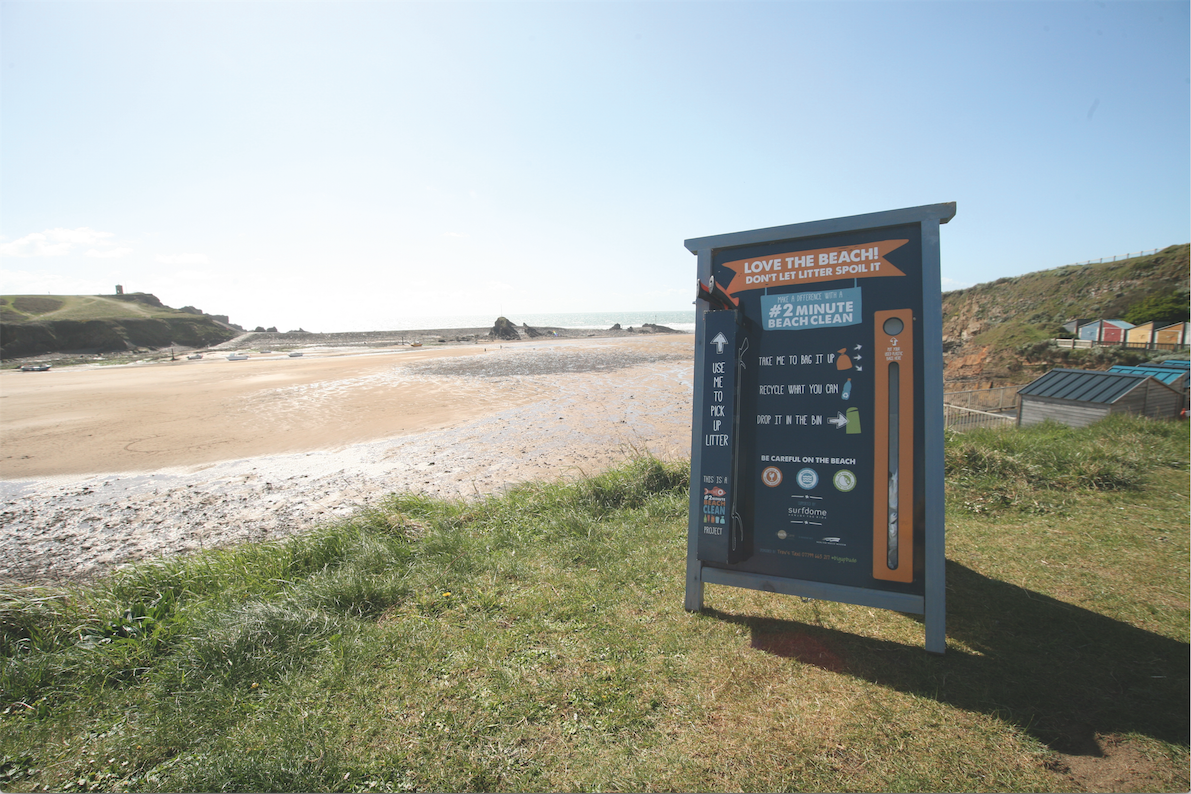 That's the beautiful irony of this. A scheme created ostensibly to empower individuals has instead fostered a global grassroots community with genuine muscle. Following pressure from #2minutebeachcleaners, Clevedon town council halted a balloon release from its pier. Shown evidence of its printer cartridges littering beaches, Hewlett Packard was shamed into donating £15,000.
That's where Martin's new app comes in. When released this year it will locate your nearest beach-clean station and let you play beach-litter bingo: Coke bottle, lighter, coffee-cup lid – house! Such playfulness belies a serious intent – typical Martin. He says: 'Data is king. With hard data we can hit the worst offenders with a big stick and get councils and corporations to change.'
Bigger still is the underlying point about how we consume. 'Plastic is insidious and persistent and very dangerous in a slow way. And because it's omnipresent we have all become a bit blind to it. So, part of the #2minutebeachclean is to get people to really see.' A new hashtag #2minutesymptoms addresses the causes not symptoms.
Lofty goals compared to that morning back in early November 2013. For all that, #2minutebeachclean has blossomed from lone beach-clean to global movement largely because of its simple, life-affirming message. These are our beaches, it says. This is our planet and our children's. You – yes you, reading this now – can make a difference.
Martin has. He says: 'You don't want to be the one who walks past the rope that goes around the seal's neck. You can just pick it up. It's that simple.'
For more information visit beachclean.net and for more marine conservation stories, click here or pick up a copy of the magazine.
WHAT CAN YOU DO?
Pick it up: why wait for an organised clean? Collect litter whenever you go to the beach – everyone can spare two minutes.
Make it fun: set the kids a challenge to find 10 bottle-tops, for example, or a lone flip-flop (there's always one!)
Buy a board: see the website to get your own #2minutebeachclean station – they reduce litter on beaches and support the cause.
Recycle and reuse: poorly disposed landfill accumulates on our coastline. Recycle wherever possible and reuse, say, old water bottles rather than buy new ones.
Consume smarter: do you really need that coffee-cup lid or straw? Can you buy vegetables loose instead of pre-wrapped? Make conscious decisions to buy products with less packaging.