SPONSORED
Regal Fish have been delivering the highest quality and responsibly sourced seafood to UK households for over 30 years. They are now giving you access to their incredible products and delivering them to your door the day after you order!
Regal Fish have been delivering a wide range of delicious seafood products directly to their customer's doors since 1989. Since then, a lot has changed, from going door to door and scribbling orders down with pen and paper, to owning a fleet of vans ready to deliver fresh seafood across the UK. Regal has grown as time has ticked on, adding more vans to their fleet and courier deliveries to give more UK households access to high-quality fish products. However, their core values have remained the same: deliver the freshest and best quality seafood straight to your door and provide excellent customer service from start to finish. Recently, the company has relaunched its online experience, eager to share seafood's excitement and versatility.
Having relaunched their online presence, they now offer their customers next-day deliveries and subscription services. Martha, their marketing manager, recalls, "I might be biased, but seafood really is an extraordinary food group. It's a great source of protein and packed full of health benefits. We love seafood at Regal and believe it is often overlooked as it is seen as difficult to cook and understand. However, we want to change that. We want to engage positively about how diverse fish is. From species to species, fish has a huge range of flavours and health benefits and easily fits into every world cuisine. We are passionate about delivering the best quality products and giving great, mouth watering recipe ideas for our products, showing how simple and convenient seafood is to cook and enjoy. It's not just our opinion either. The NHS recommends two portions of fish a week for a balanced diet. We want to help the UK achieve that! All while eating the best products there are to offer".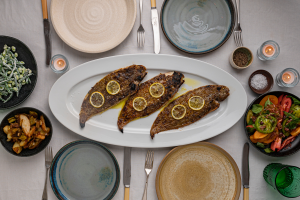 It has become challenging for the UK public to access great quality fresh fish, and Regal wants to ensure they keep this option available. "As our lives become busier, we understand how hard it can be to find your favourite seafood products that are high quality and at a great price while ensuring they've been sourced responsibly. We do this for you as we are experts in all things fish. Our sourcing and production team purchase and freshly prepare the products for our customers' orders, allowing us to deliver the best quality products to your door. Our well-established supply chains provide the best products, sourced locally where possible to support UK fishing. At Regal Fish we are committed to ensuring that our customers receive the best quality seafood, at affordable prices, responsibly sourced and delivered to their door so that they are able to enjoy the experience at their convenience. Ultimately, we want to make it easier to access and enjoy incredible seafood, bringing fantastic quality into our customers' homes."
Regal Fish really is the place for all things seafood. From buying incredible quality products to learning about the health benefits of eating fish. From a range of recipes for all occasions to advice on the best wine pairings. Their passion for what they do is evident, and the love and care they take with every order and customer are a testament to the company's family feel. They offer traditional buying over the telephone or through their new online shop. Whatever method you prefer, they will never disappoint and are always happy to help. Order now to experience quality seafood and unbeatable service.
For recipe ideas, click here.