ANDY COOPER discovers an easy way to get on the water by becoming part of a club, with Freedom Boat Club in Torquay.
Know the two days when you enjoy owning a boat? That's right…the day you buy it, and the day you sell it! That old adage is sometimes trotted out with rueful laughter by many a boat owner because they can see the kernel of truth in it.
The fact is boat ownership is pleasurable, liberating, unique…and sometimes costly, even if you own the simplest of craft. Boost that ownership towards something sporty and powerful and you can start adding more pounds onto your debit column in the ledger of enjoyment.
But, of course, any thoughts of the cost are temporarily lost on the wind when you are racing across the water, sun on you face, enjoying the thrill of speed out in the open air. And, again, you forget the hassles and the occasional headache when you witness nature up close as part of your time on board.
So just supposing there was a way to enjoy all the upsides of boat ownership, with very few of the downsides. Well, there is…and I recently experienced it on a visit to Torquay Marina.
There sits the waterside office of Freedom Boat Club Torquay – a new way to enjoy all the benefits of boat ownership…without actually owning one. Sign up for a membership package and you will soon enough find yourself at the helm of one of the club's impressive fleet.
Currently, the fleet at Torquay consists of three Zodiac RIBS, a 5.5m Gulf Stream Limited Edition and two larger 6.8m Medline as well as a Quicksilver 705 Pilot House – perfect for angling and relaxed cruising, it provides protection from any weather thanks to its cabin; a great choice for families and those who appreciate a little extra comfort. All boats are powered by the latest Mercury outboards, and as more members join, additional boats will be added.
Based on Beacon Quay, the Freedom clubhouse overlooks the beautiful bay and Torquay Marina, making it an ideal base to embark on all kinds of boating adventures.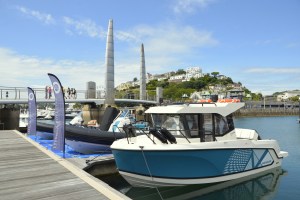 I was taken out for a demonstration by club manager Ollie Patterson, who put the stylish Medline 6.8 Aqua through its paces during a fabulous afternoon out on the water. Accompanied by four family members, we visited offshore rocks where wildlife remains unseen from the land, as well as edging in and out of waterside caves for an explore. And no trip on a RIB would be complete without a little speed on the agenda, with all our party enjoying the thrill of time at the helm under Ollie's expert instruction.
This truly is one of the best ways to enjoy a boat without too much preparation and admin getting in your way. Sign up as a member and you'll soon be enjoying hassle-free times out on the water.
And by joining Freedom Boat Club, you also link up with an impressive 385+ Freedom locations worldwide, providing a straightforward route to unlimited boating. Since 2021, five locations have opened across the UK, including Portsmouth, Hythe Marina Village, Loch Lomond and Windermere, further underpinning that club membership is an increasingly preferred way to enjoy marine activities.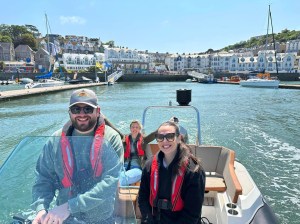 Ollie told me: "We are looking forward to welcoming Freedom Boat Club members to enjoy the charms of Torquay. The sheltered waters and stunning coastal views provide perfect cruising grounds for all types of leisure boaters, and we're excited to introduce new and veteran boaters alike to everything Torquay has to offer through the ease and accessibility of Freedom."
And I'd say 'all aboard' to that…