An afternoon art workshop on the Brighton seafront is a whirl of colouring, cutting and daubing as students learn how to create sea-inspired collages, discovers coast writer Paul Miles
'Connecting with the coast' is the title of a three-hour workshop in Brighton at Atelier Beside the Sea, an art gallery-shop and 'make' space in three of the arches on the seafront that opened in June 2021. Some of these Victorian arches, built to support the promenade above, are large enough to store fishing boats. Others were originally used as chalets and shops. Most have been modernised over the years and now house nightclubs, cafés, art galleries and Brighton's fishing museum. They're a perfect location to connect with the coast, just a beach pebble's throw from the sea.
The aim of the workshop is to have fun making interesting papers and surfaces to use to create a collage in response to the Sussex coastline and Brighton seafront. Everyone is welcome. 'The energy and unselfconsciousness of the beginner is a wonderful freeing reminder to the experienced, while the experience of the more established student teaches the beginner a lot, so it's win-win,' says the welcome blurb, reassuringly.
SATURDAY AFTERNOON
1PM UNDERNEATH THE ARCHES
The wind is gusting at 60mph and the rain is horizontal when I arrive for my afternoon workshop. I'm actually an hour early so instead of the planned seafront stroll to garner inspiration, I take shelter in one of the arches, a pub aptly named Tempest Inn. It's more of a clubbers' chill-out zone than a lunchtime venue. I order Korean-style mushroom katsu and drip dry in the cave-like interior, the only customer.
Atelier Beside the Sea is next door. These arches were originally designed as a public convenience although never used as such, reassures Scott Loveday-Millar, head of teaching, who shows me round.
2PM MEETING AND GREETING
The workshop space with its vaulted roof and white-painted walls is long and narrow with good ventilation. There is room for 12 at tables with Anglepoise lamps. Another participant is early, drying off from the rain. Jenni Watson is a retired social worker who has taken up art and sells her work in her studio workshop in Lancing. She's here to get inspiration for new techniques. 'I loved the bright colours of the painting that they used to advertise this,' she says. Soon we are 10. Suzi Lowe, the tutor, arrives, wearing paint-spattered jeans and a T-shirt, carrying armfuls of paper and what she calls 'bits, bobs and gubbins'. These are some of our raw materials.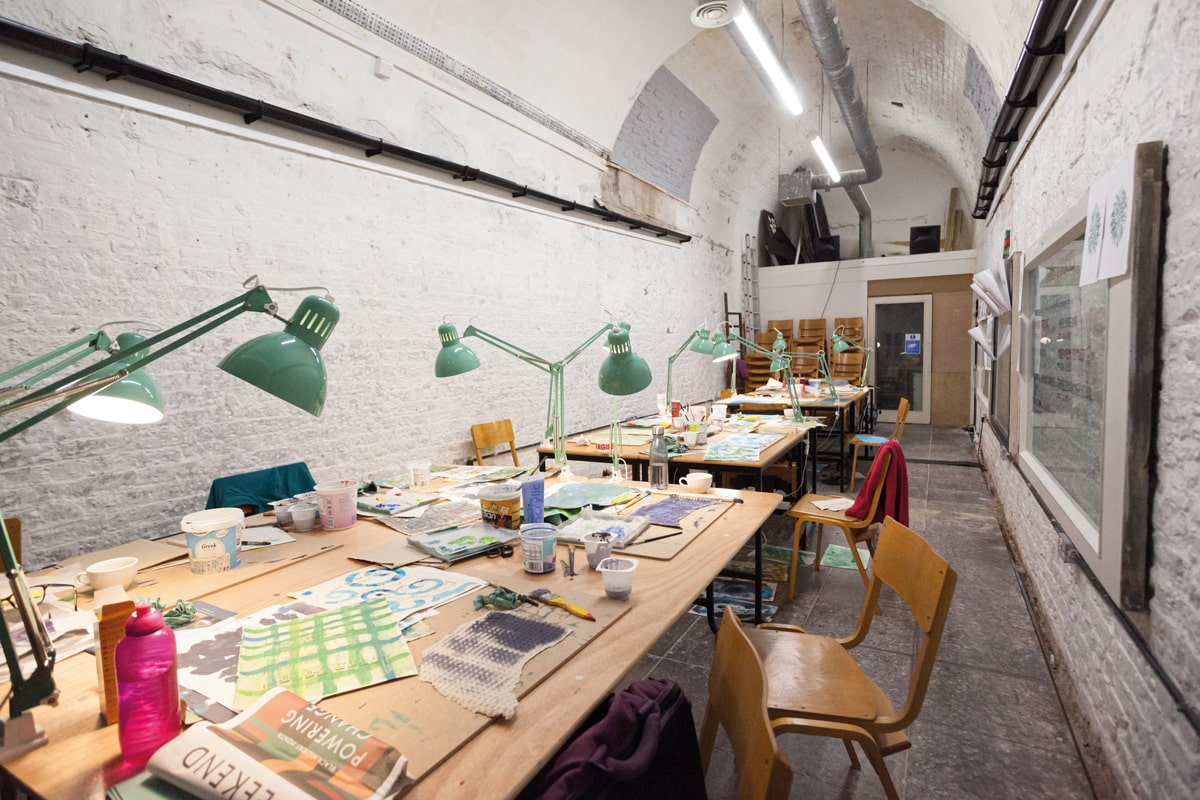 This course was intended to include time outside among the boats, beach huts and sculptures of Brighton's seafront, using found objects as materials, but the weather has scuppered that plan. Suzi tells us how we will 'take a very process-driven approach' to creating a collage in response to the coast. 'We should be mindful not to compare ourselves to others,' she adds. 'The intention is to have fun. It's a journey. First, we'll colour up some papers to create coloured backgrounds, and then we'll make some printed ephemera using wax and ink rubbings.'
2.15PM SPLASHING ABOUT
We don aprons and help ourselves to coloured inks, acrylic paint in tubes, paintbrushes, sheets of newsprint, musical scores, maps. Then we brush, splatter and daub. I immediately ignore Suzi's earlier advice and start looking around to see what the others are doing. Some are using bright acrylics, making complex designs. I'm beginning to wonder where this is all going. I daub blue ink onto plain newsprint and sheets of music. Sheets of coloured paper soon lie drying everywhere, on the floor, empty chairs and the table.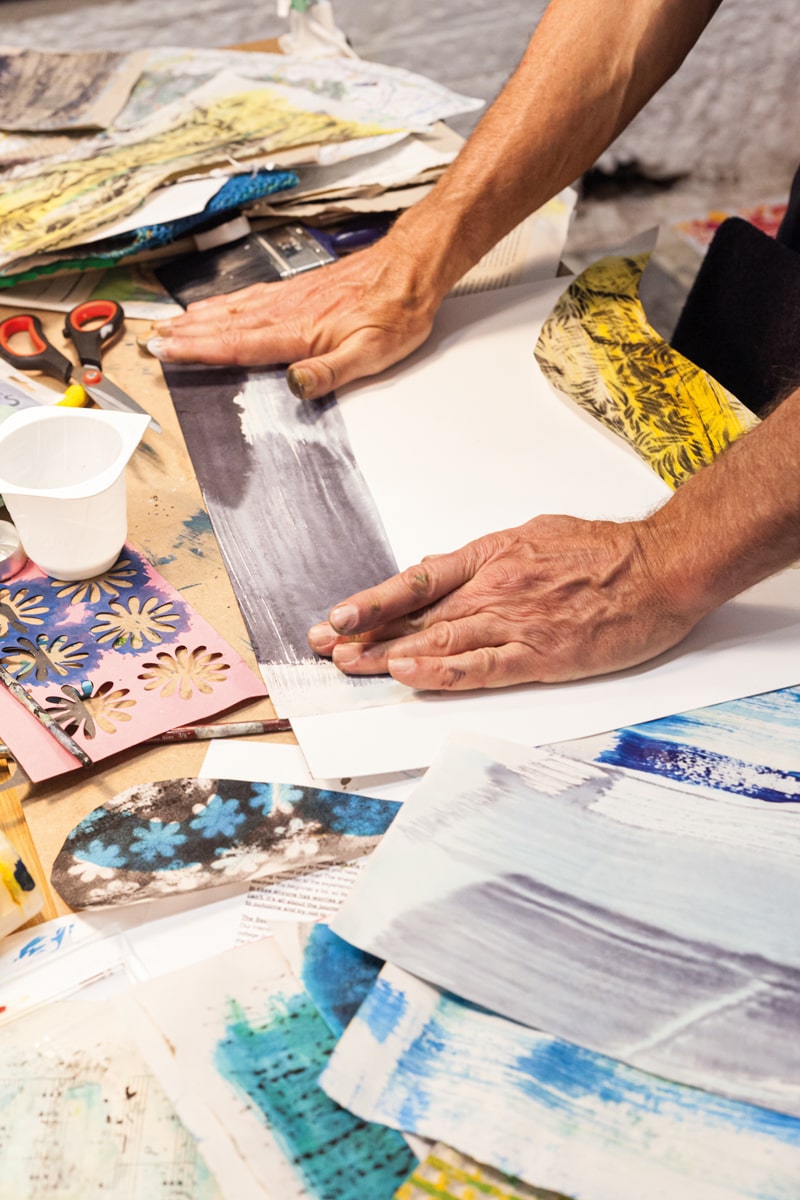 3.15PM LET'S GET RUBBING
'If we were outside we'd rub on the boats and the anchors,' explains Suzi, as she shows us how to rub with the side of chunky crayons or wax candles onto paper on top of something with texture – such as heavily embossed wallpaper or flotsam and jetsam from her recycling box – and then paint over it with ink, revealing the pattern. She shows us how to rub with charcoal too and how to dab paint through stencils. I quite enjoy rubbing over the Anaglypta wallpaper, creating bold black patterns on coloured background papers. Suzi then takes them away to spray with sealant.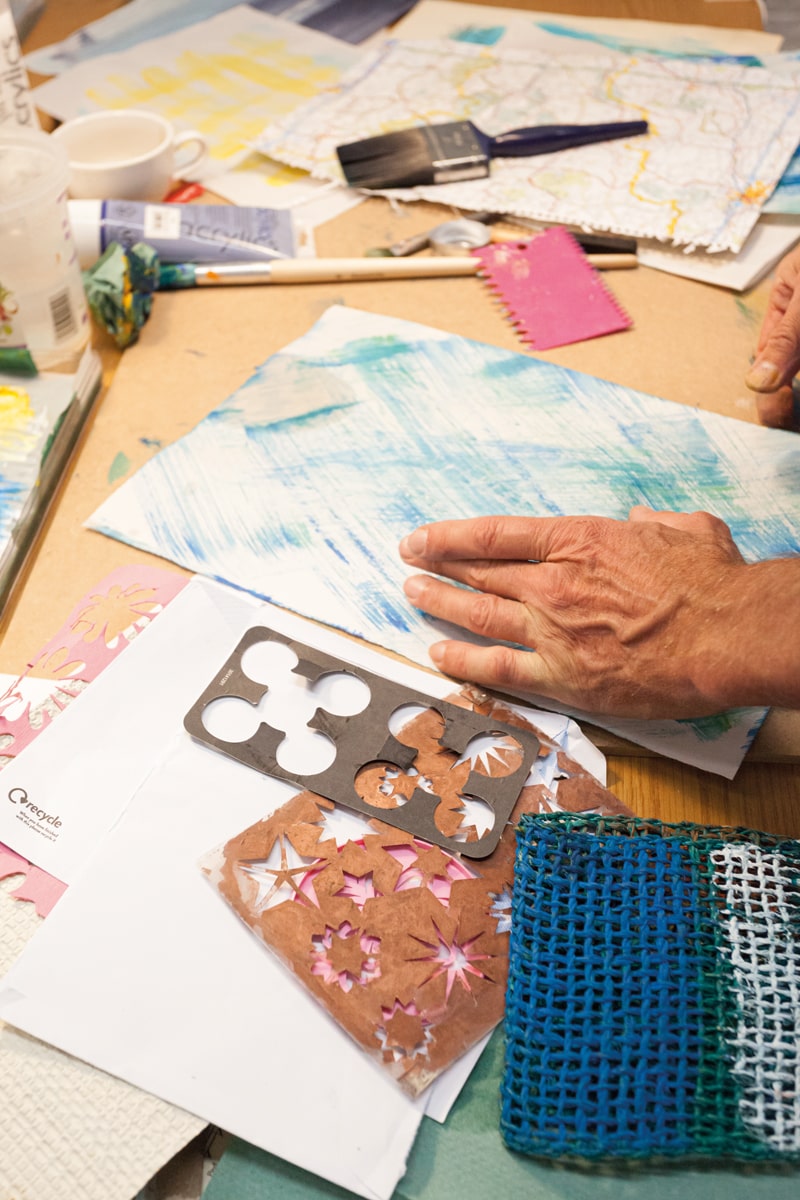 Others are busy with similar rubbings. Louise, on the table next to me, is skipping the rubbings stage. Instead, she forges ahead, cutting out shapes from her coloured papers and arranging them on a sheet of white cartridge paper, creating a collage. It's already looking beautiful. I realise I'm doing it again – getting distracted and anxious – by other people's progress. Suzi says that her art always comes from joy but that other artists might find theirs comes from sorrow. 'You have to give yourself the space and time,' she explains. So I have a cup of tea.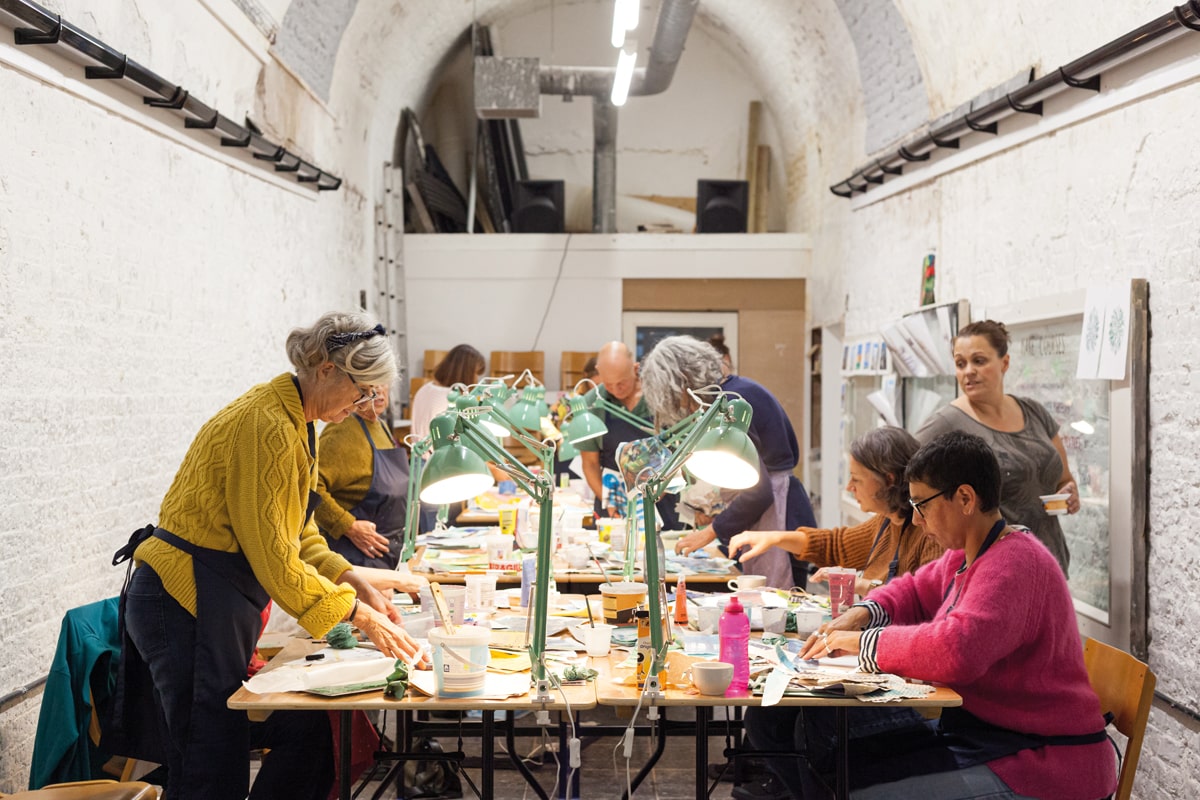 4PM COLLAGE TIPS
We're about to start on the final leg, making collages with our painted and patterned papers. 'Should I have an end in sight? An idea of what I'm aiming for?' I ask. I know it's about the journey but should I have a destination in mind? Not necessarily, replies Suzi, patiently. Her technique is far more random. 'Something might look floral or like something under water. And then I start shaping it like clay. It becomes a conversation between myself and that painting. You have to listen carefully to what it's telling you. I make a mark, colour something up. A lot of it is then buried. Little bits show through, like buried treasure,' she says. 'In the middle stages, my work always looks like an absolute dog's dinner. But nothing ever stays like a dog's dinner. I simplify it, define it, tame it, edit bits out.'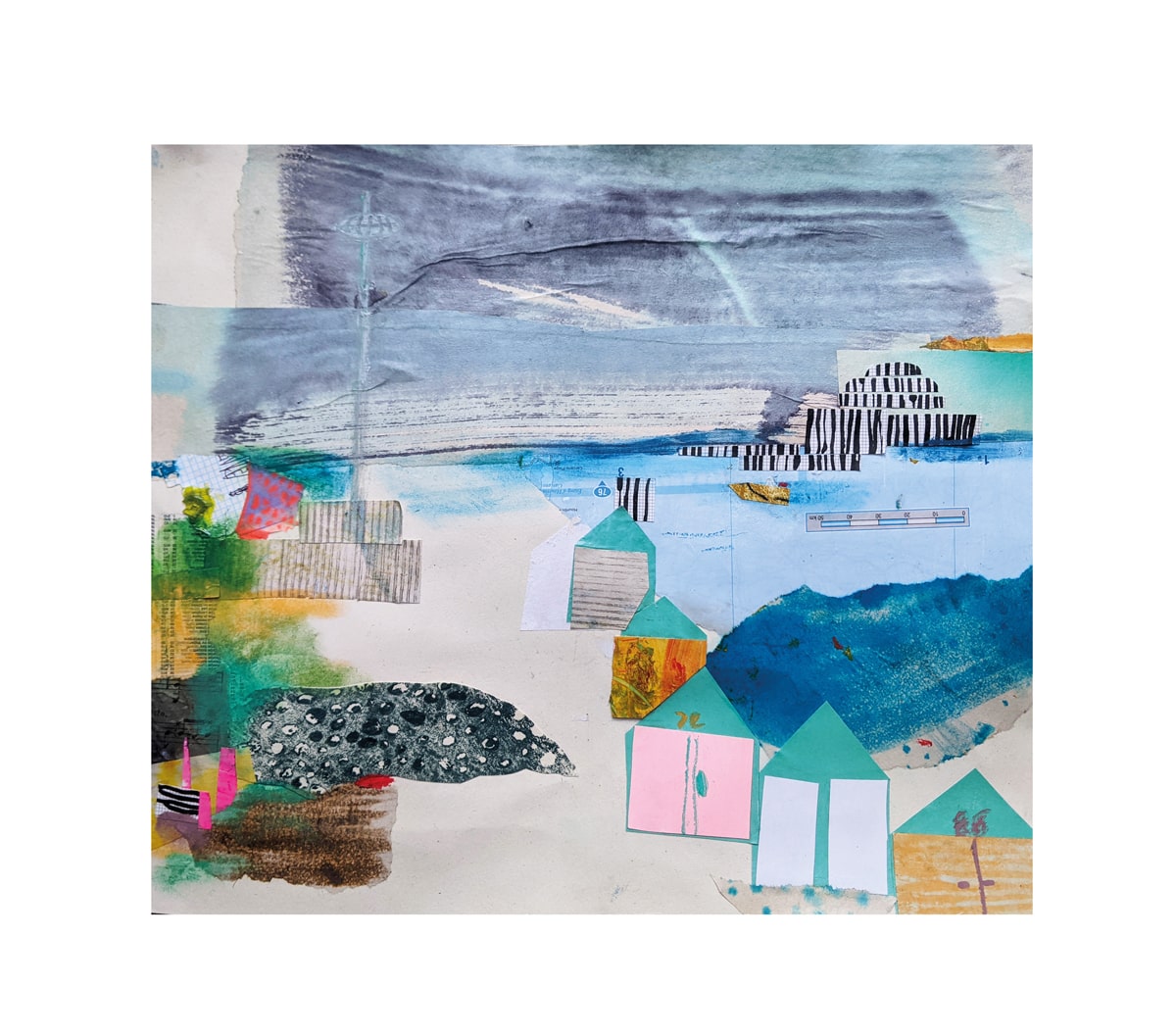 Suzi shows us examples of collages and explains how there needs to be balance between busy and calm. 'Your eye looks around a composition and it likes to find a place to rest. You might want lots of detail in one area and quite plain in another,' she explains. 'You could cut out bold shapes, such as a shell or a bird. You might want to go back in and do some small marks with crayon. You can suggest the pier just with lines and crosses. Before you know it, your brain is reading it as the pier. Warmer colours suggest foreground, cooler ones background. You might need a big shape in the front with smaller shapes in the background to give it depth.'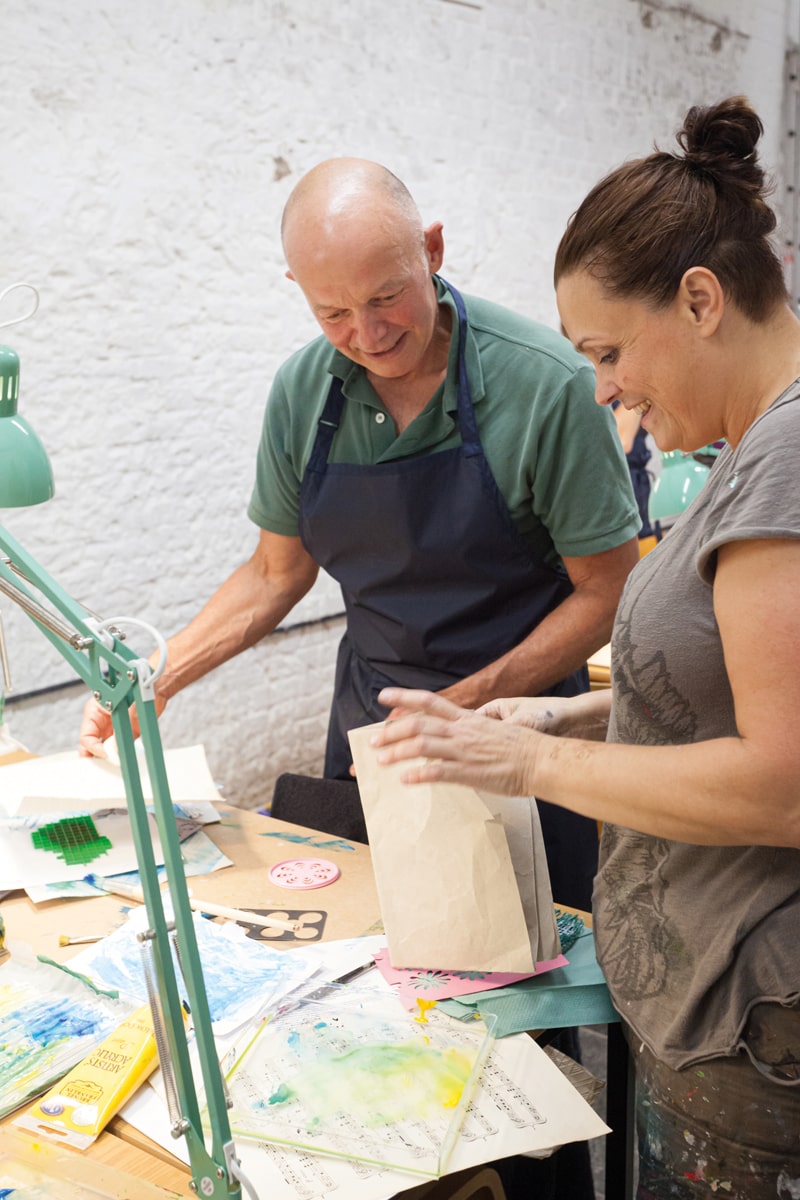 4.15PM SHARING RESOURCES
Suzi asks us to donate some of the coloured and patterned papers we've been making to a communal stash so that we all have far more to select from. I take a sheet of white cartridge paper that will form the base layer of my collage. Then it is a case of tearing and positioning, gluing and layering. I tear up a page of a map and pale yellow-green painted paper with charcoal rubbings. I am heading for a destination – the white cliffs of the Sussex coast, as viewed from the sea. Suzi suggests adding some red, to complement the red of the A roads in the map – which, in my mind are cracks in the chalk cliffs, so I hastily add the red and white striped lighthouse of Beachy Head. She also suggests that I whiten the map a little with acrylic paint. By the end of the session, my collage is arguably still at 'dog's dinner' stage. Maybe it's getting there if you squint? And crop it? Louise, meanwhile, has finished her lovely piece that evokes fishing boats and the sea. Not that I'm jealous.
5PM HOMEWARD BOUND
There's no need to help clear up. The Atelier Beside the Sea crew will do that. Whatever we think of our collages, we all agree that we have had great fun and experimented with new or long-forgotten techniques. Some people take away their patterned and coloured papers to continue working at home. We've also learnt that making art is a journey, not a destination. We wrap up and head out into the gale.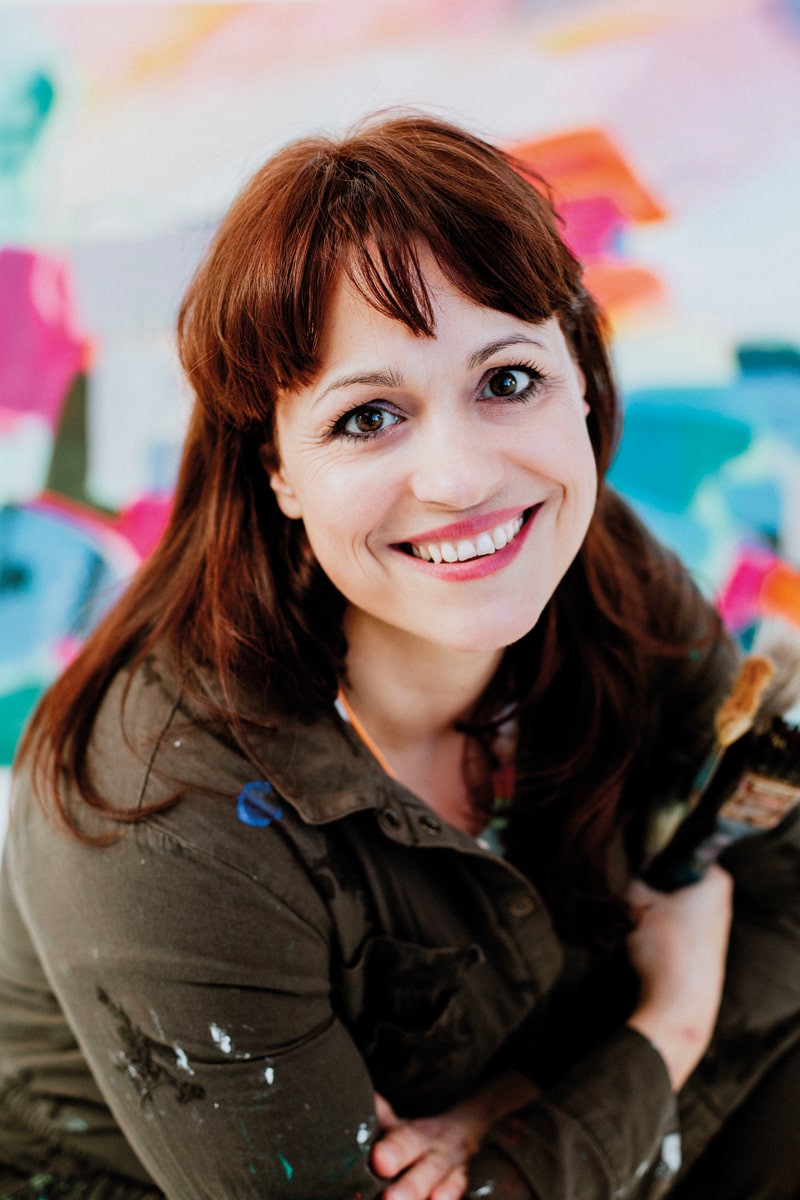 ASK THE PRO: Suzi Lowe, artist & tutor, Atelier Beside the Sea
Suzi Lowe grew up by the sea in Bournemouth where she spent her summers selling ice cream on the beach, looking at the waves through the frame of her serving hatch. She studied fashion and textiles at the University of Brighton before making the East Sussex city her home. 'I couldn't imagine not living near the sea,' she says. 'There's constant inspiration to be found in this exuberant city between the South Downs and the coast.' For 20 years she worked in fashion, creating print designs for the likes of Debenhams. She now specialises in painting and fine art, and is a guest lecturer at the University for the Creative Arts in Farnham. What she most enjoys though is tutoring on short workshop courses, especially with beginners or experienced artists who want to experiment with new techniques. 'I love this kind of teaching with adults; enabling people to access their creativity,' she says. 'Also showing people that creativity doesn't need to look like a conventional painting. It can look like all sorts of things.'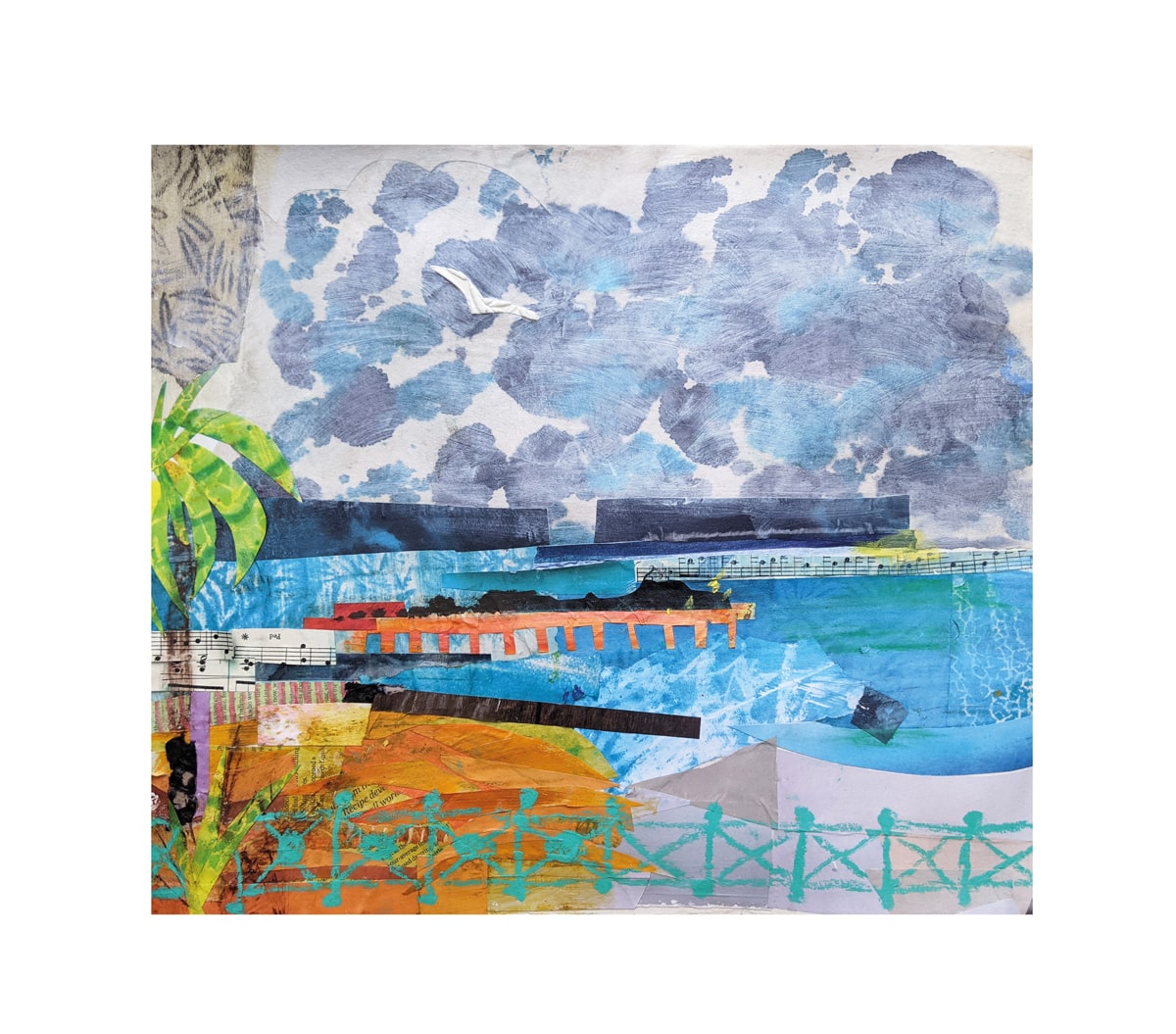 HOW TO BOOK:
Suzi Lowe tutors Connecting with the Coast with Printmaking, Drawing & Mark Making at Atelier Beside the Sea, Brighton. Prices start from £95pp. All materials, including protective aprons, are provided. For details, visit atelierbrighton.co.uk or call 01273 776159.
WHERE TO STAY IN BRIGHTON:
Directly on the seafront The Old Ship Hotel is close to the arches and the beach for inspiring seaside walks. Many of the rooms have sea views too, and you can dine at The Wardroom restaurant or relax at the Mess Deck bar in the evening. For seasonal rates and special offers, call 01273 329001 or go to oldshipbrighton.co.uk.
A little further along the seafront is the ultimate hotel experience, the Grand Brighton which combines a sense of history with luxurious interiors, great food and mesmerising views over the sea. To book, call 01273 224300 or go to grandbrighton.co.uk.
Read next: Discover the Ultimate Seaside City – Brighton, find out more about An Artist's Life in Brighton, or pick up the latest copy of Coast magazine for more coastal inspiration.