Create a coastal boho vibe in your home with this beautiful decoration. By Juliet Bawden
The history of the tassel is a fascinating one. Tassels were around as early as 330 AD in ancient Rome and the name comes from the Latin word tassau meaning a garment clasp. They were used elsewhere in the world too. When the tomb of he Egyptian pharaoh Tutankhamen was excavated he was found to be wearing tassels round his neck. Throughout the Arab world from Egypt to Mesopotamia tassels were used as a talisman to ward off evil spirits. They would be attached to children's head wear to protect them. They have been used by the Catholic Church to signify differences in hierarchy in its clergy. King Louis XIV of France commissioned Tassels for both royal costumes and royal buildings. Tassels even have their own guild, that of the Passementier . It was set up in the sixteenth century. The apprentice scheme to become a Passementier was seven years. This did involve making different kinds of braids too.
Tassels have recently had a revival in both the fashion and the interiors world. This summer they were to be seen edging scarves and throws, as well as turned into handbag jewellery. They are used on corners of cushions and on sofa throws, and seem to have taken over as a trend from pom poms that were so popular last year. We are rather pleased with this project as it doesn't need any specialist equipment just embroidery skeins and something from which to hang it.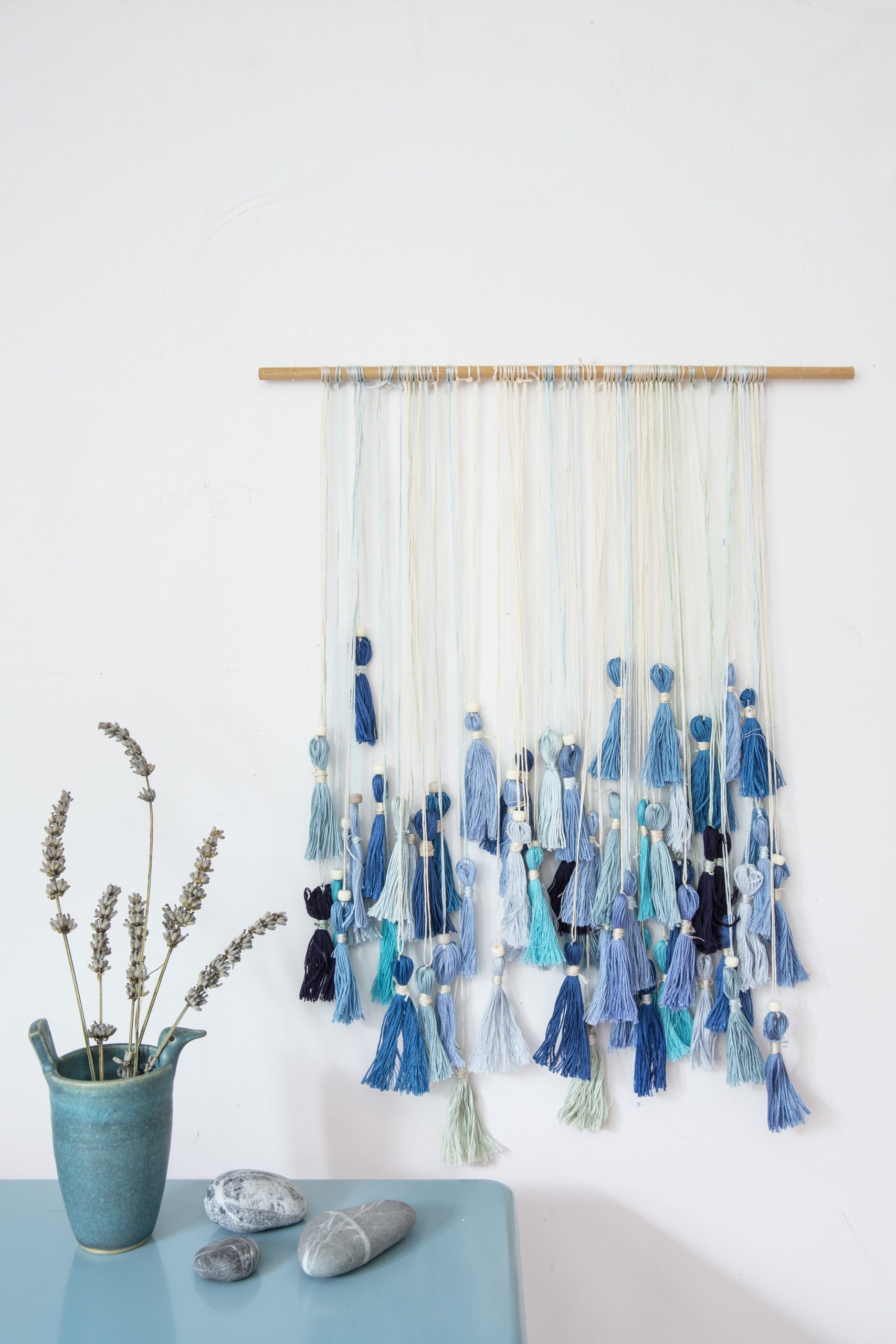 You will need:
32 skeins of Embroidery floss from Hobby Craft in a variety of blues
7 skeins of cream or very pale blue embroidery floss for hanging
Scissors
Beads (optional)
Piece of dowelling
Nail brush
Step 1
The amount of embroidery floss you need depends on the size of the hanging you're making. There are 64 tassels in this hanging. One skein of embroidery floss makes two tassels.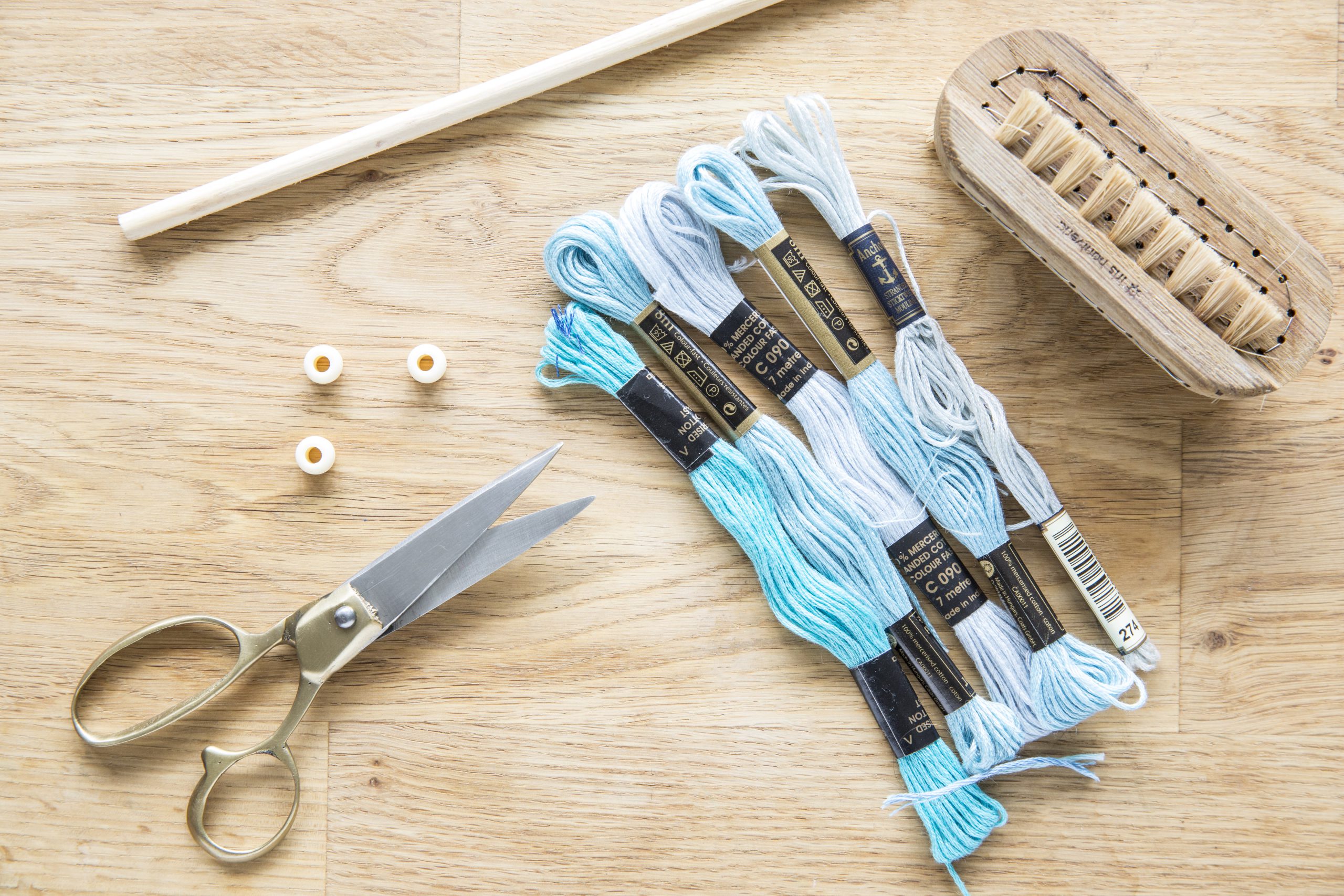 Step 2
Using some of the pale coloured embroidery floss bind it round each end of the skein about 1cm away from the end of the loop. Tie with a knot to secure. Fold the skein in half and cut in the middle.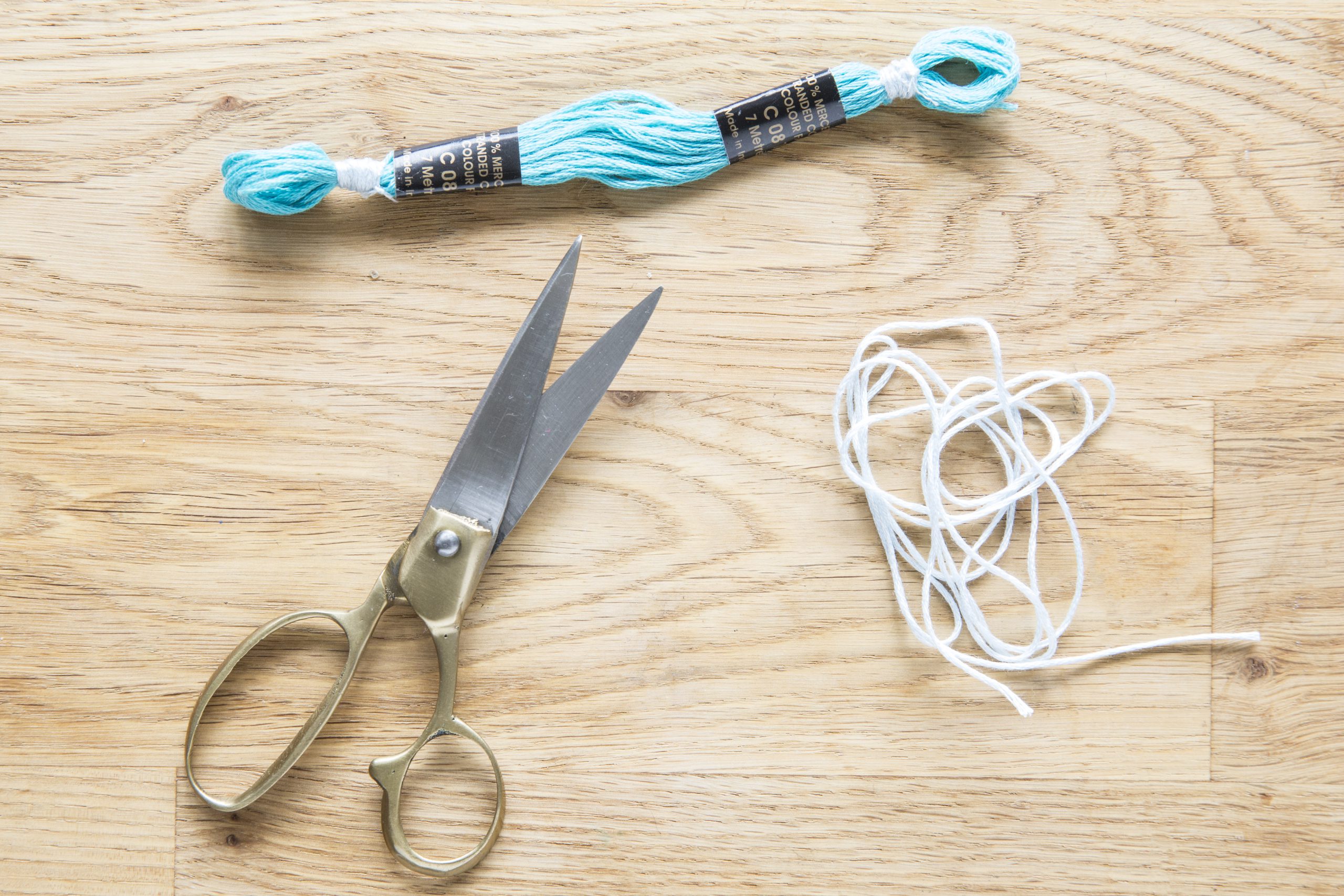 Step 3
Remove the paper from your tassels. Using a nailbrush, brush the tassel below where it is bound to make it fan out and to give it some body.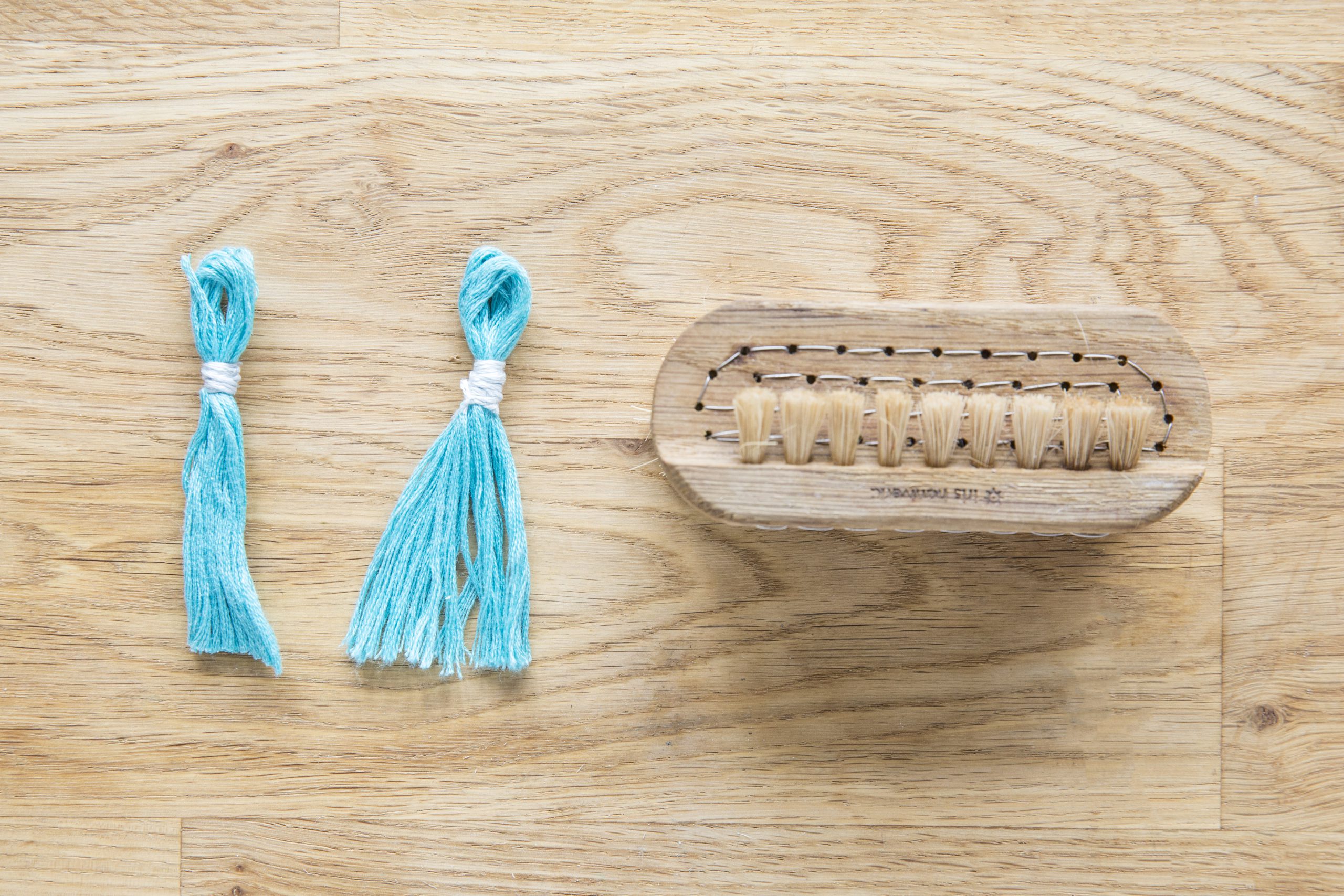 Step 4
Cut a long piece of thread and fold it in half and thread through the loop of the tassel. Tie where threaded, add a bead if desired. Tie to the dowel and cut off any straggly ends. Repeat with the other tassels.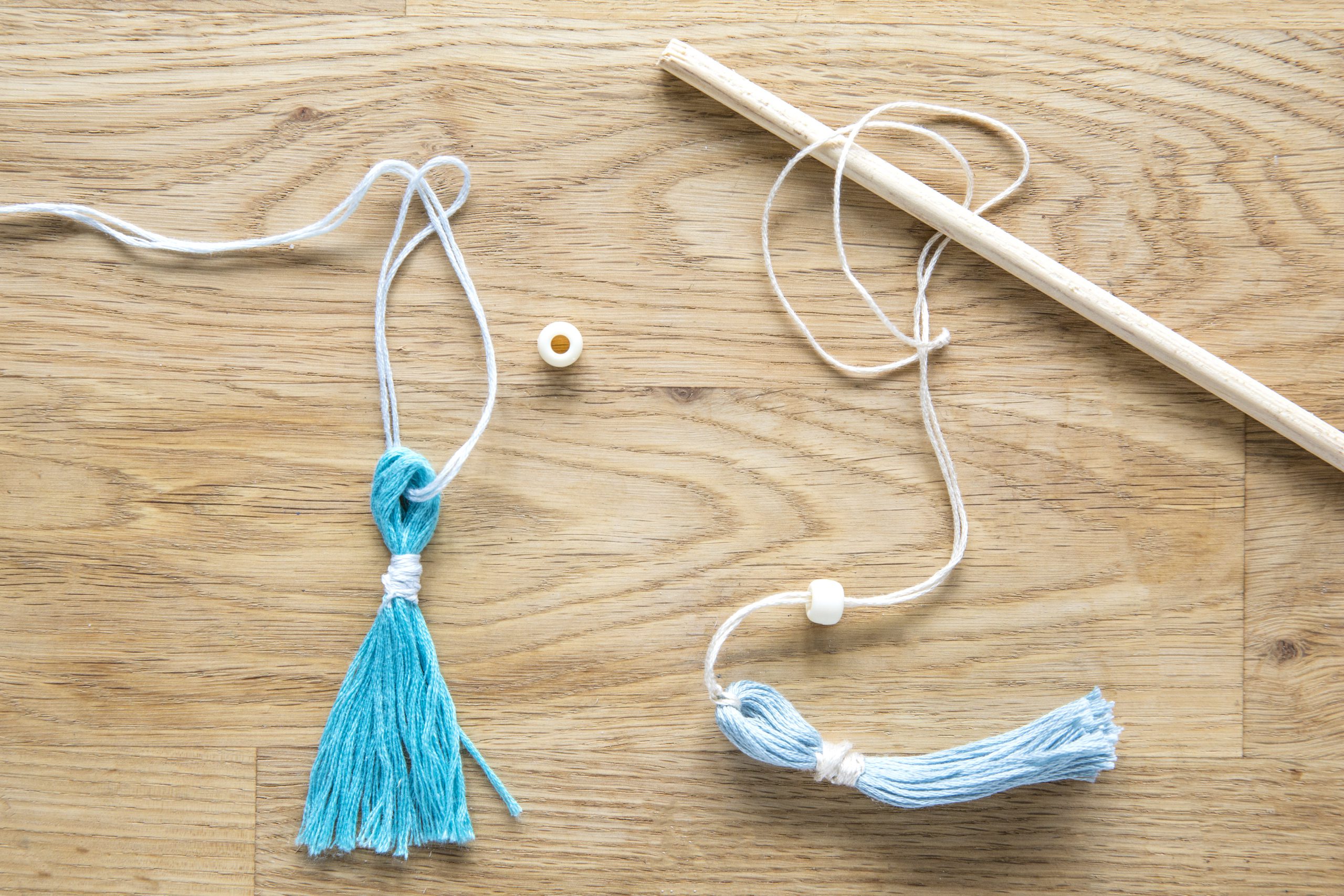 Try more of our coastal crafts here.