Paul Miles discovers how simple it is to make a lino print, and spends a morning creating a coastal Christmas card design at a creative hub in East Devon
Photographs MAISIE HILL (MAISIEHILL.CO.UK) and PAUL MILES
When Victorian businessman Frederick Walton invented linoleum in 1860, he would never have imagined that his floor covering, made from linseed oil, would soon be used as an artist's medium; a surface into which a design could be gouged, from which a reverse image is printed. Henri Matisse and Pablo Picasso popularised the art form during the 1940s and 50s.
If, at school, you progressed from potato prints to lino prints, you might remember tough floor tiles that were difficult to cut. Today, soft polymer sheets made especially for cutting and printing from, are much easier to work with.
The medium suits images with strong lines and areas of contrast, so lends itself easily to Christmas themes such as snow on conifers or starry nights. Likewise, coastal scenes work well: the glitter of sun on sea or the foam of charging white horses. 'Waves shape the shore. Shore shapes the waves' are the words that accompany a sculpture of two curling breakers framing the entrance to the promenade at Seaton, East Devon. Inland, just a salty spray's fling from the seafront, is a shop selling ceramics, greetings cards and souvenirs. Coastal Craft Collective also has a workshop out the back where tutors teach a range of half-day art and craft courses, including lino printing – offering an opportunity to make some hand-made Christmas cards.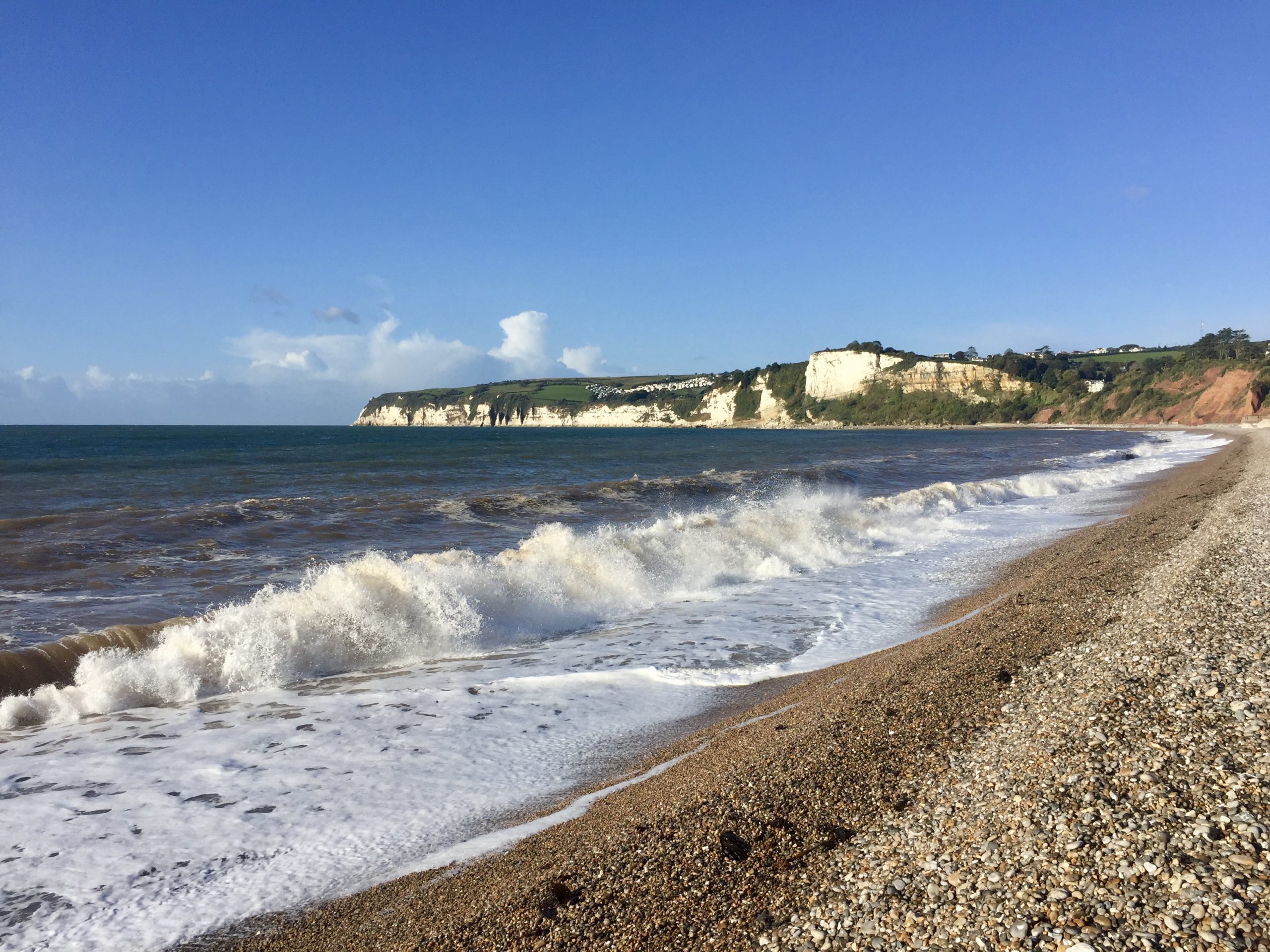 9AM HELLO WAVES
I arrive at Seaton early for the 9.30am workshop and spend a few minutes on the seafront admiring the white chalk cliffs to the west and the pebbly beach, battered by the high tide. I stand back to admire the stainless steel sculptures of waves with words arching over their crests. It's delightfully sunny but cold in a wintry wind, so it's a welcome relief to enter the cosiness of Coastal Craft Collective – a small space packed full of candles, cards, ceramics, glassware and bunting made by more than 50 local craftspeople. I meet the shop's owner and manager, Linda Doughty, who moved to the coast just four years ago. Covid-19 has changed things somewhat. She welcomes me from behind a perspex screen and, wearing a visor, leads me through to the workshop space. Linda introduces me to the tutor, artist and former secondary school teacher, Alison Bowskill.
9.30AM SETTLING DOWN
Two other participants soon arrive. Katy and Vicky live locally, in Charmouth and Lyme Regis, and are regulars at Alison's workshops. 'We've been coming since the place opened three years ago,' says Vicky. 'It's great to learn and develop new skills.' The last two participants arrive. Sophie is training to be a primary teacher at Exeter University and her boyfriend Edward, visiting from Birmingham, is taking her out for the day as a birthday treat. Each 'bubble' sits two metres apart. There is also the option of sitting behind a portable plastic screen. Linda makes us hot drinks and heads back into the shop, which opens at 10am.
9.40AM CHOOSING AN IMAGE
Our tutor Alison gives me a piece of paper, a pencil and a postcard-sized rectangle of blank lino. I draw around the lino so that I have a frame into which I will sketch my design. Alison shows me some Christmas cards made by herself and previous workshop participants. There are the usual suspects: a robin, a reindeer, a Christmas tree. They're lovely, but I want to do something that combines coast with Christmas. The 17th-century carol, 'I saw three ships come sailing in on Christmas Day…', has been going through my head all week. One of Alison's designs is almost that: three sailing boats in a star-lit sea. I decide I will use it as inspiration. OK, I'll come clean, I more or less copy it. 'You don't need to be able to draw,' reassures Alison. 'Lino printing is all about the process of cutting and printing; it's a nice physical process.'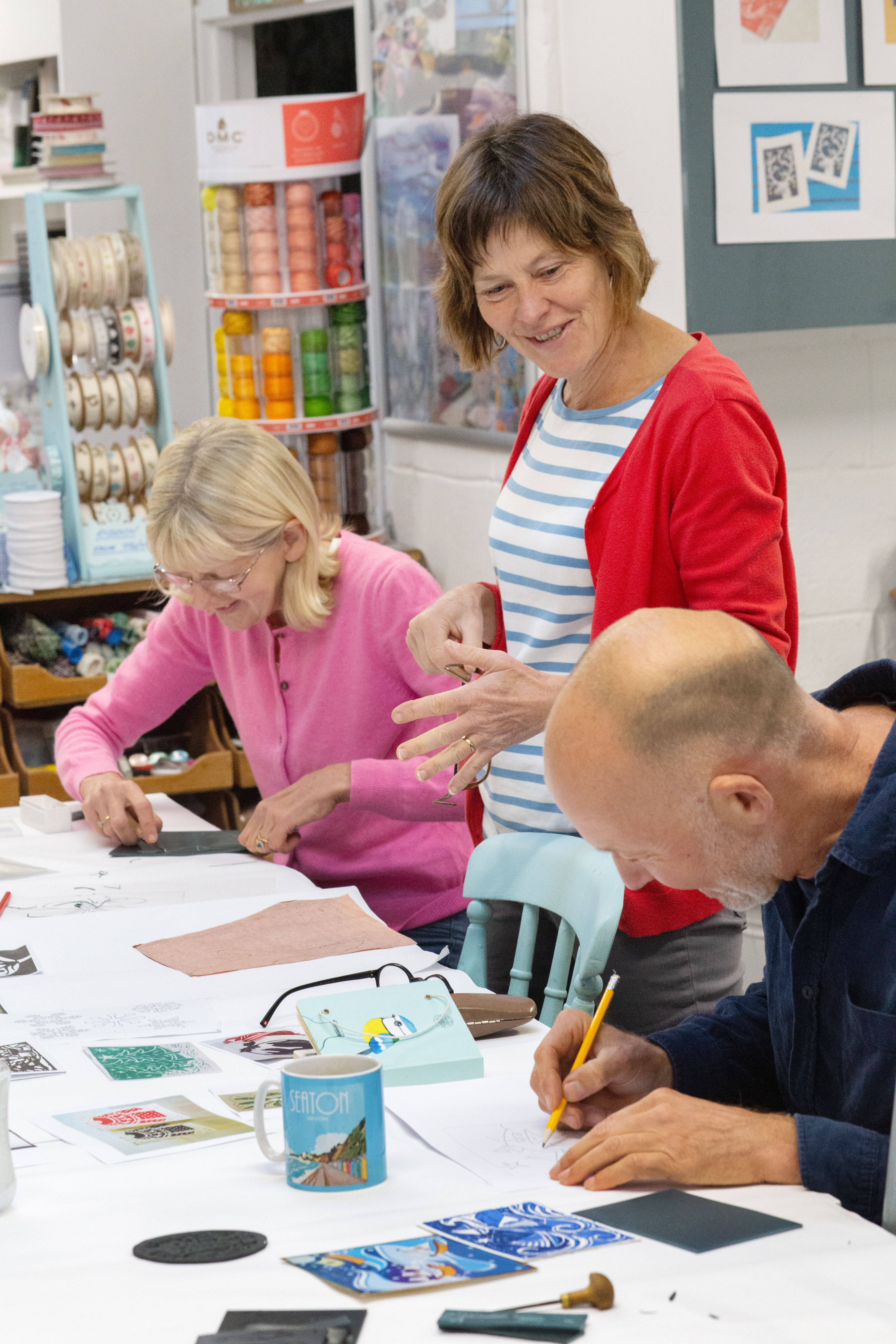 10AM INK ON PAPER
My approximation of Alison's design on paper is complete. 'Now you can either trace it onto the piece of lino or just copy it,' she says. As it's quite a simple design, I choose to copy it onto the lino using a marker pen. This all becomes a lot easier when I don my reading glasses. Alison explains how to cut the design into the lino. There are various cutting tools, some for fine lines, others with wide scalloped cutting edges for broad marks.
'What you cut away is going to be seen as the colour of the paper,' she continues. 'We have lots of different coloured paper, as that can really transform a print. You want to end up with a balance of different marks and contrast of black and white or whatever ink colour and paper colour combination you choose.'
Alison explains how to hold the cutting tool, being careful not to place your other hand in front in case you slip and cut yourself. 'Also it's easier to turn the lino around rather than try and turn a corner with the cutter,' she adds. 'To make a line fade away, just lift the tool as you cut.' It all sounds quite technical but Vicky reassures me that she has never seen a bad lino print.
11AM MAKING THE FIRST CUT
Time disappears while I cut my design into the lino. It's satisfying, the lino peeling away as I push a gouging tool into it. It's certainly easier than cutting a design into a wood block, which was how similar prints were made until, in the early 1900s, a group of German artists in Dresden experimented with lino. 'It's like grating cheese,' comments Sophie, who is working on a design of a cactus while her boyfriend Edward has opted for cave art. Alison suggests that I cut away more in the waves, to leave more white [or whatever paper colour you choose] and also that I join up some of my lines to smooth them a bit, 'unless you like the ragged look'. So I try to make them flow better.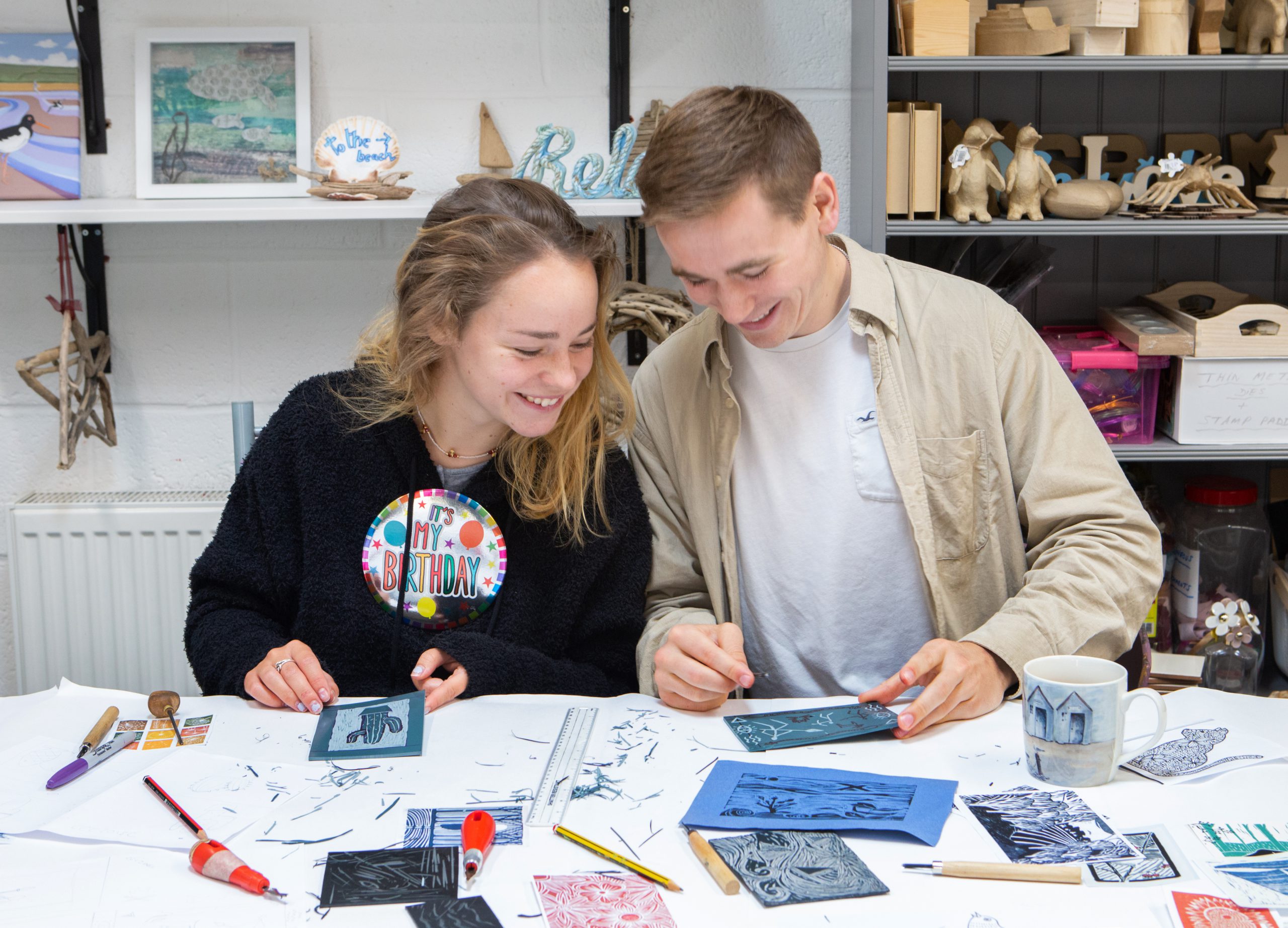 11.30AM CLEANING UP
The cutting is finished. It's time to make sure there are no stray morsels of lino left on the surface, which could disrupt the inking. Next, I wash the lino to degrease it from having handled it, and so that the water-based printing ink will cover it well. Alison helps me set up what I need for printing. I want to try a dark blue colour so, onto my palette – an A4 piece of shiny cardboard from a cereal packet – she squeezes a splodge of blue ink and a dab of black and gives me a plastic knife to mix my desired shade.
Alison takes a roller – a tiny version of one you might use for painting a wall – dabs it in the ink, then rolls it back and forth until it makes a 'tacky' sound on the palette, signifying that an even layer of ink has been transferred. This is then rolled over the lino to thoroughly cover the design in a layer of pigment. A sheet of paper is placed onto the inked surface and, carefully, without moving the paper, is pressed with the back of the hand (the back of a spoon also works well) to transfer the inked design onto the paper. 'It's best to use smooth papers such as cartridge paper or sugar paper, not textured watercolour paper,' she advises.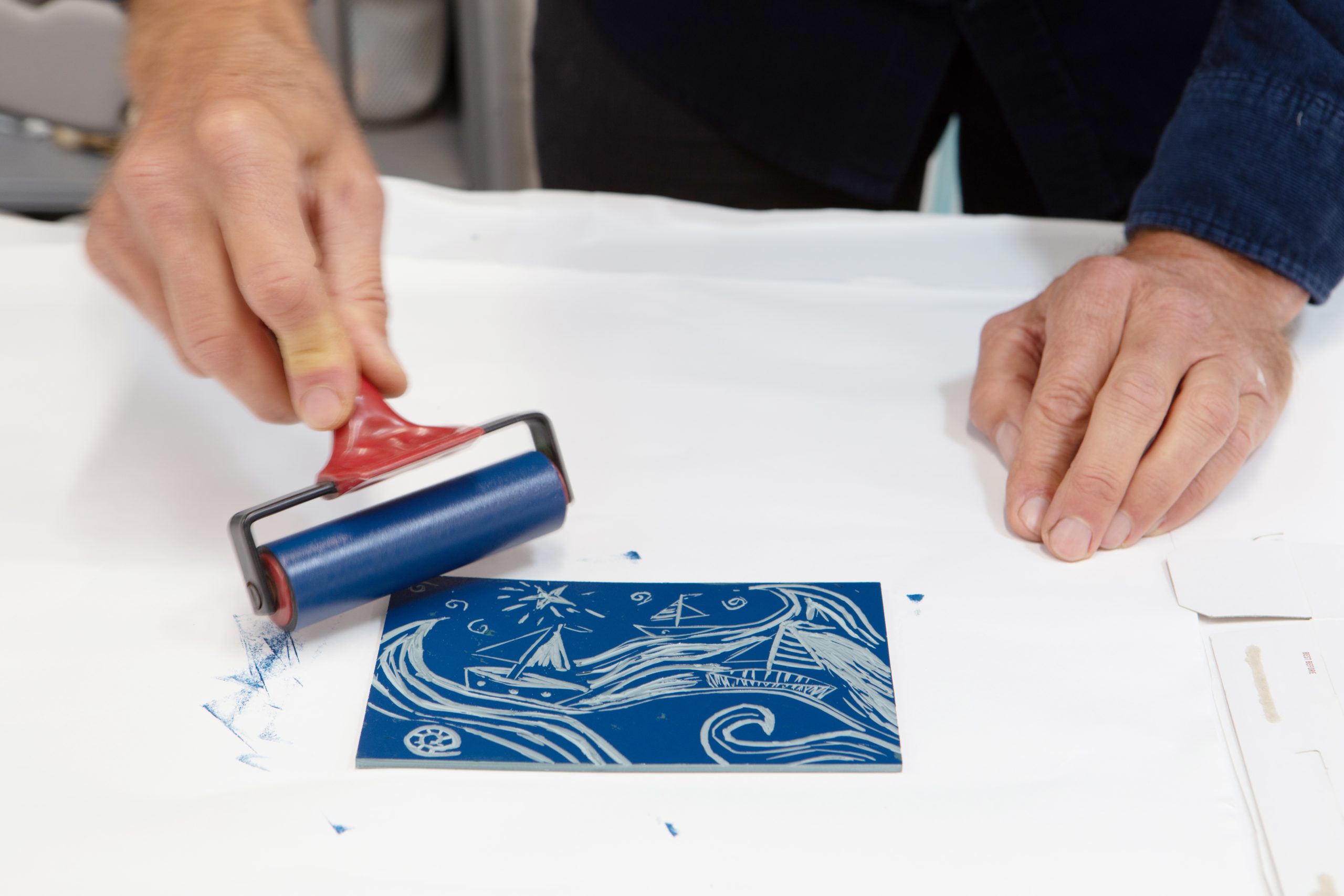 11.50AM OFF THE BLOCKS
I peel my first print off the block and am pleasantly surprised. I'd forgotten that the resulting print would be a mirror image. A good job I hadn't blithely carved Merry Christmas into the design. I make a few more prints with different colour paper.
'At home you can mount these onto card to make Christmas cards,' says Alison. She's right – varying the colour of the paper alters the impact. I hang the prints to dry, ready to collect the next day.
12.25PM SHARING THE FUN
We say our farewells and admire each other's work. Sophie's cactus is brilliant while Katy's exquisite design of swallows and seed heads is reminiscent of work by the artist Angie Lewin. The others kindly coo at my stormy sea with three ships sailing in for Christmas.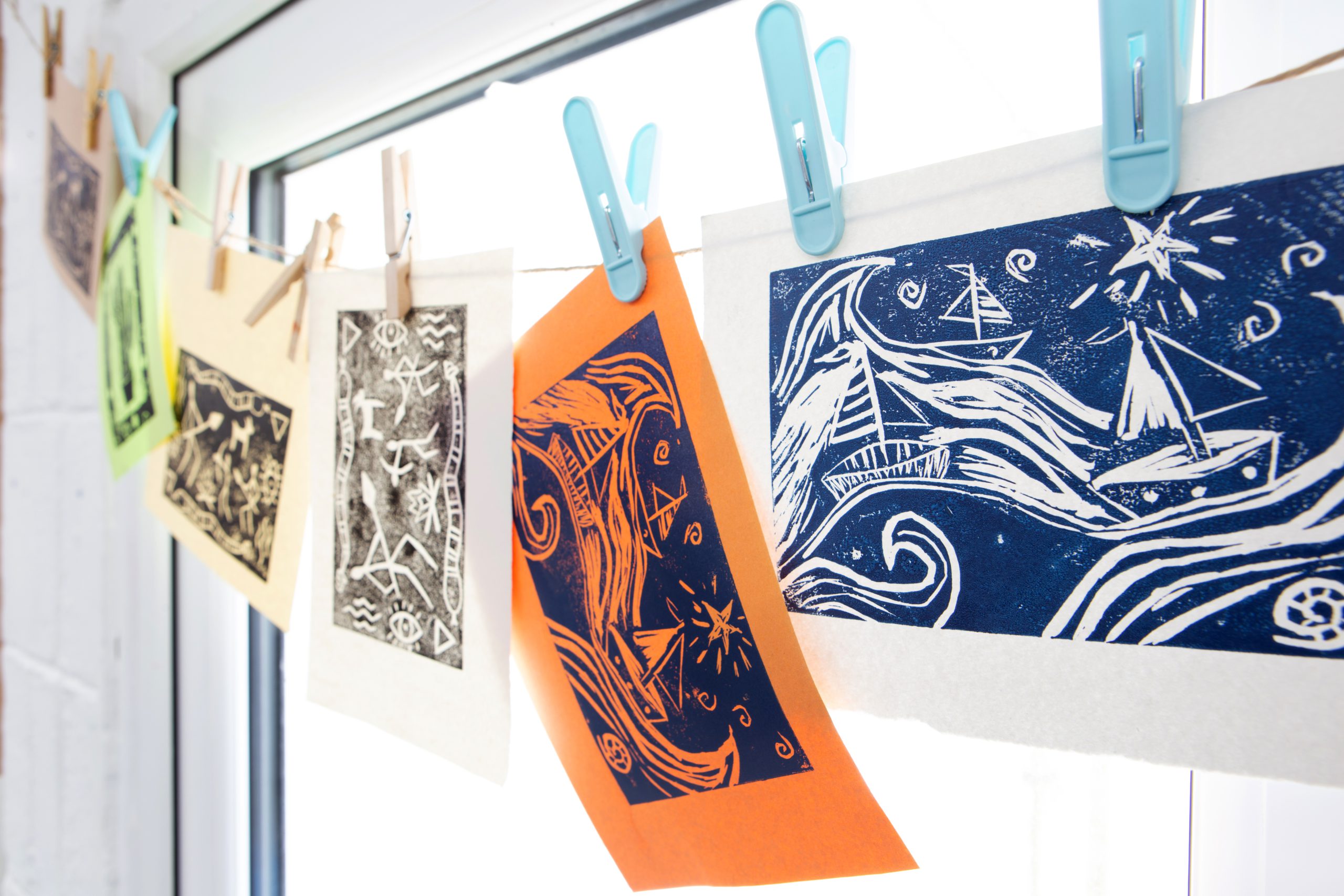 ASK THE PRO
Alison Bowskill studied Fine Art at Falmouth Art College followed by a postgraduate course in printmaking at Slade School of Fine Art. She then taught art, most recently at The Woodroffe School, Lyme Regis. Earlier this year, she left her job to dedicate herself full-time to art. She still lives in Lyme Regis, in a house with a sea view, and is a regular teacher at Coastal Craft Collective. 'I really enjoy teaching adults,' she says. 'It's a wonderful, magical moment when you see someone who thinks they can't draw, lifting their first print off a piece of lino – everyone can do it.' Although she teaches lino printing, Alison's own work is mostly in charcoal and lithography. She finds much of her inspiration in the sea and seabirds of Devon and Dorset. She's a member of the Lyme Regis gig racing team. 'At weekends I go rowing, which really takes me out into the wildness of it all,' she says.
NEED TO KNOW
HOW TO BOOK?
Coastal Craft Collective in Seaton holds half-day lino printing sessions throughout the year, as well as workshops in felting, weaving, paper-making, crochet and lots more. A lino printing workshop costs £25, including equipment and materials. A basic lino printing set costs around £20 (01297 691362,
coastalcraftcollective.co.uk)
.
WHERE TO STAY
Larch Barn, with a south-facing terrace overlooking the fields of the Sid Valley, near Sidmouth, is a perfect wintry bolthole. This two-bedroom holiday property has underfloor heating and a wood-burner. A neighbouring field is the local sledging hill and it's just a short walk to The East Devon Way. Seven nights from £642 (01326 555555,
classic.co.uk
)
.
HOW TO GET THERE
The nearest train station to Larch Barn is at Honiton, with regular trains from London Waterloo
(southwesternrailway.com)
.