Meet the Coast Artist Collective a few of our talented coast subscribers, working artists who bring the mystery, magic and wonder of the sea to life through paint, glass, mosaics, wool, sculpture and more
WORDS BY JESSIE JOHNSON
Beach canvas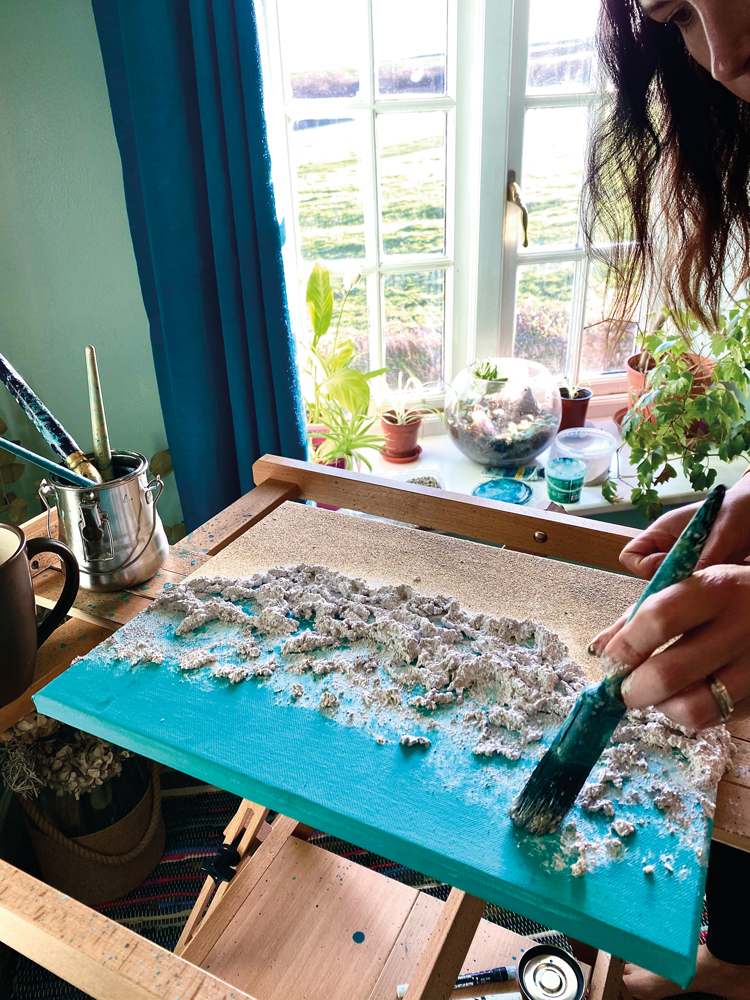 During lockdown, inspired by the coast on her doorstep in Newquay, Cornwall, Gemma Lessinger decided to dust off her brushes and paint. A year on, her seascapes have transcended to original paintings, prints, greetings cards and homewares that bring the colours, textures and memories of the Cornish shoreline into people's homes via a textural layer cake of acrylics, sea salt and sand. Now a full-time artist, Gemma's rapport with the local arts community radiates from every piece; from the arresting 'Fistral Flow' featuring re-purposed fibreglass from Newquay surfboard shaper Rochfort Customs to the creation of glass bead bangles in collaboration with Salcombe-based Nalu Beads. For every purchase on her website Gemma makes a donation to ocean conservation charity, Surfers against Sewage.
To browse Gemma's online shop, visit gemmalessinger.com or follow her creative happenings on Instagram @gemmalessingerart.
An artist's view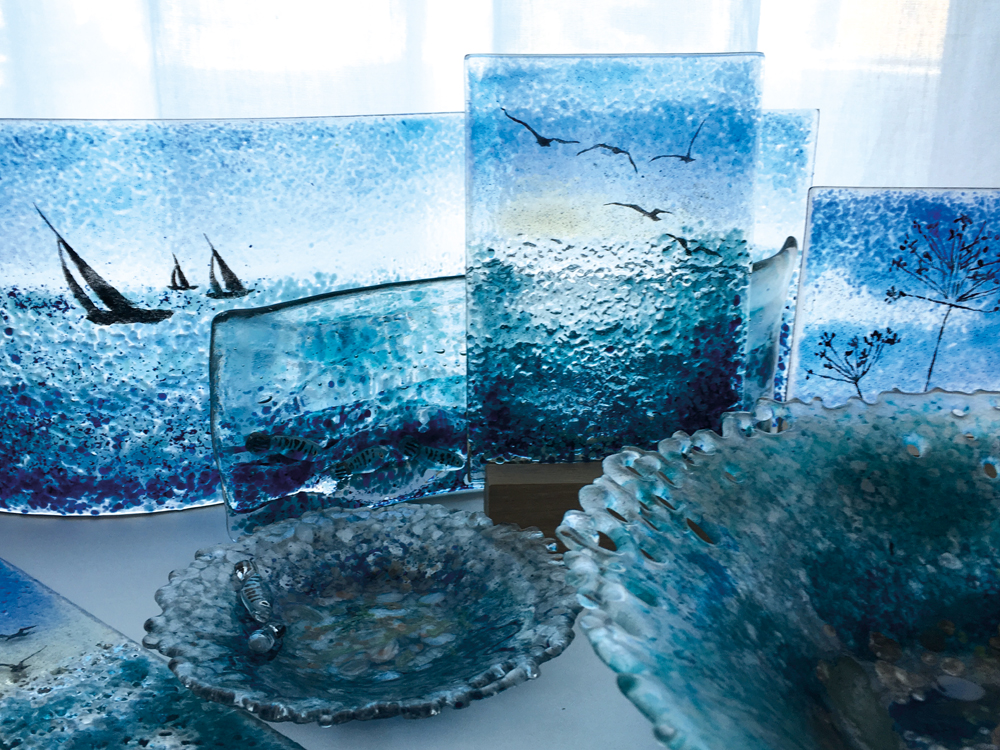 Inspired by the huge skies, vast expanses of sea and ever-changing weather of the local coastlines of West Sussex and Hampshire, Nancy Goodens has worked with fused glass for more than 10 years as a practising artist and teacher. 'I create my artworks by layering translucent coloured glass granules and utilising the textures and effects unique to glass, often further enhanced by the surprises created during the kiln-firing process,' explains Nancy, who begins each process with drawings in charcoal or pastels, many of which become unique works of art in their own right. One of Nancy's favourite sites for inspiration is Artist's View – her light, airy holiday cabin at Bovisand Bay, Devon, which offers sweeping views over Plymouth Sound.
To see Nancy's work or to find out more about her workshops spanning fused glass, jewellery making, drawing and textiles, visit artworksstudio.co.uk. Prices for a night at Artist's View start from £70, sleeps two (southweststays.co.uk).
Wonders in wool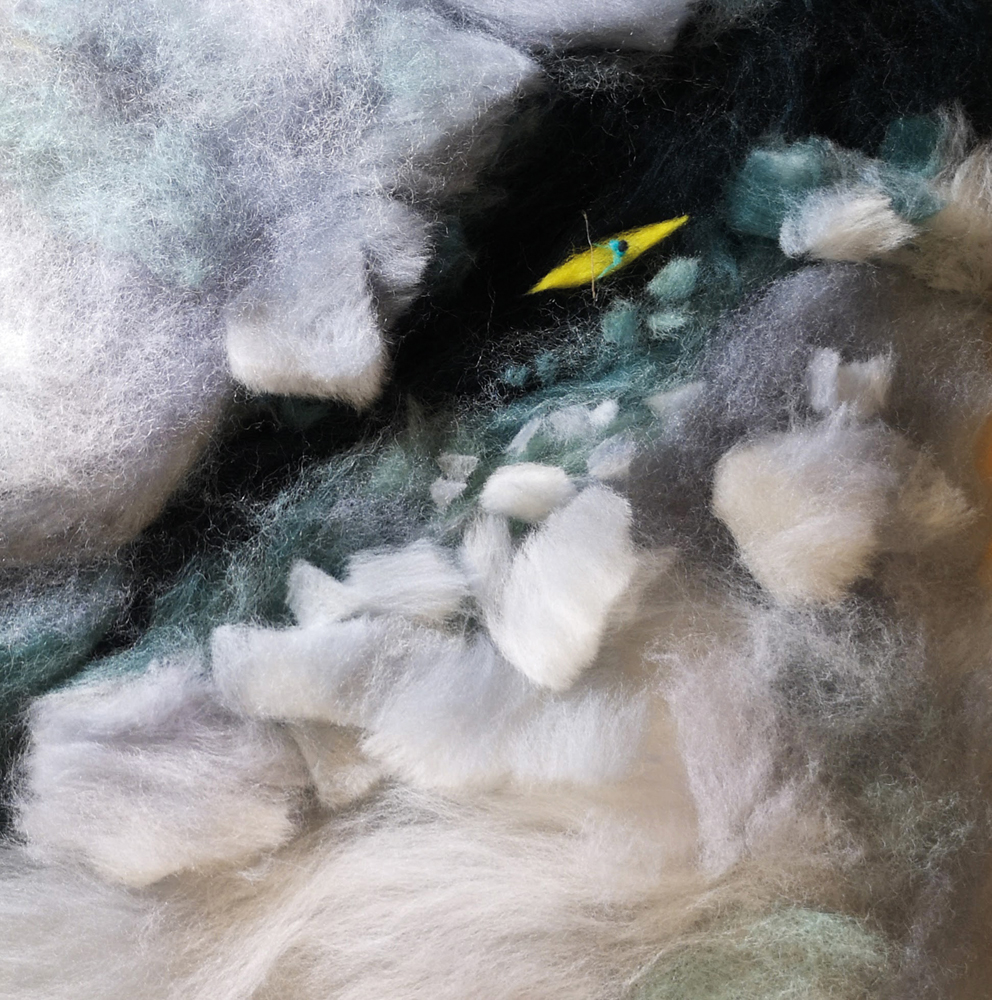 From her studio in Saltburn-by-the-Sea on the North East coast, artist Lucy Storrs works with wool and silks to create vivid, aerial-view seascapes along with contemporary semi-abstract landscapes, available to buy as originals and high-quality prints via her online shop. 'Wool has unique properties like no other art medium, amazing vibrancy, texture and depth,' she says. Inspired by her experiences swimming with bioluminescent plankton, Lucy's current series will aim to recreate the magic of these ocean drifters using phosphorous pigments incorporated into wool. 'My two-year-old daughter, Skylark, loves looking at coast and all the photos each month so she will be surprised to see her mummy in it!' Lucy adds.
To view Lucy's work, visit lucystorrs.com or follow her on Instagram @lucystorrsart.
The fabric of life

Felt artist Lisa Woolcott loves nothing more than walking her dog on the local beach in Sussex before returning to her studio shed to interpret the day's unique ebb and flow through a medium of silks, merino wool and bamboo threads. Her wet felting works are complemented by the process of needle felting, which sees Lisa 'paint' her pictures using barbed needles and nifty finger guards. A self-taught artist, Lisa dabbled in furniture upcycling, acrylics and watercolours before a life-changing personal event nudged her to bring her creative dreams to fruition. 'My art is greatly influenced by the sea in particular, finding – as I do – the sea to be exhilarating, energising, powerful, spiritually uplifting, and at the same time peaceful, grounding, and healing,' explains Lisa.
To find out more about Lisa's work, visit luluatno8.com or follow Lisa on Instagram @luluatno8.
Pieces of the sea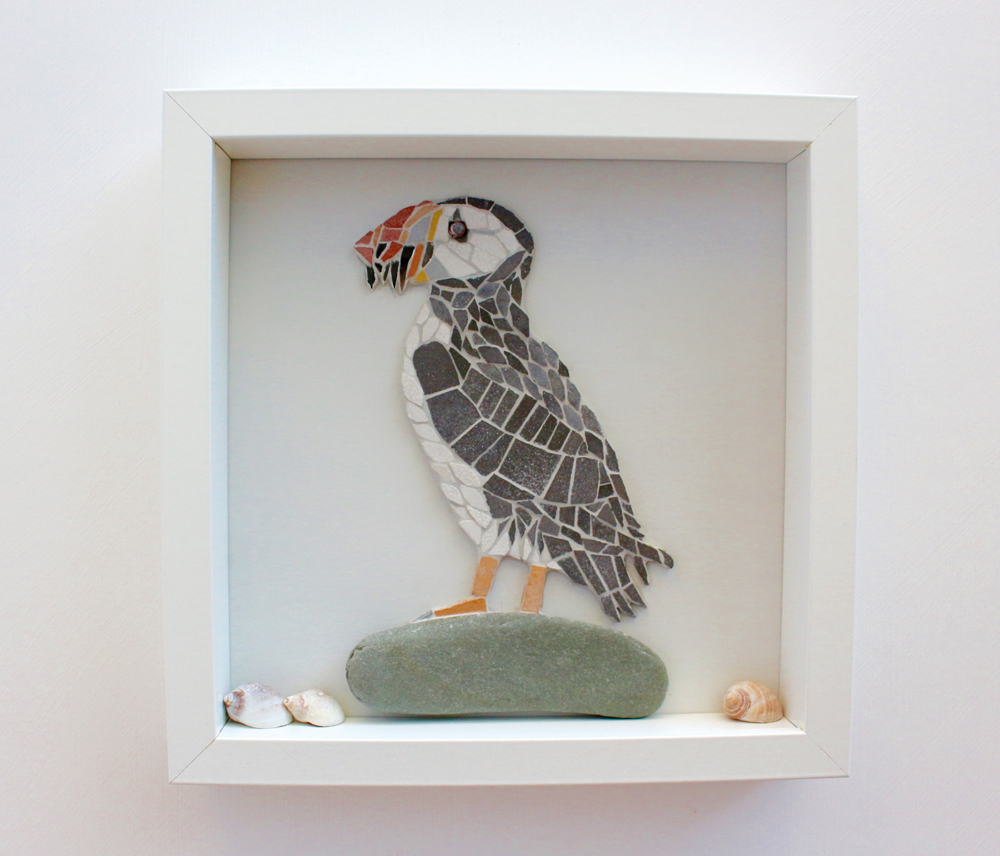 A trove of beachcombed treasure featuring shells, sea glass, pebbles, beads and recycled crockery forms the foundations of artist Rana Cullimore's evocative mosaics. Rana has lived in the UK for over 30 years, yet her childhood was spent growing up on the Aegean coast of Turkey with 'salty hair and sandy feet' she says, which helps inform her characterful collection of mosaics starring beach huts, lighthouses, sail boats, sea gulls and scallops. The mosaic-making process – from designing and painting to sticking and grouting – originally began as a hobby for Rana, who has been subscribing to coast since 2007. She says: 'I am an avid reader and look forward to the latest issue every month to be transported to and inspired by the coast with all the beautiful content.'
Visit ranacullimore.co.uk to find out more information, or follow Rana on Instagram @ranacullimore.
Beauty in form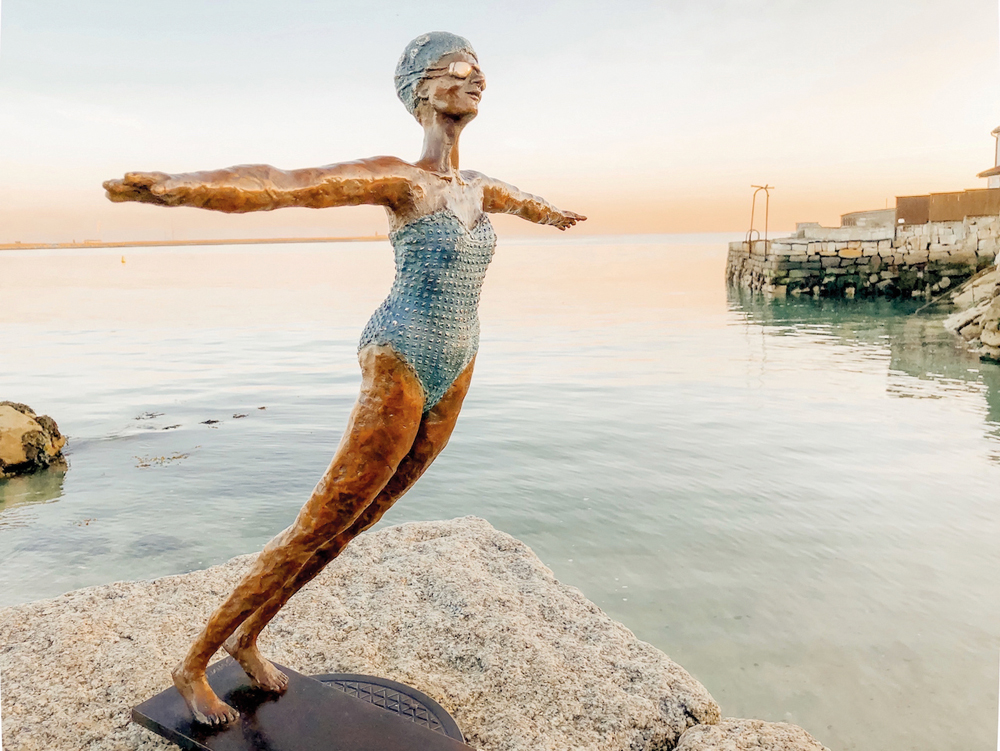 'My passion is creating whimsical, expressive figures that have a slight hint of the unusual and a dose of the playful,' says international figurative sculptor, Dawn Conn. Working across a mixed media palette of metals, textiles and bronze resin, New Zealand-born Dawn's collection of bold, striking sculptures have been snapped at a number of harbours, beaches, gardens and swimming pools before finding their forever homes in private and public collections all over the globe. Her signature theme, 'swimming girls', represents the universal joie de vivre of being immersed in the water and the idea of diving in to experience life at its fullest, embracing the strength, beauty and vulnerability that form a vital part of the journey.
To check out Dawn's work, visit her website dawnconn.com and follow her on Instagram @dawnconnsculpture.
Dreams of Cornwall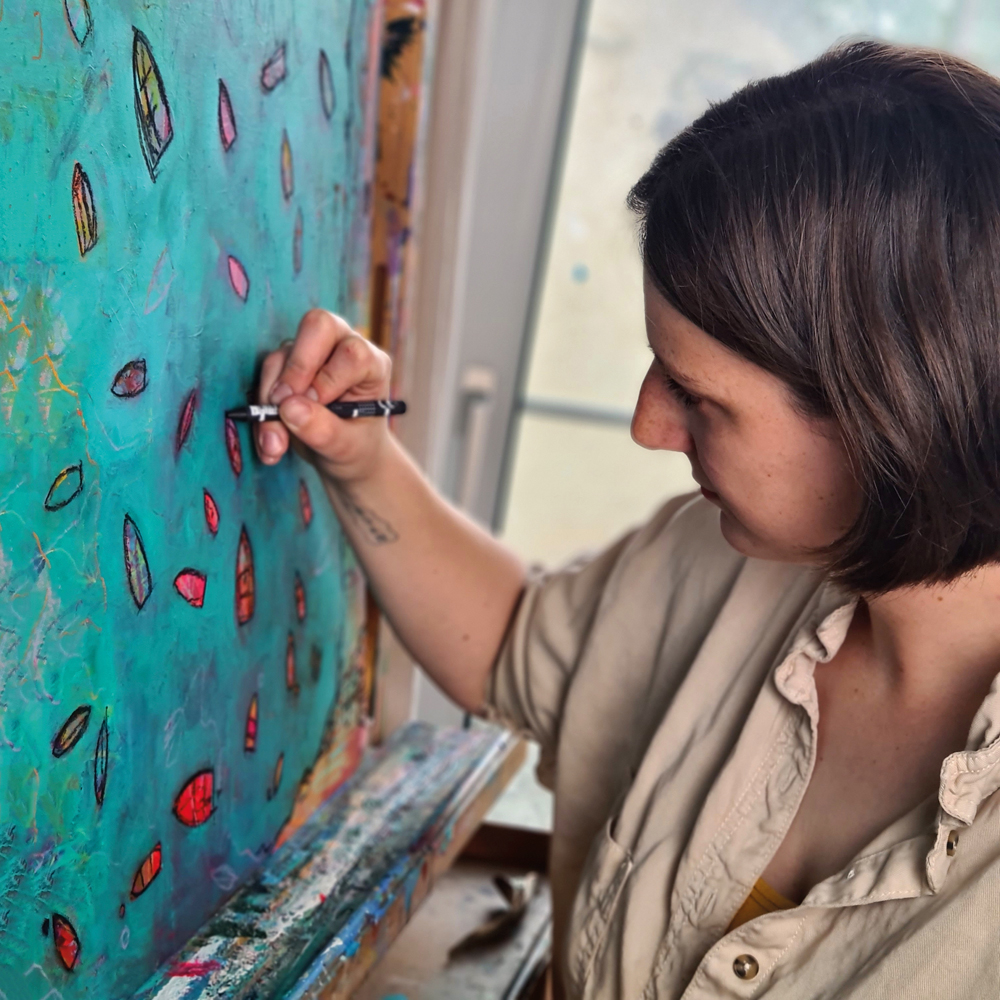 Creating large scale abstract seascapes, Lenny Cornforth's work is inspired by the wild Atlantic Ocean, a passion for sailing and a keen eye for colour. Living and working in the village of Helland near Bodmin with her husband, son, two dogs and 50 Dorset sheep, Lucy's most recent work depicts aerial views of sailing boats immersed in delicate layers of translucent paint – part of a series of dreamy seascapes inspired by the coastline of North Cornwall. Alongside her work as an artist, Lenny also runs Cornforth Studios Picture Framing based in the heart of Bodmin.
To see Lenny's work or enquire about a commission, visit lennycornforth.com or follow her on Instagram @lennycornforth.
Waves with a silver lining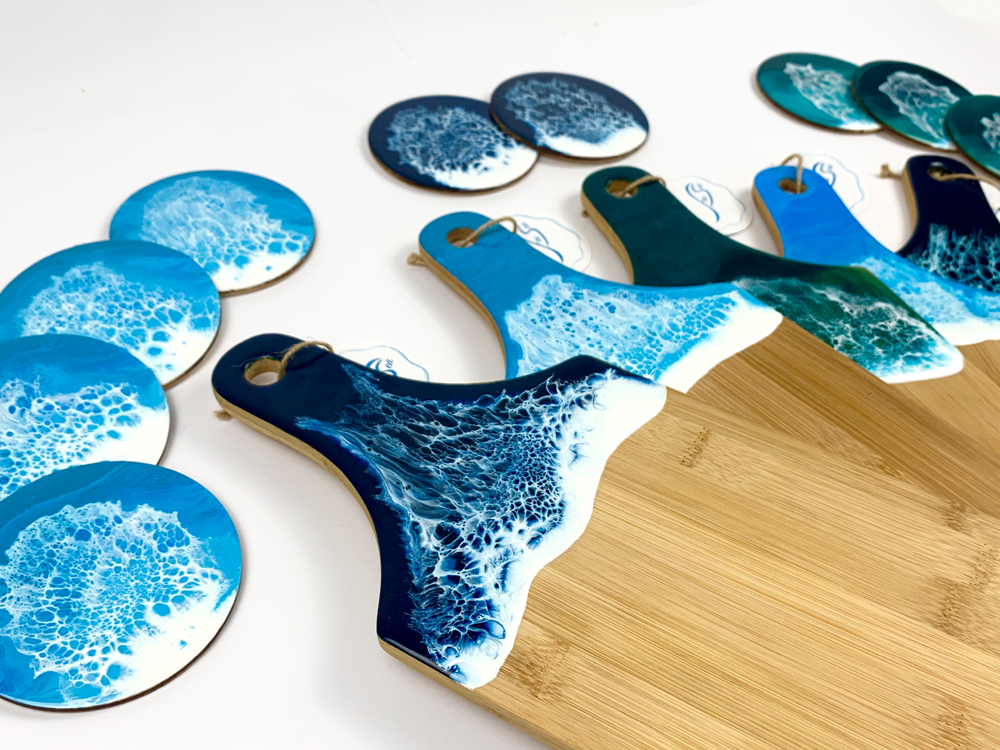 When Tabitha Osborne-Fox lost her job working at a digital consultancy in London during the pandemic she made a return to North Devon; where she once rode the waves as a semi-professional surfer and bodyboarder growing up. In summer 2020, Tabitha married her long-
term passion for painting the ocean with the discovery of resin as a creative material to launch her own custom-made range of art and homewares, FoxSea Art. Her bespoke 'wave tables', handmade from Devon hardwood, are a canvas onto which Tabitha creates the powerful illusion of rolling, foamy waves across a golden stretch of beach using resin to magic up a timeless sense of space and place.
For a slice of Tabitha's signature coastal style, you can browse her collection of serving platters, placemats, paintings and plates at etsy.com/uk/shop/FoxSeaArt or follow her on Instagram @foxseaart.
For more work inspired by the sea, head to our Arts and Crafts section, discover seaside sculptures and secret trails, or subscribe to Coast for more coastal inspiration.